Do you have all your documents up to date to start your U.S. travel? If your B1/B2 visa is about to expire or has already expired for some reason, don't worry! Nowadays, these types of renewals can be done online without going to a consulate or embassy; best of all, it doesn't take much time.
At iVisa, we have a streamlined travel document processing system handled by professionals. So all you need to do is comply with the renewal requirements, and you can do it from the comfort of your home.
Applicants with B1/B2 visas that are about to expire or have expired during the past 48 months are eligible for B1/B2 visa renewal online.
Our service is considered the most reliable on the market due to our team of experts, who will advise you throughout the process. You only have to worry about filling out our form and completing the process online. Then you can wait at home with peace of mind.
If you want to know more about it, please keep reading this article.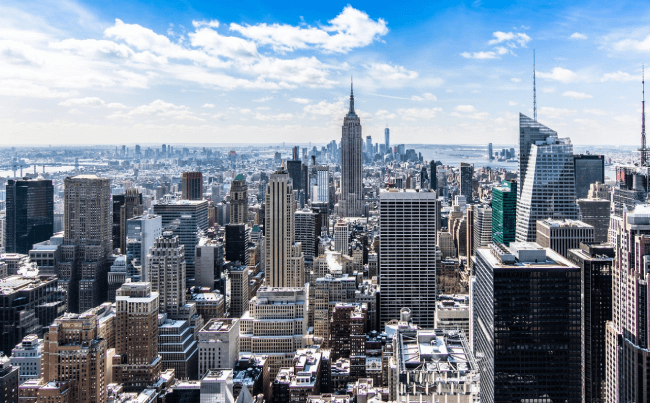 Renew your U.S. Visa online to enter the United States from Thailand with iVisa!
In this article, you will find the answers to questions like how you can renew your visa, what are the processing times, interesting tourism facts, and much more.
What is the American Visa B1/B2, and how to renew it?
The B1/B2 visa is a travel document that allows you to travel to the United States for work or tourism purposes. To apply for this document, you must have a valid passport from Thailand and reside in a country other than the United States.
This document allows you to enter the country for up to 180 days Per Entry. However, remember that if you stay longer than the date limit, you will be deported from the country and will not be able to return.
Requirements for U.S. B1/B2 Visa Renewal in Thailand
This process is only available if you meet the country's Immigration and Nationality Law conditions. Your trip must be for business or tourism, for instance. In addition, you must have residency outside the U.S., and most importantly, the original visa must not have been lost, stolen, revoked, or denied. Finally, to be eligible for visa renewal in Thailand, you must not have been born in or hold a passport from Cuba, North Korea, Syria, Sudan, or Iraq.
When you apply for a new visa, you must go through a series of steps, including interviews and other processes. However, this process is faster if your current visa expires shortly, and you need to renew it. And it will be even faster with iVisa.
U.S. Visa Renewal Application: How to apply for an American Visa renewal in Thailand
If you are interested in applying for a visa, just follow these steps:
Step 1: First, you need to complete our simplified form.

Step 2: Double-check the information and ensure all fields are complete, especially your email and home addresses. Once you have made the necessary corrections, you will attach the required documents and make the payment.

Step 3: After submitting your application, your assigned iVisa Expert will review your answers to ensure its accuracy. Then, we'll email you all the documents you need to take to the U.S. embassy in your country.
When applying for a visa renewal online, the Department of Homeland Security (DHS) will determine whether you must send your documents through a courier service or you must schedule an in-person appointment to leave them. If you are asked to take them in person, we'll tell you the Drop-Off Location it indicates. Your passport and new visa will be returned to you via courier service.
If you plan to enter the country for other reasons, such as study or work, you must apply for another type of visa at the embassy or consulate. Likewise, other nonimmigrant visas require other visa process applications.
Necessary Documents for the renewal of the American Visa in Thailand
As a visa applicant, you need to have these documents to start this online visa application:
Valid Passport: You must have a valid passport with at least 6 months of remaining validity and an expired visa to apply for a new one. Two blank pages should be available in your passport to attach the latest visa.

Digital photo: Please include a digital photo of yourself. It must be taken against a plain, white background and show your face clearly. If you need help taking a photo of yourself, we can assist you on our website.

Your last U.S. visa: Please submit a scanned copy of your previous U.S. visa as well as your most recent passport if you have acquired it. We require this information to know your visa status.

Additional information: You may need to present additional information or require a visa interview. iVisa also offers assistance with this process.

Email: An email address is required; submit your most used email.

Payment: You can pay for the process with a debit/credit card.
U.S. Visa Renewal Fee: Cost of renewal of the American Visa in Thailand
Standard processing time -

30 days

(

USD $33.49

).
The above fee is what we charge for our services and you'll have unlimited access to your dedicated iVisa expert. However, you will also need to pay an additional 160 USD directly in the embassy.
Processing Time for U.S. Visa Renewal in Thailand
It can take at least 4 weeks or more for Department of Homeland Security (DHS) officials to review your B1/B2 visa renewal application.
Can you renew your Visa B1/B2 without an interview in Thailand?
If you want to renew your last B1/B2 visa without an interview or appointment, you must meet either one of these two requirements:
Your previous visa must not have expired more than 48 months ago, or it should still be valid.
Applicants under 14 or over 79 are eligible for an interview waiver.
Can you Renew a U.S. Visa before expiration in Thailand?
If you often travel, it's a good idea to renew your visa before it expires. This way, if there is any delay due to visa demands or additional documents required, you can avoid missing any trips.
How can I track my Passport Renewal in Thailand?
When your passport with the stamped visa is ready, the U.S. Embassy will email you with information about where and when you can pick up your passport. Check your visa status here.
Enter the type of visa and the confirmation number we'll send you once we submit your application.
What are the benefits of renewing your B1/B2 visa with iVisa?
The benefits are as follows:
We will ensure the correct application of the form: Our experts will review your answers and make sure they are 100% compliant with U.S. government conditions.

You will save time: With iVisa, you can complete your application any time you like without worrying about losing information.

You will have a simplified form: iVisa has only 80 straightforward, simple questions. This is easier than forms found on other internet sites.

You will have our educational guide manual at hand: Once you have completed the application, we will send you a manual with tips for renewing your visa quickly and easily.

You will have 24/7 support: One of our iVisa Experts will be helping you through the process and ensuring you have all the information you need. This is an excellent benefit because it means you can be sure that your application will go smoothly.
When is the best time to travel to the USA?
The United States is a country where the weather varies depending on where you want to travel. For example, the climate is much cooler if you travel to the northeastern United States. This region, with beautiful nature reserves and several rivers, is suitable for a pleasant road trip for nature lovers and hikers.
The best time to travel to this area is during the spring. The days are usually warm, and the nights are more favorable, perfect for any activity throughout the day.
You can enjoy the longer days in summer without being too hot to do something active like sports, tours, or family camping. While in winter, you can take advantage of snow activities such as skiing.
We recommend visiting New York during the spring. New York is the most exciting city in the world! You will find it unique when you see it for the first time and won't want to leave. You can visit the Statue of Liberty, Broadway, and The Big Apple, among many other places. In a nutshell, you will be amazed!
COVID-19 Restrictions in the United States
Thai travelers are not required to present a negative COVID-19 PCR or antigen test result, nor are they required to quarantine. However, other citizens from a foreign country will have the same restrictions.
However, all international travelers are required to present a certificate of vaccination. Those who can't present one may be denied entry into the country unless they have a good reason for not getting vaccinated.
Visitors who stay in the United States for 60 days or more are required to get vaccinated against COVID-19. Failure to do so will result in consequences for these travelers.
To be considered vaccinated by the Center for Disease Control (CDC), you must present a certificate with all vaccinations, including the booster vaccination that must have been received at least 14 days before departure.
Where can I contact iVisa?
If you have questions about iVisa, don't hesitate to contact our customer service team or email us at [email protected].