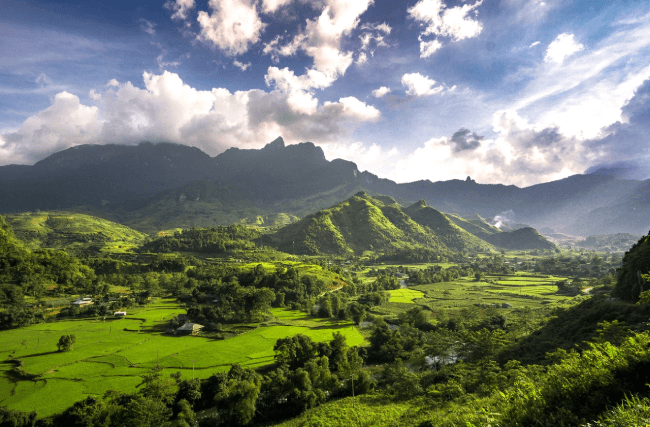 If you have travel plans for Vietnam, you should know the requirements and recommendations to enter the country. Local authorities suggest vaccinations for Vietnam entry as there are health risks, especially visiting rural areas. It's also important to be up to date on the current COVID-19 protocols visiting Vietnam. Most travelers will need a visa to travel to Vietnam.
This may seem like a lot, but don't worry. iVisa is here to make travel easy for you, and we will help you with all the information you need about routine vaccinations, health risks, and Vietnamese authorities' entry and exit requirements.
You can count on our services for a hassle-free eVisa application and get the documents to enter the country easily and quickly. The entire process is online, so you don't need to visit an embassy or consulate, and the document will arrive in your email. Remember that without a visa, you will be denied entry.
Read below for more information about disease control protocols, vaccinations for Vietnam, and the steps to get the travel documents you need.
Vietnam vaccine requirements
VACCINATIONS FOR VIETNAM: DO I NEED A VACCINE TO TRAVEL TO VIETNAM?
The Vietnamese Government's local laws don't require specific vaccinations to travel to Vietnam. However, some vaccines are strongly recommended to visit the country as there is a higher risk of some diseases, especially in rural areas.
You should avoid mosquito bites and be vaccinated against yellow fever, malaria, and Japanese Encephalitis. These are all insect-borne diseases.
Other health risks include infected animals, which is why the rabies vaccination is among the recommended vaccines. Check the vaccines you should have up to date:
Routine vaccines: Chickenpox (Varicella), Diphtheria-Tetanus-Pertussis, Flu (influenza), Measles-Mumps-Rubella (MMR), Polio, and Shingles.

Hepatitis A,

Hepatitis B,

Japanese Encephalitis,

Malaria,

Rabies.
They aren't vaccinations needed to enter the country, but the government can request them if you come from other countries that have a Malaria risk or if you will visit rural areas, for example.
Click here to read all the CDC website recommendations. And remember to take simple measures to avoid mosquito bites, such as using insect repellent and avoiding exposed skin in areas with an increased risk of infected mosquitos.
DO I NEED A COVID VACCINE OR VACCINATION CERTIFICATE TO ENTER VIETNAM?
No, you don't. Currently, COVID-19 vaccination passports or certificates are not mandatory to enter Vietnam. Since information may change quickly, we advise you to contact your local embassy before departure to check the latest medical care protocols.
COVID-19 restrictions
DOES THE VIETNAMESE GOVERNMENT REQUEST A COVID-19 TEST TO ENTER VIETNAM?
No, travelers no longer need to take a COVID-19 test before traveling to Vietnam.
ARE THERE ANY QUARANTINE REQUIREMENTS FOR TRAVELERS TO VIETNAM?
Like the other COVID-19 requirements, the government does not have any quarantine restrictions. There is no quarantine requirement on arrival.
Vietnam Visa
Many travelers can apply for a Vietnam e-Visa to visit the country. This electronic visa was introduced by the Vietnamese immigration department in 2017, intending to facilitate travel for tourists. The Vietnam visa policy enables travelers needing visas to obtain one online without going to a Vietnam embassy.
The Vietnamese e-Visa is now available for citizens of over 80 countries who wish to stay in Vietnam for up to 30 days in Total. Travelers must get a Vietnam tourist visa, even for short stays.
Regular passport holders of 25 countries don't need a visa for Vietnam. The length of stay varies between 14-90 days for each nationality. Those passengers can simply show their passports at border control to get a visa on arrival.
Vietnamese citizens with a Permanent US Resident Card can apply for a Visa Exemption Certificate instead of a visa. Visit Vietnam's government site for further information.
Some countries may not be eligible for a visa on arrival or the eVisa to travel to Vietnam. In that case, you can use our Visa Checker tool to determine if your nationality qualifies and apply online. Contact your nearest Vietnam embassy if you are in doubt or need another type of visa.
WHAT IS THE VALIDITY OF THE VIETNAM TOURIST E-VISA?
The Vietnam e-Visa is valid for 30 days after arrival in Total from the entry date. It is a Single Entry. Visitors wishing to stay longer than the duration of a standard tourist visa or e-visa will need a visa extension. They can request this document at the nearest Vietnam embassy.
WHAT ARE THE ENTRY REQUIREMENTS AND DOCUMENTS TO APPLY FOR THE VIETNAM E-VISA?
Below is a list of the current requirements for your application form and entry into Vietnam:
Passport: You must have a passport that is valid for at least six months from the date of arrival in Vietnam. The passport must have at least two blank pages for an entry and exit stamp (one on each page).

Recent passport photo: If you don't have one, no problem! Simply use the iVisa Passport Photo Service.

Health insurance: You will need to show proof of medical or travel insurance with coverage for COVID-19 medical treatment in Vietnam, with a minimum cover of USD 10,000 for medical services.

Method of payment: Credit or debit card to pay the e-visa fees.

Valid email address: To receive your e-visa receipt and confirmation.
DO I NEED A VIETNAM VISA IF I AM TRANSITING?
The Vietnam visa requirement is not applicable to air travelers transiting the country, provided they remain in the transit area at the airport and do not stay more than 24 hours. If you plan to leave the airport anytime, you must apply for the eVisa online before departure.
HOW TO APPLY FOR YOUR VIETNAM VISA ONLINE
It is recommended that you apply for your visa at least a few weeks prior to your trip to Vietnam, but if you're in a rush, we have you covered. The whole process is very simple:
First, read all of the information and provide your details. Then, choose the preferred processing time for the Vietnam e-visa.

Second, double-check and confirm your information and pay the iVisa service fee (see below for information about visa fees).

Third, attach any required documents and click on the 'submit' button to apply for your Vietnam visa. Once you have successfully applied for your Vietnam visa, you will receive a receipt and confirmation of the final e-Visa.
Make sure to save a copy in a safe place on your electronic device, and print your Vietnam e-visa confirmation to carry with you while you travel. Upon arrival, the Vietnam immigration department may ask you to present it.
WHAT ARE THE PRICES AND PROCESSING TIMES OF THE VIETNAM VISA?
If you apply through iVisa, the processing time and charges will depend upon how fast you need your visa:
Standard processing time: Get your Vietnam visa in 11 days for a fee of USD $83.99.

Rush processing service: This option is slightly faster and takes 9 days for a fee of USD $125.99.

Super Rush processing time: For those urgently needing a Vietnam visa, we offer this option, which takes just 7 days for a fee of USD $172.99.
VIETNAM E-VISA SAMPLE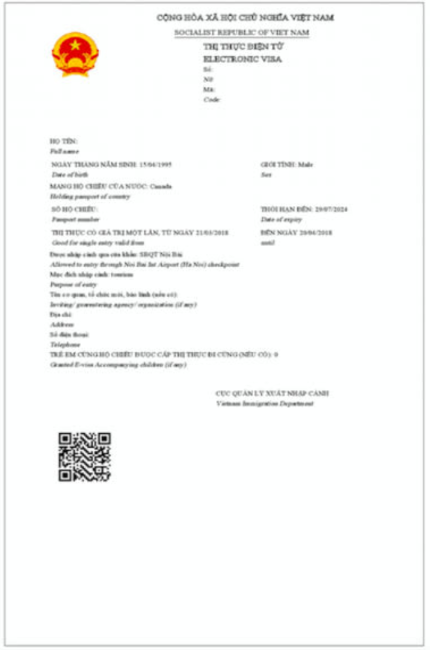 Is it safe to apply through iVisa?
Applying for your visa with iVisa couldn't be more reliable. Although we are not affiliated with Vietnam's government, we are a certified travel agency with a competent review team that will thoroughly handle your application in the most effective way. You may also view what our customers have to say about us and our whole set of services here.
Where can I find more information about the visa application?
You can contact iVisa's customer care portal to find more information about the application process and the vaccination rules to travel to Vietnam and gather all of the needed information from there. If you prefer, you can email your questions to [email protected].
iVisa recommends
Vietnam is a country in Asia that has a lot to offer. Tourists can explore its beaches, cities, and rivers. With French-colonial architectureVietnam is culturally rich but has endured challenging historical moments, such as the infamous Vietnam War. In addition to the culture and beautiful landscapes, gastronomy is another excellent reason to visit the country: there are many lip-smacking dishes to try.
Vietnam also has cities full of features that will leave the tourists awe-struck. Ho Chi Minh City (formerly Saigon) has French colonial sites, Vietnam War history museums, and the Củ Chi tunnels used by Viet Cong soldiers. On the other hand, the capital Hanoi pays tribute to the nation's iconic communist-era leader Ho Chi Minh with a massive marble mausoleum.
For those looking for paradisaic natural places, Ha Long Bay is worth visiting. It's in northeast Vietnam and is known for its emerald waters and thousands of towering limestone islands. You can enjoy boat tours and sea kayak expeditions to explore the area.
Count on iVisa services to be ready for this fantastic trip!
Where can I contact you?
If you still have any concerns about vaccination requirements to visit Vietnam, you can chat with our experts from customer service, or you can send an email to [email protected]. They will be happy to assist you with anything you need 24/7.