One of the most adventurous countries in Africa, with the largest waterfall in the world, is now the best option for those who are planning to discover Zimbabwe. A wonderful land that is open for those who are willing to explore the African jungle without hesitation.
However, due to the current COVID-19 pandemic, on March 27, 2020, the Zimbabwean government declared a "national disaster." Days later, a national lockdown was announced and it has been extended for an unlimited period. All orders are closed, and only humanitarian flights are allowed to enter the country.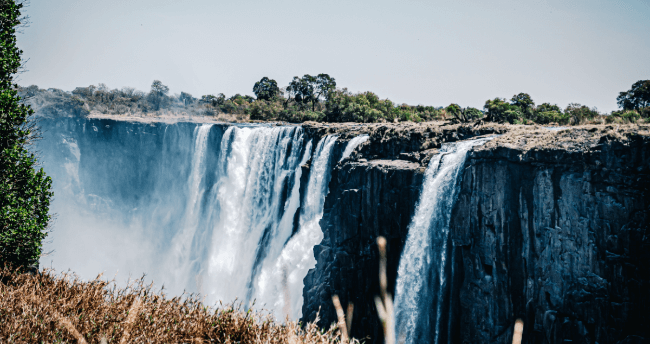 Nevertheless, if you plan to visit Zimbabwe after the ongoing situation, the government has announced that all arrivals will have a strict quarantine. Bear in mind that plans to visit Victoria Falls and other places are uncertain. There is no plan to open the country for a while. Be that as it may, if you visit Zimbabwe, you will be required to show a Health Declaration and follow the authorities' instructions.
Fortunately, iVisa.com can help you to obtain it without any problem! You will not need to worry about anything else, and it is entirely online.
Learn more about the Health Declaration that will be necessary to enter the country in our FAQ section.
FREQUENTLY ASKED QUESTIONS
What is a Health Declaration?
A Health Declaration is a document that will allow you to demonstrate that your medical condition is well enough to enter the country. However, you will still be required to stay in self-quarantine for about 10 days. With this certificate, the Zimbabwean government will know where you were before your trip.
It will also help the nation to better control most of the cases that come from abroad.
How can I apply for a Health Declaration?
As we said before, there is no plan for the government to open all international flights for tourism. Luckily, iVisa.com is already prepared for this situation. If you are going to need this paper, you can obtain it with us by clicking here, and our professionals will be ready to prepare it for you.
Keep in mind that you should read all-new official announcements from the Zimbabwean government about it.
Do I need a COVID vaccine or vaccination certificate to enter Zimbabwe?
No, you don't. As of today, COVID vaccination passports or certificates are not mandatory to enter Zimbabwe. WHO-approved vaccines are accepted
Since information may change quickly, we advise you to follow up on the latest Zimbabwe travel updates and/or contact your local embassy.
Do I need to get a COVID-19 test to get the Zimbabwe Tourist e-Visa?
COVID test prior to arrival: PCR within 48 hours
COVID test on arrival: Travelers may be required to take a rapid test on arrival.

COVID test exemptions: Children under 5 and fully vaccinated travelers.

Note: All travelers should validate their COVID-19 test result via the African Union Trusted Travel or UNDP Global Haven systems. These systems will generate a digital Trusted Travel reference code for your test result, which should be presented upon request.
Do I need to quarantine once I get to Zimbabwe?
Quarantine requirements: There are no quarantine requirements in Zimbabwe.
What documents will I be required to present with iVisa.com?
All the information that we will need to prepare this document for you are:
Your passport. Take into account that it must be valid for at least six months before the trip, and we encourage you to scan it, so it will be easy for us to use all the information needed.
Return flight tickets.
The place that you will stay in the country. It could be a hotel or any other location that you have chosen for your accommodation.
A valid payment method. It could be your credit card, debit card, or your Paypal account.
Your current email address so that you can receive the document prepared.
Remember that if you have any other questions or doubts during the process, our customer service will answer them and give you the best assistance possible.
What are the processing times and prices of the procedure?
The processing times and prices will reckon on the option you take. Fortunately, iVisa.com has created three different choices that hinge upon your needs. These are:
Standard Processing Option: This is the best option for travelers who have time to spare.
Rush Processing Option: The option for travelers who don't have as much free time.
Super Rush Processing Option: The option for travelers without time to spare who need to travel urgently.
How safe is iVisa.com to process my Health Declaration?
It is entirely safe! Despite not being related to the government, we are a travel agency that reckons with the best crew to take care of your information. If you still have any doubts, you can read our satisfied customers' reviews here.
Can I get in touch with you?
Absolutely! iVisa.com counts with the best customer assistance that will help you to answer any questions or doubts that you may have here. Besides, you can also send us an email at [email protected]