If your feet are starting to swell up after spending too many weekends sitting down or if you are just looking for an adventure in Victoria Falls, we are happy to inform you that Zimbabwe has now opened its doors to flights that are ready to transport hundreds of eager tourists to this remote part of the world.
iVisa.com is the ideal travel document company to equip you with everything you need to embark on the trip of a lifetime to this stunning location.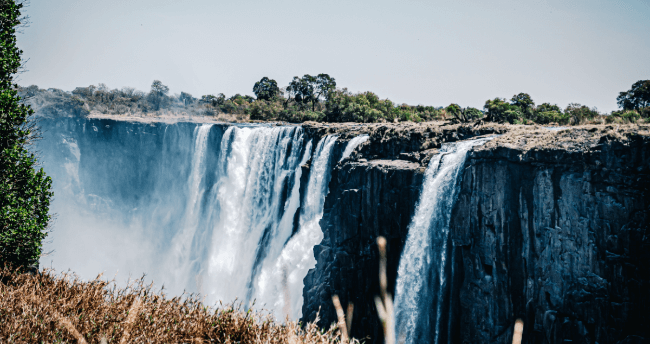 The world is not the same this year, for obvious reasons, but that doesn't mean you can't relax and enjoy yourself. Following health and safety guidelines is a vital task when abroad, so check out this informative article for answers to all your urgent questions about Do I need a vaccine to travel to Zimbabwe. Click here to read all the latest updates and make your safaris and river adventures safe and exciting for the whole family.
How do I get a visa with iVisa.com?
To process a travel document with us, whether it is an eVisa or a Health Declaration, you only have to follow this process:
Fill out the online application form with your private information.
Make sure that the information is correct so that you can select your preferred processing time and pay the fee.
Upload any necessary document, and hit submit. The travel document will be sent to your inbox when it has been approved and processed. That's all! iVisa.com makes it simple for you. Get started.
Frequently Asked Questions
Do I need a vaccine to travel to Zimbabwe?
If you're thinking 'Do I need a vaccine to travel to Zimbabwe?', then you'll be pleased to know that you're not required to get any specific vaccines to enter this African country. However, health guidelines strongly suggest that you consider protecting yourself against Malaria- which is spread by mosquitoes in many places in this country, including Victoria Falls. You should also take action to protect yourself against Hepatitis A and B, and be aware that Cholera can be a risk to you and your family in some areas. Zimbabwe is a beautiful place, but make sure you stay aware of the dangers.
Do I need to get a COVID-19 test to enter Zimbabwe?
No, you don't need a coronavirus test to get the Zimbabwe e-Visa. However, it is mandatory for all travelers to have a negative PCR test result taken within 48 hours prior to departure for Zimbabwe.
Do I need to quarantine once I get to Zimbabwe?
Yes, all travelers are required to quarantine for 10 days at a hotel or other private residence on arrival to the country.
Can iVisa.com's service help me get my travel documents to enter Zimbabwe?
Yes, our main responsibility is to give you an easy alternative to apply for your travel documents, so you can use our website at any time to get ready for your trip by getting the electronic documents required. Please remember that if you need a paper visa, you'll have to process it at a local embassy.
How can I apply to enter Zimbabwe?
Now that the borders have been officially opened to service, we are delighted to tell you that this beautiful part of the world is easy to access. It's easy to get a single entry eVisa using the handy form located on our website. Speak to an adviser using the chat function if you have any questions about filling in the registration form on iVisa.com if to discuss your queries like Do I need a vaccine to travel to Zimbabwe?
Do I need to follow any health rules to enter Zimbabwe?
Entry requirements like the eVisa are generally consistent for most visitors although that does not mean that the additional requirements, such as health declarations, are not essential and vaccine requirements could change in the future.
It is also important to remember that you should also obey local biohazard instructions, especially those related to wearing a mask and frequent hand washing. Be on the lookout for the latest updates on the iVisa.com website.
What do I have to pay?
iVisa.com offers three different processing options to obtain your documents when traveling abroad. Detailed information on iVisa.com processing times can be found below:
Standard Processing Option: This is the best option for travelers who have time to spare.
Rush Processing Option: The option for travelers who don't have as much free time.
Super Rush Processing Option: The option for travelers without time to spare who need to travel urgently.
Citizens can enter Zimbabwe by fulfilling the requirements such as completing the electronic information form.
Will I need to fetch a lot of documentation for my iVisa.com application?
When you apply for an e-Visa with our services, you only need the following items:
Passport, with a scanned copy of the information page.
Credit or debit card to pay the fees.
An email address where you'll receive the eVisa.
Is iVisa.com safe to use?
If you are concerned about providing personal information and copies of confidential details like your passport number, rest assured that we understand your concerns and put you at the forefront of the business. Read these customer reviews to find out why our customers always come back to us for their travel documentation needs.
Where can I read more information?
We know that our reader's minds are full of questions like Do I need a vaccine to travel to Zimbabwe? We will make sure to get to the root of any of your difficult queries, so don't delay in reaching out to one of the team members via email or chatting with one of the teams using the messenger function, which can be found on the iVisa.com homepage.
iVisa.com recommends
Zimbabwe is a country in southern Africa that has varied terrain and fauna, as well as being famous for the Victoria Falls and Bantu ruins.
In this country, you can take advantage of many things to get to know the wildlife of Africa, especially if we talk about reserves and national parks. Such is the case with safaris in Hwange National Park, the largest reserve in Zimbabwe. This park is located in the southeast of the country, on the main route between Bulawayo and Victoria Falls. It is home to 105 species of mammals, including 19 large herbivores and eight large carnivores. All of Zimbabwe's protected species can be found in Hwange, and it is the only protected area where you can see African antelopes and brown hyenas.
Another famous park in Zimbabwe is Mana Pools National Park, which features Sapi and Chewore safari areas. This place is famous for having abundant wildlife at Long Pool and Chitake Spring.
You can also visit the Matobo National Park, which is part of the core of the Matobo Hills, an area made up of granite witness hills, balanced rocks, and wooded valleys located about 35 kilometers south of Bulawayo.
Are you ready for your trip to this beautiful country? Start your application process here!