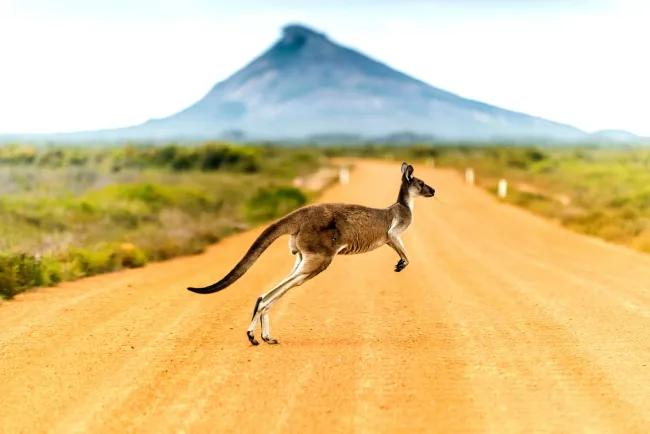 If you're a citizen of Fiji planning a trip to Australia, you'll need to apply for a visitor visa to enter the country. Australia is a popular travel destination for its diverse range of attractions, from natural wonders to bustling cities.
To ensure a hassle-free journey, it's essential to understand the eVisa application process for Fijian travelers. This article provides a simple guide to obtaining an Australian eVisa for citizens of Fiji, making it easier for you to explore the wonders of Australia.
What is the Australian Visitor Visa?
The Australia Visitor Visa (Subclass 600) is a temporary visa required to enter the country for tourist activities, visiting family and friends, or going on a cruise. It can be applied for from within Australia or abroad and doesn't require an interview at the embassy or consulate. However, in some cases, further details may be requested by phone or appointment.
This visa doesn't have a barcode or QR code and is simply electronically linked to the traveler's passport. The application process can be confusing, but don't worry! We provide a stress-free experience with iVisa expert agents to guide you through the process and avoid rejection from the government.
Do Fijian citizens need a Visitor Visa for Australia?
Fijian citizens who plan to visit Australia must apply for an Australian visitor visa to enter the country.
Types of Australian Visas available for Fijian Citizens
Tourist Visa: In case Fijian citizens are not eligible for an e-visa, they have the option to apply for a regular Australian tourist visa. This visa allows them to visit Australia for various purposes, including tourism, visiting relatives, and exploring the country. It is a Multiple Entry visa, granting a stay of up to 90 days Per Entry.
Business Visa: Fijian nationals who intend to travel to Australia for business-related activities can apply for an Australian business visa. This visa is suitable for attending seminars, conferences, meeting business associates, or enrolling in a training program. It is important to note that a business visa should be sought if the applicant is not eligible for an e-visa.
Work Visa: If Fijian passport holders wish to work in Australia, they need to apply for a temporary work visa under subclass 400.
Working Holidays Visa: For Fijian citizens who want to spend holidays in Australia while also working, the working holiday visa is an ideal option. This visa allows a stay of up to one year and permits multiple entries during its validity period.
To apply for any of the above visas that we don't offer, we advise you to contact your local Australian Embassy for more information.
Benefits of an Australia Visitor Visa for Fijian citizens
With an Australia Visitor Visa, you can:
Travel to Australia for tourism and to go on a cruise.

Visit friends and family (if you are sponsored by immediate family members that live in Australia).

Do business activities such as negotiating contracts or attending trade fairs or conferences.

Study or do a short course for a maximum of three months in Australia.
However, the Australia Visitor Visa does not permit you to:
Work or sell goods.

Participate in a trade fair or conference if you are paid by the organizer.

Study or do a course for longer than three months. Travel to Australia for health reasons, such as to undergo medical treatment.
Australian Visitor Visa requirements
Here are the requirements for the Australian visa:
A copy of your current valid Fijian passport displaying your photo, personal information, passport issuance, and expiration dates, as well as the pages that contain immigration stamps.

A copy of your ID (if applicable).

Applicant photo (if you don't have one, use our passport photo service).
In addition to the above requirements, the Australian government may ask for extra documentation after applying for a tourist visa. These documents may include:
Proof of financial means to support the trip

Employment or study records in the home country

Evidence of planned tourism activities in Australia

Letters of invitation from friends or relatives in Australia

A police certificate,

Birth certificate for applicants under 18 years of age

Family register and composition form (if applicable).
Australia Visitor Visa: Eligibility criteria for Fijian citizens
In order to expedite the approval process, it is important to satisfy the following eligibility requirements established by the Australian government:
Genuine visitor: You must demonstrate your intent to stay in Australia temporarily and agree to follow all visa requirements while you are there.
Adequate funds: It is crucial to provide evidence that you have the necessary financial means to support yourself throughout your stay in Australia, which is typically around AUD$5000
Good health: Meeting the minimum health standards is essential, and depending on the situation, you may need to undergo a health assessment as part of your application.
Good character: You must demonstrate that you have a clean criminal record, have not violated any immigration laws in the past, and meet other character requirements established by the Australian government.
By fulfilling these eligibility criteria, you can increase your chances of obtaining a faster approval for your Australia Tourist Visa.
Financial requirements for Fijian citizens
To meet the financial requirements for the Australia Visitor Visa, you'll need to provide documents such as pay stubs, audited accounts, tax returns, credit card limits, and bank statements from the last three months. Your closing balance must be at least AUD $5,000 per applicant.
If you have a sponsor for your visitor visa, they must also meet certain financial requirements. They will need to provide evidence of Australian assets like a house, car, or business, as well as a bank statement from the last three months with a closing balance of at least AUD $5,000 for one applicant. Additionally, they need to show either Australian income or overseas tax assessment.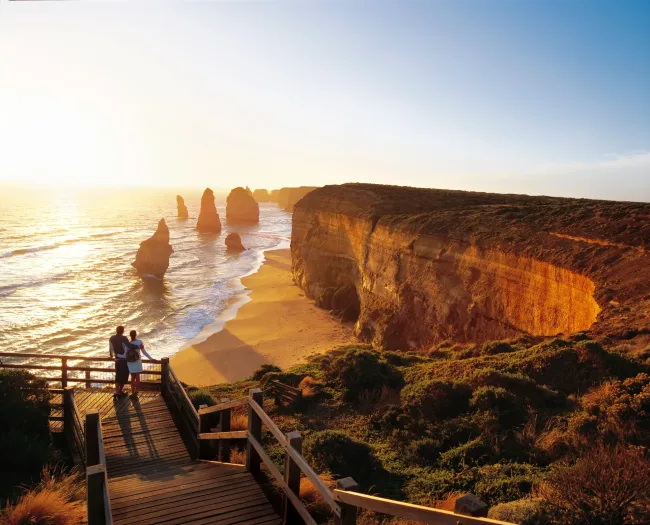 Australia Visitor Visa application process
We understand that paperwork can be overwhelming, so we make it easy for you to obtain your Australia Visitor Visa. Here are the steps you need to follow:
Step 1: Complete the simple visa application form on our website or iVisa app. Fill in your personal and travel details.
Step 2: Verify all information to ensure accuracy, then pay the visa fees using Paypal, Venmo, Amazon Pay, or a credit or debit card.
Step 3: Upload the necessary documents and click 'Submit.' . Step 4: Attend the biometric appointment at the Australian Visa Application Centre and complete the medical examination.
Once you have completed these steps, all you have to do is wait for the government's response. If your application is approved, you'll be on your way to Australia with your valid visa!
What is the Australia Visa fee for Fijian citizens?
You can obtain this visa by paying a government fee of USD $101. plus our service fee. Both are included in our total price. For the most accurate visa application fee, start your online application now.
By applying with us, you can also enjoy the following benefits:
Our iVisa agents guarantee that your application will be 100% compliant with government requirements.

You'll have unlimited access to our iVisa experts, who will guide you through the entire application process.

Say goodbye to the long, confusing, and tedious questions on the government website with our simplified application form. We provide easy-to-answer questions and handle the legwork for you.

With our service, you can fill out the form at your own pace, make changes whenever you want, and save your progress to continue later.
Australia Visitor Visa processing time in Fiji
When using our Australia Guided Visitor Visa service, Fijian citizens can expect to go through two visa processes. The first is our application processing, where we assist you in completing the visa application, review all the information, and arrange an appointment for you to provide your biometric information at a VAC. Here are the estimated processing times for Fijian citizens:
Australia Visitor Visa - iVisa processing time for Fijian citizens: 30 days.
After you have submitted all required documents, provided your biometric information, and passed the medical examination, the Australian government will review and process your visa application.
On average, it takes the government 28 days (90% of applications) to process visa requests submitted by Fijian citizens. Please note that this timeframe may vary based on the number of applications the embassy gets.
Tips for a successful application in Fiji
Plan ahead: Give yourself plenty of time to complete the application process and gather all the necessary documents. This will help you avoid any last-minute stress and ensure that your application is complete and accurate.
Check your eligibility: Make sure you meet all the eligibility criteria for the Australian Visitor Visa. This includes having a valid passport, demonstrating sufficient funds, and having a genuine reason for visiting Australia.
Provide accurate information: When filling out the application form, make sure to provide accurate and complete information. Any mistakes or omissions could delay the processing of your application or even result in a rejection.
Submit all required documents: Ensure that you provide all the necessary documents required by the Australian government, such as your passport, financial documents, and proof of your itinerary or planned activities in Australia.
Be prepared for an interview: While not all applicants are required to attend an interview, you should be prepared to do so if requested by Australian immigration officials. This may include providing additional documentation or answering questions about your travel plans.
By following these tips, you can increase your chances of a successful application and avoid any unnecessary delays or complications.
Common reasons for visa refusals in Fiji
Here are some common reasons for visa refusals:
Incomplete or inaccurate application: A visa application that is missing required information or contains errors is likely to be refused. Make sure all sections of the application are completed accurately and truthfully.

Insufficient funds: If you can't demonstrate that you have enough money to cover your travel expenses and support yourself while you're in the destination country, your visa application may be refused.

Criminal record: A criminal record, especially for serious offenses, may make it difficult or impossible to obtain a visa.

Overstaying a previous visa: If you have a history of overstaying a visa in any country, this could lead to a visa refusal.

Lack of ties to home country: If you can't demonstrate strong ties to your home country, such as a stable job, family, or property ownership, this may lead to a visa refusal as authorities may suspect that you intend to overstay your visa or work illegally in the destination country.

False information or fraudulent documents: Providing false information or fraudulent documents in your visa application is a serious offense and will result in a visa refusal.
It's important to carefully review the visa application requirements and eligibility criteria before submitting an application to minimize the chances of a visa refusal.
Australia Visitor Visa approval and denial for Fijian citizens
In case your application for an Australian Visitor Visa is denied, you have the option to appeal the decision or reapply for the visa. However, when you reapply, you are required to declare that your previous visa application was denied. Keep in mind that the denial of your previous visa application will usually have an impact on your eligibility for future visa applications.
Other tips for Australia
Traveling to another country can be an exhilarating experience, full of new sights, sounds, and experiences. However, it can also be quite daunting, especially if you're not familiar with the local customs and culture.
That's why we're here to provide you with some tips to make your trip as smooth and stress-free as possible.
Purchase comprehensive health insurance before traveling to Australia, as healthcare is expensive in the country.
Research the weather conditions of the area you plan to visit and pack accordingly. The climate in Australia varies greatly between regions, so it's important to check the forecast and pack appropriate clothing.
Show respect for the local customs and traditions, such as using "please" and "thank you" when speaking to locals, and avoiding discussing sensitive topics like politics or religion.
Familiarize yourself with the Australian currency (AUD), language, and transportation options. Australian English has some unique slang words and phrases that may take some getting used to, and the country has an extensive network of public transportation options, including buses, trains, and trams.
For more information about where to go, what to pack and the best food to try, check out Ultimate Australia travel guide.
Still need assistance?
At iVisa, our mission is to ensure a seamless visa experience for you. We are committed to guiding you through the process and providing the support you need along the way. Our dedicated customer support team is readily available to answer your questions and address any concerns you may have. Simply reach out to our visa chat or email us at [email protected], and we'll be more than happy to assist you throughout your visa journey.