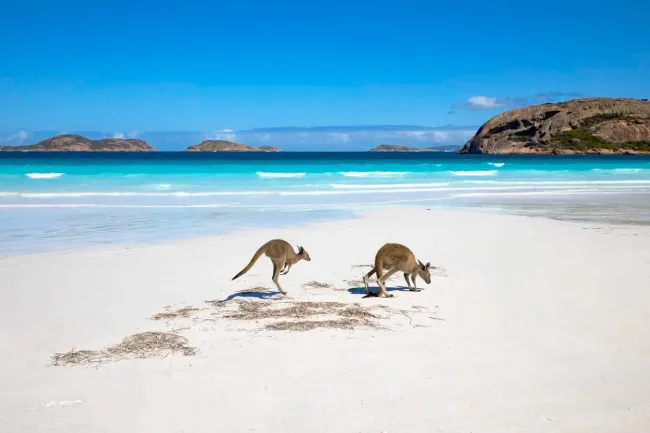 Traveling to Australia is easier than ever for Indian travelers! Planning a trip but don't know where to start? Don't worry, we got you covered.
In this article, we'll explain everything you should know about Australia's entry requirements, including how to apply for the Australia Visitor Visa, and more.
Do I need the Australia Visitor Visa as an Indian citizen?
Yes. You have to apply for this visa if you're traveling to Australia for tourism, a cruise, or to visit family and friends.
You can apply quickly and easily online for the Australia Visitor Visa with iVisa.
Apply for the Australia Visitor Visa in just a few clicks online
Applying for a visa can be time-consuming and confusing. Use iVisa and let our visa experts do all the work for you, so you can focus on the fun part: planning your itinerary!
Simply fill out your info online from the comfort of your own home in less than 10 minutes. You can even get your passport photos digitally!
All you need to know about the Australia Visitor Visa
Indian travelers can apply for this visa from India or even Australia. Here's what you can do with this visa:
Tourist visits, cruises, visiting family and friends, or studying for up to three months.

Stay up to 3, 6, or 12 months (depending on immigration authorities).

Visit and leave the country as often as you like within one year, as it's a multiple-entry visa.

Important: You cannot work in Australia with this visa.
The Australian Tourist Visa could be yours in just a few clicks. Start the process today with iVisa!
Differences between the various Australian visas for Indian citizens
Whether you should apply for an Australian Visitor Visa or another visa, depends on your reason for traveling.
As an Indian passport holder, you can apply for the following visas:
Australian Visitor Visa Subclass 600: This is a short-term visa for those who want to visit the country for tourism purposes.

Study Visas for Indian students: A visa for Indians to live and study in Australia at a registered education facility.

Work Visa For Indian citizens: This visa allows you to work and live in Australia if you have a specific skill set.

Partner and Family Visa: If you have a spouse or children in Australia or you want to sponsor your family to come to Australia, this is the visa for you.
While you can apply for the Australian Visitor Visa online with iVisa, all other visas must be applied for through the Australian government website.
How much does the Australia Visitor Visa cost for Indian citizens?
The Australian Visitor Visa for Indians costs USD $256.49 or about INR 21,170 in total, including all government fees.
This also includes:
24/7 access to an iVisa Expert, to guide you through the process and answer any questions you may have.

A complete guide with all the tips and tricks to help you fill out the application form and prepare for your biometrics appointment.

An application form that is 50% shorter than the government website, and offers clear and simple questions, like filling out a short survey.
How long does it take to get my Australian Visitor Visa from India?
About 90% of applicants get this visa in four months. That's a long time, isn't it?
By applying through iVisa you can get your Australia Visitor Visa in just 30 days. Our experts will review your application carefully and support you from start to end, to avoid rejections and delays.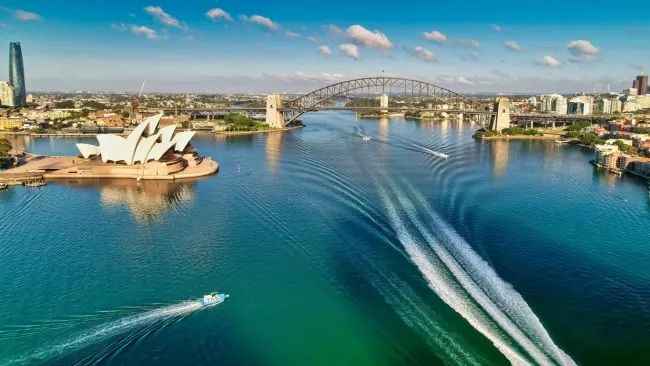 Requirements to apply for an Australian Visitor Visa
How do I get my application for the Australia Tourist Visa approved faster? That's a great question.
Simply put: the Australian government wants to know if you are honest in your application, are not intending to stay permanently in Australia, and use the public health system, for example.
You must:
Be a genuine visitor: You must prove that you intend to stay temporarily in Australia and obey any conditions and stay attached to your visa.

Have sufficient funds: You must show that you have enough money to support yourself in Australia, at least USD 600 to 1200 (or about INR 51000).

Be healthy: You must meet minimum health standards. Sometimes a health examination is required to apply.

Be of good character: You must prove that you do not have a criminal record, haven't violated immigration rules before, and more.
Documents needed to apply for the Australian Visitor Visa
Gather these documents together to start your application:
A passport with a minimum validity of 6 months. Scan the pages that have immigration stamps.

Passport photos. You can use the handy iVisa passport photo service from the comfort of your couch!
The Australian authorities could request more information, such as:
Financial documents: employment letters, salary slips, or bank statements.

Itinerary: return tickets and hotel reservations.

Marriage certificate or sponsorship letter.

Police certificate or letter of conduct from your employer.
The more documentation you can provide, the quicker you'll get your visa approved successfully! With iVisa, you'll get a full guide on what to expect and which documents to provide during your application.
How to prepare your documents for your application
All your documents must be translated into English by a certified translator and include the following info:
Full name, address, telephone number, qualification, and translator's experience.

All your English and non-English documents must be scanned in color.

Documents and scans must be legible and clear. If your document has more than one page, you must save it as one file.

Make sure your passport details match all the info on the documents.
How to apply for the Australian Visitor Visa from India
It's simple. Let our visa expert Dalma explain the steps to you in this short video:
Get an Australia eVisitor visa | How to apply step by step complete info! Christmas Special "Travel"
Step 1: Fill out the application form
Fill out the simplified form on iVisa, with your passport information, personal data, and travel details. Double-check all your information carefully. If you're applying with a friend or family member, you can add another person during the process.
Step 2: Apply online
Pay for the visa fees online on our secured platform with a debit or credit card, or PayPal. Then, upload the supporting documents and submit your application.
Step 3: Follow the instructions
Your confirmation email will provide full instructions regarding your application, including where to send your documents and how to make an appointment for your biometrics and medical exam.
What happens after applying for the Australian Tourist Visa?
Once your application is approved, your visa will be digitally linked to your passport. You will receive the following information:
The visa start date.

The visa conditions.

THe visa number.
Important: Do not book your flight until your visa has been approved! We will let you know by email once your approved visa comes through.
If your visa is refused, you'll receive a letter from the Australian government with the reason for rejection in writing.
Made a mistake on your application?
If you made a mistake, let us know as soon as possible via online chat.
If we have not processed your visa application yet, we may be able to edit your answers on the application form.
What else must I know about the Australia Visitor Visa application process?
It's as simple as that!
We highly recommend using our visa services to get all the insider tips and avoid stress, rejections, and delays.
Apply directly with iVisa and get ready to travel to Australia!