Whether it is the pristine mountains or the serene lakes, Austria has immense opportunities to explore its beautiful landscape. From snowboarding to soaking the art and culture of historic cities, Austria is a perfect getaway spot for people seeking culture and adventure.
Want to know more about how you can apply for Austria's ETIAS? Click here to Apply now!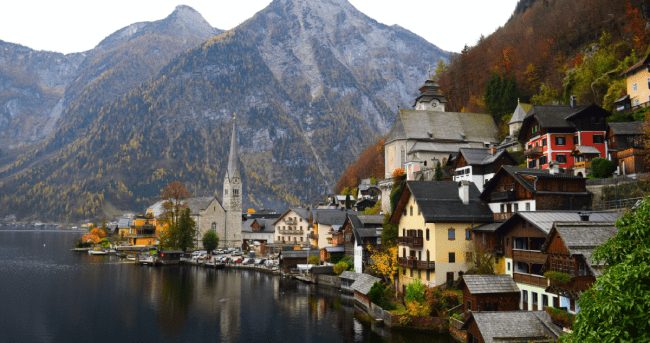 Austria has found a way to include its age-old culture in music, theatre, literature, and architecture in everyday life. The quaint country does not only have beautiful natural landscapes but also phenomenal art and architecture.
If you can imagine yourself walking down the charming streets of Austria then, keep reading our FAQs and have a look at iVisa.com's online form to make your Austrian dreams come true!
Frequently Asked Questions (FAQs)
WHAT IS ETIAS?
European Travel and Information Authorisation System or ETIAS is like a visa but easier. Starting from 2022 onwards Austria has introduced an EU visa waiver scheme which will require non-Europeans to apply in advance for a travel authorization. The ETIAS system tracks information and documents from non-EU travelers to ensure safety and security at all times.
However, visas and ETIAS are different. A visa usually involves long waiting periods plus extensive paper forms. Whereas with an ETIAS, you just need a few minutes to complete an online questionnaire and you will be good to go.
Begin your application with iVisa.com today!
I AM A CITIZEN OF PALAU, DO I NEED AN ETIAS TO TRAVEL TO AUSTRIA?
Yes, since Palau is part of a list of countries exempt from the Schengen visa, you will need an ETIAS.
To know more about eligibility criteria check iVisa.com's Visa Checking Tool on the iVisa.com homepage.
WHAT IS THE APPLICATION PROCESS?
The application process is simple and divided into three hassle-free phases at iVisa.com:
Phase 1: fill out the application form and select the procedure time you prefer.
Phase 2: confirm the information you entered into your form and use your credit/debit card or your Paypal account to pay the mentioned fees.
Phase 3 attach the required documents and submit them.
Not sure about something? Contact our support team.
DOCUMENTS REQUIRED TO APPLY FOR AN ETIAS:
Apart from the basic background questions, the things you will need are:
A valid passport scan
A recently taken digital photo
An electronicmail.
Ready? Click here to apply for an ETIAS now!
HOW EXPENSIVE AND TIME CONSUMING IS THE PROCESS?
The process does not require much time and you can choose what services you can opt for depending on your budget:
Plan 1: The "Standard" - basic services for a moderate waiting period.
Plan 2: The "Rush" - a quicker option for a relatively higher price.
Plan 3: The "Super-Rush" - useful for immediate journeys that require a fast-tracked process.
Want to know more? Read more about our payment options here.
HOW LONG DO I HAVE TO WAIT TO RECEIVE THE ETIAS?
When filling out the application form you will provide your name, address, birthplace, parents' information, etc. You might be asked about prior criminal charges if any, health conditions, and anything else relevant for the immigration authorities. Make sure to answer honestly because your information will be cross-checked against other international databases.
Once all that is checked, your ETIAS will be approved within 15 minutes if everything goes smoothly in your online application and you have all the documents needed.
In the case of any dispute, it will take 2 weeks at the most.
WHAT IS THE VALIDITY OF MY ETIAS?
Your ETIAS is valid until the end of the validity of the documents used in the application. Once you receive it, the ETIAS will be valid for 3 years.
Apply now and get to know Austria yourself.
HOW IS IVISA.com ENSURING MY INFORMATION IS SAFE?
iVisa.com has the most secure and safe systems in place to guard your information all the while easing the hassle of the usual application processes.
Need to see for yourself? check out our client reviews
HAVE UNANSWERED QUESTIONS?
In case you do have any other questions in mind here is what you can do:
To apply today, click here: Austria ETIAS