Do you have your heart set on trying the famous Viennese Apfelstrudel? Or is it the Potato Gulasch that's caught your eye? Whatever you fancy, don't forget to get some refreshing Almdudler or a creamy Viennese hot chocolate to wash it down. Keep reading to find out more about how you can go about applying for an Austria ETIAS - so you can get closer to tasting the Austrian dream!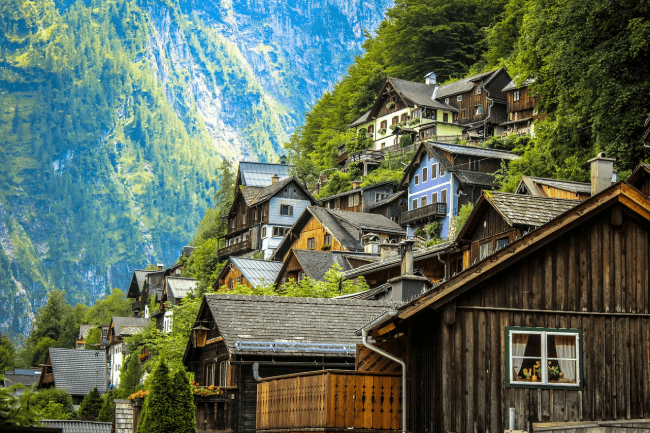 Set aside just a few minutes to go through our FAQs below so you can easily begin filling out iVisa.com's online form. We'll help you gather all the knowledge you need to do the same, quickly and safely.
Can you smell the Wiener schnitzel already?
Frequently Asked Questions (FAQs)
WHAT IS THE ETIAS AND WHY DO I NEED IT TO ENTER AUSTRIA?
Austria has introduced an EU visa waiver scheme which will require non-Europeans to apply in advance for a travel authorization. This is just like a visa, but easier. As a citizen of Macedonia, you must get an ETIAS to visit Austria.
All you will need to do is to fill out an online application! This new system is called the European Travel and Information Authorisation System or ETIAS. Keep reading in order to understand how to apply or check out the iVisa.com application form.
HOW DO I APPLY FOR THE ETIAS?
We at iVisa.com have created 3 quick steps that will get you the ETIAS in a matter of a few minutes.
STEP 1, fill the application form and select what procedure time you prefer (more on this below).
STEP 2, confirm the information you entered in step 1 and use your credit/debit card/Paypal account to pay the required fees.
STEP 3, simply upload the required documents related to your nationality and submit.
That's about it! Want more information about our payment methods? Click here!
WHAT ARE THE PRICINGS & PROCESSING TIMES LIKE?
Much like the Austrian Sachertorte, we have a 3-layered price and processing time system, as explained below:
Layer 1: The "Standard" option gives you all the basic services for a moderate waiting period.
Layer 2: The "Rush" option allows you a quicker service for a relatively higher price.
Layer 3: The "Super-Rush" option is useful if your journey needs to begin very soon and you require an urgent process.
Need more information? Reach out to our customer agents who are happy to help, always.
WHAT DOCUMENTS WILL I NEED?
In order to fill out the application, apart from the basic background questions, the only things you will need are:
A scan of your passport
Your digital photograph
Your email address
Ready to begin? Click here to fill out your virtual form.
HOW LONG DOES IT TAKE TO GET THE ETIAS AND WHEN IS IT VALID TILL?
If you have all the documents needed, your Austria ETIAS should get approved within just 15 minutes. In the case of any dispute, the authorities will take 2 weeks at the most.
Once you receive the ETIAS, it will be valid for 3 years or until the end of the validity of the documents used in the application, whichever comes first.
IS IT SAFE TO USE IVISA.com AND GET MY ETIAS ONLINE?
When it comes to online travel, iVisa.com has the most easy to understand yet sturdy and reliable systems in place to protect your information while easing the hassle of the usual application processes.
Don't just take our word for it - check out our client reviews and see what they have to say.
HOW CAN I GET MORE DETAILS?
In case you do have any other questions in mind - we're ready to help! Contact us with anything and everything you need. Check out iVisa.com's webpage. and get more details.
Are you ready? Start applying for your ETIAS form via iVisa.com and get excited to make your way to Austria.