By the date of this article (04 March 2021), Bhutan is still closed for international travelers. This situation is expected to change after the end of the national vaccination cycle, at the end of March 2021.
Those who are entering after the border reopening must be aware of the Bhutan Covid Restrictions. The local authorities have established a new requirement called Bhutan Declaration Form to prepare for travelers from abroad. This travel document collects data from visitors to pre-screen their current health condition. To help you complete the Health Declaration with no worries, iVisa.com has created the online form. This user-friendly document allows you to complete the application process in a few minutes, and best of all, from your home.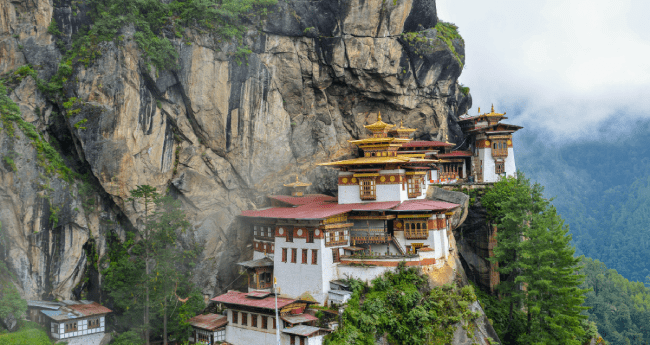 Throughout this article, you will find the latest updates about Bhutan covid restrictions as the requirements to get your travel permissions.
How to get the Bhutan Health Declaration with iVisa.com?
The process is simple. Just follow these steps:
Complete the requested information on online form.
Upload a copy of your current passport.
Select an option to process your application.
Receive the pre-filled Health Declaration.
Print and Sign the file you received.
Can I apply in advance for this document?
Yes, you can apply anytime for the health declaration. Taking this option is a wise choice since the border opening may occur at any moment, and you should be ready for traveling. When you apply in advance, you get more time to complete the information and documents required for the health declaration. Also, you have the chance to edit your data and receive useful tips from our experts to improve results.
Contact our Customer service agents to learn more about the advantages of applying in advance. Or to make your consultations regarding the Bhutan covid restrictions.
Frequently Asked Questions
Is it mandatory to apply for the Bhutan health declaration?
Yes. Until further notice, all travelers coming from abroad, including Bhutan nationals returning to their homes, must complete the Health declaration to enter the country.
Do I need to take a COVID-19 PCR test before traveling to Bhutan?
COVID test on arrival: Fully vaccinated travelers must take a PCR test on arrival.
Do I have to quarantine when I get to Bhutan?
Quarantine on arrival: Fully vaccinated travelers must quarantine for 24 hours or until negative results arrive.
Quarantine after the arrival: Travelers testing positive on arrival must follow a 5-day quarantine.
Foreign travelers must cover quarantine costs. Bhutan nationals do not have to pay, with the exception of those who sign the Undertaking Form.
What documents do I require to apply?
To process your Health Declaration with iVisa.com, you only will need your valid passport. Make sure it has at least six months of validity beyond the arrival date in Bhutan. Also, you should get a couple of extra items:
Your email account (to receive your Health Declaration)
A payment method: debit/credit card or Paypal account. Find more about the Bhutan covid restrictions in the next sections.
What are the requirements to enter Bhutan in 2021?
International travelers must present a certificate with a negative result for Covid-19, taken 72 hours before arriving in Bhutan. Indian migrant workers unable to take a PCR test can present a Rapid Antigen Test negative certificate.
Present a printed and signed copy of the Health declaration you received in your email inbox.
Depending on your nationality, you may need to present a Bhutan visa upon arrival. Contact your local consulate or embassy to check if you need to apply for a Visa too.
Follow the health screening procedures on arrival.
Complete a 21-day quarantine at your accommodation or designated facility. Read about the Bhutan covid restrictions right below.
What are the restrictions in force due to Coronavirus?
Although the restrictions due to Coronavirus in Bhutan are the same as in other countries, local authorities are very strict about their enforcement. Once inside Bhutan, you must:
Wear a face mask and preferably a face shield in public spaces.
Follow social distancing protocols at all times, whether indoors or outdoors.
Public transportation is limited to short distances. Those traveling inter-district must take a 7-day quarantine after arriving at their destination.
Entertainment and leisure places such as cinemas, bars, dance clubs, and sports locations are still closed.
Only essential gatherings are allowed with prior permission. A maximum of 25 people is allowed. After reading about the restrictions, we invite you to start filling your application.
What is the cost of the Health Declaration with iVisa.com?
Price varies depending on your preferences:
Standard Processing Time:

24 hours

-

USD 34.49

.
Rush Processing Time:

8 hours

-

USD 67.99

.
Super Rush Processing Time:

4 hours

-

USD 104.99

.
Is iVisa.com safe?
You can be sure that we are one of the safest options to process your travel documents. We guarantee your information is safe with us thanks to our modern security system. Visit our customer reviews section to discover what users from around the world think about our services.
Where can I get more information?
Contact our customer service center anytime to get extra information about Bhutan covid restrictions. Or to ask for assistance during your application. Our agents are available 24/7.
iVisa.com Recommends
Bhutan is one of the few countries left in the world that has not joined today's globalization. Despite welcoming international visitors all year long, most of its inhabitants remain isolated from the world beyond their borders due to strict government control. The positive side for travelers is, they will have the chance to explore a culture that has not changed much over the past centuries. Another important fact you must consider before traveling to Bhutan is the mandatory USD 200 - 250 daily fee for tourists, which causes most visitors to stay only for 3 or 4 days as max. Because of this expensive fee, it is necessary to know what to do and where to go before arriving. Here we present you the main activities available in this Asian country for a short visit.
Hike the Tiger's Nest Monastery. To enjoy the spectacular views from this site, you should prepare to hike for 4 to five hours.
See the Takin. It is the national animal of Bhutan. They are found all over the country in forested areas. Another commonplace to see them is on the streets of the city of Thimpu, looking for food.
Learn archery. Join the locals for an archery lesson at Changlimithang stadium and archery ground. This activity you will enjoy for sure. However, be prepared for the laughter after missing the first shots!