If you're traveling to Cambodia, chances are you're going to need a Cambodia eVisa. There are a few exemptions that you can check on our product page.
With the Cambodia eVisa, travelers are allowed to enter the country for a maximum stay of 90 days without needing to go to an embassy or consulate. But sometimes, travelers encounter issues while processing this document and report Cambodia eVisa errors.
We have compiled a list of the most common Cambodia eVisa errors and how to fix them to help you have a smooth process.
If you're looking to skip this process altogether, you can apply through iVisa.com. The whole application is done online in less than 10 minutes.
Avoid any Cambodia eVisa error applying with iVisa.com.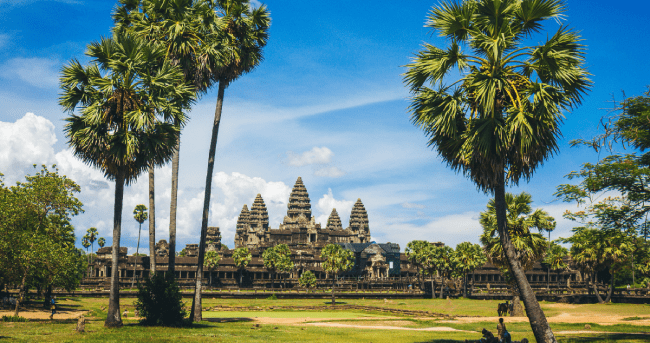 Cambodia eVisa Common Errors and FAQs
Blurry document scans
Uploading blurry scans of your documents when applying for the Cambodia eVisa will automatically cause your application to be denied. Make sure to check the scan of your passport before uploading it. There cannot be any smudge or glare from the flash on it, and all the details need to be visible. If cropping the picture with a scanning app, make sure you don't crop too much as to remove any piece of your personal information from the picture.
Some recommendations to get a clear scan of your documents with your phone and avoid any Cambodia eVisa errors include using a tripod or stand to hold your phone while taking the picture. If you don't have any, support your arms somewhere to avoid shaking and potential blurriness. You should also clean your camera with a piece of cloth before taking the picture to avoid any dirt or grease affecting the quality of your scan. Lastly, always use a source of natural light instead of flash, as the latter causes glare on your passport information page and prevents some details from being clear.
Cambodia eVisa error - Avoid blurry pictures by following our recommendations!
Discrepancies in travel documents
Sometimes travelers get confused and upload the wrong paperwork to the application form, like an old or wrong passport. These discrepancies are a common cause of Cambodia eVisa error.
Avoid them by carefully checking each document before uploading it. If you need an extra set of eyes, you can apply with us. One of our experts will carefully check your application and all your documents before processing them. If there are any discrepancies, they will contact you before processing. This way, we make sure to avoid any Cambodia eVisa error.
Incomplete application
Ensure you upload all the required documents before submitting your application for the Cambodia eVisa. If you fail to do that on the government website, you'll need to start the process all over again.
It helps to have a list of the requisites at hand, whether digital or on paper, when filling out the form. This way, you can make sure you have everything you need to complete your application successfully.
Prevent any Cambodia eVisa error by carefully reviewing your application before submitting it.
How can I apply for the Cambodia eVisa with iVisa.com?
Our application process is incredibly easy, and it will take you less than 10 minutes to complete it. You only need to fill out our form with your details, upload the required documents, and pay. We will carefully review your application and let you know if we need anything else to process it successfully. And if you want to know the status of your application, you can reach out to any of our customer service agents at any time.
The documents you'll need to apply are:
Passport Personal Details Scan
Last Page of Passport (if applicable)
Applicant Photo
Cambodia eVisa error - Upon arrival, you'll also need to present a negative PCR test taken within 72 hours before your trip.
iVisa.com Recommends
Cambodia's capital, Phnom Penh, offers its visitors many marvelous sites to explore. Formerly known as the 'Paris of the East,' this city dazzles travelers with its French colonial architecture mixed with millennial Asian temples.
There are incredible buildings like the National Museum of Cambodia, the Wat Ounalom, and the Royal Palace of Cambodia that reflect traditional Asian architecture. They also hold some of the history and ancient traditions of the country.
In contrast, the Central Market, known as Phsar Thmei, is an excellent example of French colonial architecture. There you'll find anything you need, from traditional food and species to gorgeous batik and brocade textiles.
Outside the city, you'll also find amazing sites to visit with their own interesting stories. One example is Koh Ker, the abandoned capital of the Angkorian empire. This impressive site, located in the North of the country, marvels visitors with its impressive historic buildings, including Prasat Thom. This Mayan-looking sandstone pyramid is a favorite because of the spectacular views of the surrounding forests you can get from the top.