If you are looking for a destination in Asia for your next trip, you should visit Cambodia. This country is a paradise for those who love nature, historical sites, and calm beaches.
But, before packing, you need to apply for a Cambodia visa for Pakistani citizens. This tourist visa is mandatory for foreign visitors entering the country. Since Pakistani nationals are from one of the countries eligible to apply for the online e-Visa, the visa application process is quite simple, especially if you count on iVisa services.
Read below all the details about the Cambodia e-visa for Pakistani, such as the visa requirements, Cambodia visa fees, steps to submit the visa application, and everything you need to know to visit Cambodia.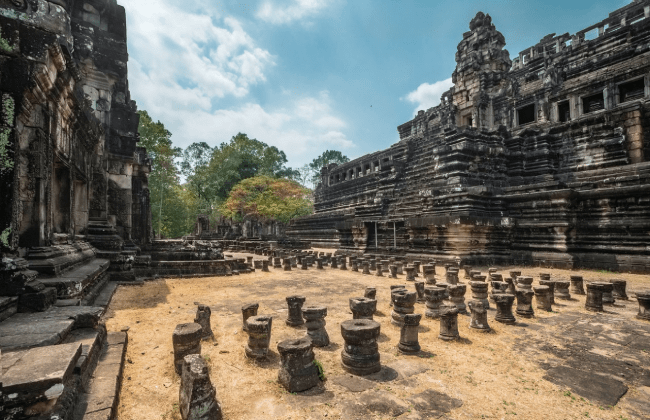 Cambodia Visa for Pakistan
The Cambodian visa has been available through a Cambodia visa application online since 2016. Since the procedure for tourists has become digital, there's no need to visit a Cambodia embassy to get a visa. By applying online, you only have to meet a few electronic visa requirements, send the required documents, and then receive the permit via email.
But there's a critical detail about using this visa type: Pakistani citizens need to enter the country via the Phnom Penh International Airport and Sihanoukville International Airport to use this Cambodia tourist visa. To arrive in Cambodia at other airports, you need to go to a Cambodian embassy to apply for a Cambodia ordinary visa.
But be aware that Pakistani passport holders can only use the Cambodia tourist visa for tourism purposes. If you need a Cambodia business visa or work permit to enter Cambodia, you should consult the embassy.
The Cambodia e-visa permits Pakistani citizens a Single Entry and a maximum stay of 30 days in Total. The visa validity is 90 days after issued after being issued.
Cambodia visa requirements: Pakistani passport holders
By applying online, Pakistani nationals can submit an application form from wherever they are. The process takes only a few minutes, and there's no need to wait in long lines. But the applicant still has some requirements to meet.
Read the document checklist to apply for the Cambodia e-visa below:
Valid passport: All travelers must have a passport valid for at least 6 months to apply for the Cambodia visa.
Applicant photo: It is essential to have a passport photo attached to the application to process the visa for Cambodia. It must meet all passport-size photo requirements. You can also count on iVisa photo visa services to get your picture.
Email address: You will receive your Cambodia visit visa in your current email.
Proof of accommodation: You must include information about the hotel booking or other accommodations while filling out the Cambodian visa application. Sometimes the return ticket flight is also requested.
Means of payment: You will need a credit or debit card to pay the visa fee.
If the immigration authorities request additional documentation, the iVisa team will contact you and help you submit all the information required for a successful Cambodia visa application.
Cambodia visa application: How to get a Cambodia visa for Pakistanis?
With our visa services, obtaining the visa online is effortless. It takes only a few minutes to complete the application form. Check the steps to apply for the visa below:
First, you'll complete the form with your basic information on the iVisa application page. After that, select the Cambodia visa processing option that best suits your needs.
Second, review the personal information and pay the visa fee. Double-check the data, so you do not have problems upon your arrival.
Third, submit the form and wait for the visa to arrive in your email. When the Cambodia visa is processed, you will receive it in your email. It couldn't be easier to travel to Cambodia!
Cambodia tourist visa: Processing times and visa fees
iVisa offers 3 processing options for Cambodia Visit Visa applicants.
Standard Processing Time -

8 days

-

USD $93.99

. It's a low-budget option for travelers that still have time until departure.
Rush Processing Time -

6 days

-

USD $134.99

. It's an option if you're in a hurry. You can get the visa faster by paying a bit more.
Super Rush Processing Time -

4 days

-

USD $180.99

. It's the best option if you urgently need a visa, like for a last-minute trip.
All prices include the service and visa fee. You can choose which suits your budget and time better before you travel.
Cambodia visa for Pakistanis: Sample
Check the Cambodia visit visa sample that Pakistani applicants receive by email to present on arrival.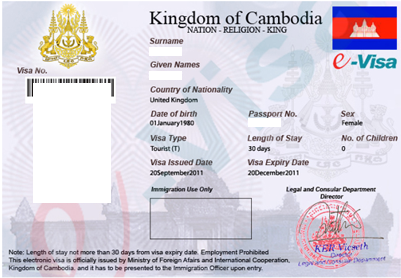 iVisa Recommends
Cambodia is a country full of attractions! From ancient sites to preserved parks, Pakistani travelers have much to explore. Once you have your valid passport and Cambodia visa ready to travel, it's time to decide which places to visit. Read here for some travel tips about attractions you cannot miss.
The Angkor Archaeological Park is one of the most popular places, receiving tourists from around the world. Angkor Wat is the main temple to visit, rated as one of the world's must-see ancient sites. Still, many other beautiful temples are worth visiting, like the Ta Prohm and Bayon.
The capital, Koh Kong, is close to the Thailand border, an excellent destination if you visit both countries. The city offers impressive waterfalls and places to appreciate nature, but you can also have fun nights in the casinos on the border to Thailand.
For those looking for days on the beach, the best call is to explore Cambodia's south coastline. There are many calm places to relax, like the Koh Rong Samloem island. You will find white sand and turquoise waters, a paradise!
Click here to learn about vaccination certificate requirements and other travel restrictions.
I'd like more information about the Cambodia eVisa. How can I contact you?
You can count on iVisa if you want personalized service and expert travel advice. Our customer service team is available by chat or email at [email protected]. We'll be happy to help!