Cambodia - Open for Tourism, here's what you'll need
Cambodia - Open for Tourism
Trustpilot recommended. We lead the industry in innovation and reputation
Learn More: eVisa
Last update, October 2022
Get Your eVisa with iVisa and explore Cambodia!
The Ministry of Foreign Affairs and International Cooperation introduced the e-visa in April 2006 to promote tourism and visit Cambodia. With the new e-visa, travelers are allowed to enter Cambodia for up to three months without needing to issue a visa at Cambodian airports or consulates abroad.
At iVisa, we can make applying for a Cambodia Visa an easy process without leaving your home. Our expert staff is here to guide you through everything you need.
On this page, you will find everything you need to know about the Cambodia visa, from application requirements and COVID-19 entry restrictions to some frequently asked questions you may be asking.
Apply for your Cambodia Tourist Visa Online!
What is the Cambodia e Visa?
The Cambodia e-visa is an official document that authorizes travel to and from Cambodia for any traveler who is required to apply for this document. It is an authorization that is electronically linked to your passport.
The usual process to present it at the Cambodian border is to print it out and give it along with your passport and other necessary documents to immigration officials at the airport.
Who is eligible to apply for the Cambodia Tourist Visa?
Most countries have to apply for a Cambodia e-Visa. Only a few countries are exempt.
Check with our Visa Checker Tool If you are allowed to enter Cambodia with this electronic visa, and apply instantly.
How long is the Cambodia e Visa valid for?
The Cambodia e-visa is for tourist purposes only. If you want another type of visa, you must contact the country's consulate.
This Cambodia electronic visa is valid for 90 days after issued from the date of issuance, and the maximum stay in Cambodia is 30 days in Total.
Travel requirements and documents to apply for the Cambodia eVisa Online
To apply for your Cambodian tourist visa, you will need to provide personal information along with details about your trip to Cambodia. iVisa has simplified the application process so that you can quickly complete your application and plan your trip.
iVisa only asks for the following documents for the visa application:
Valid passport – All travelers must have a passport valid for six months prior to scheduled travel.
Applicant photo – It is essential to have a passport photo attached to the application in order to process the document. You must meet the requirements for a passport-size photograph.
E-mail address – When you apply with iVisa.com, the visa will be sent to you by email.
Proof of accommodation - Fundamentally, you include the information about the accommodations you have booked for your trip in the documents.
Means of payment – iVisa.com accepts credit and debit cards.
When you have completed the form, you will receive a confirmation email of the visa application. If you do not see it in your inbox, look in your SPAM folder.
When entering Cambodia, make sure you have your Cambodia visa ready to present to the immigration authorities. They will check the document and allow you to enter the country.
Do I need a Cambodia e Visa if I'm transiting through the country?
If you only stay in the airport's transit area and do not intend to leave it, a Cambodian visa won't be necessary.
How do I apply for the Cambodia e Visa online?
Apply for your visa with iVisa, and you'll be glad you did! We review each application carefully and then send it through your chosen process, so you don't have to wait long.
As for the application itself, it involves three simple steps:
Step 1 - During the first step, you will be asked to complete the form with your basic data. You will also need to select the processing time.
Step 2 - The second step consists of a simple review of the personal information and making the payment. As the information you have entered is valuable, you need to check that everything is filled in correctly so that you do not have any problems on the trip.
Step 3 - The third step consists of a final form that should not take you more than 5 minutes, depending on how fast you type. After that, click on "accept" and wait for the email to reach you.
When you arrive in Cambodia, you must present two printed copies and your passport. Border agents will keep one, and you will take the other one with you.
We invite you to watch our short video on how to get your Cambodia eVisa today in just three easy steps.
What are the costs and processing times of the Cambodia e Visa?
iVisa provides three processing options to apply for the Cambodia Visa online:
Standard Processing Time -

8 days

-

USD $97.99

.
Rush Processing Time -

6 days

-

USD $148.99

.
Super Rush Processing Time -

4 days

-

USD $210.99

.
Prices include the service and visa fee.
We can assure you that e visa rejection is very unlikely if you choose iVisa.com services.
Can I enter the country through any point of entry with my Cambodia e-Visa?
No! In order to enter the country with a Cambodian Visa, you can only cross the border through the international airports of Phnom Penh and Sihanoukville.
Do minors need to apply for a Cambodia e Visa?
All passport holders must have an e visa to enter the country. Please complete this form for your children. In addition, if your children are not traveling with you, please include a letter of authorization signed by you and notarized by a local notary public.
Can I get the Cambodia Visa for free?
No. The Cambodia Visa has a government fee of $36 USD.
Also remember that if Cambodian is not your native language, applying on your own can be tricky.
At iVisa.com, we can help you complete the form in the language you need.
Cambodia E Visa sample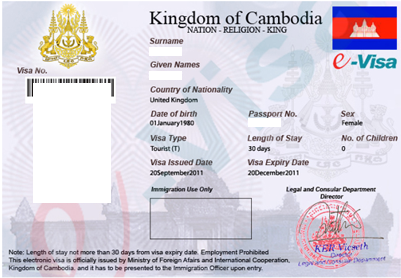 COVID-19 Requirements to enter Cambodia
Do I need a negative COVID-19 test result to enter Cambodia?
There are currently no testing requirements to enter the country.
Do I need a COVID vaccine or vaccination certificate to enter Cambodia?
No, you do not need to obtain a COVID vaccination passport or certificate to enter Cambodia.
Will I need to quarantine once I get to Cambodia?
There are no quarantine requirements for travelers.
Where can I learn more about the online visa?
If you have concerns about your trip or the Cambodia Visa, feel free to contact our customer support team at any time or via email at [email protected].
Required Documents to Apply
Passport Scan

Last Page of Passport (if applicable)

Applicant's Photo

Proof of Accommodation

Airline Confirmation (if applicable)

Bank Statement (if applicable)
Important Instructions
To apply for the Cambodia eVisa your passport must be valid for at least six months from the date of entry.

The Cambodia e-Visa is only for tourism purposes.

Your Cambodia e-Visa is valid for 90 days after issued, and the maximum stay within Cambodia is 30 days in Total. Please note that you can apply with iVisa at any time - we will hold onto your application form and submit your documentation and request at the appropriate time.

Cambodia e-Visa is not required for citizens of Laos, Malaysia, Philippines, Singapore, Vietnam, Thailand, Indonesia, Brunei Darussalam and Myanmar. These nationalities can cross the border with just a valid passport.

Your Cambodia e-Visa may be extended for another 30 days in Total by contacting a local police station or immigration office in Cambodia.

No sticker will be issued to you for the e-Visa.

Super rush processing times for Cambodia e-Visas are approximately 4 days.

Print out two (2) copies of the e-Visa certificate. Give one (1) copy to immigration as your Travel Visa upon arrival in Cambodia and one (1) copy upon departure.

When you travel with an e-Visa, you can ONLY enter Cambodia through the following Ports of Entry: Phnom Penh International Airport and Sihanoukville International Airport.