Since April 2016, Indian passport holders can obtain their visa online to visit Cambodia. With the new eVisa, Indian travelers can enter Cambodia without having to acquire a visa at the airport or by going to the Cambodia embassy.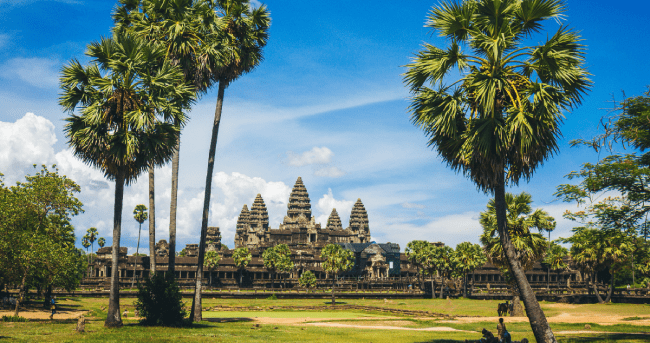 Instead, all you need to do is complete the online application form and pay with your credit or debit card. We will email you the eVisa document and all you need to do is print it out and bring it with you on your trip to Cambodia.
Frequently Asked Questions (FAQs)
As an Indian citizen, do I need a visa to enter Cambodia?
Yes, you need. Indian citizens are required to apply for a Cambodia eVisa. Please check the requirements here.
What is the Cambodia eVisa?
It is an electronic official document that grants the right to enter Cambodia. You do not need to make an appointment or present original documents to the Embassy or Consular Office.
How long can Indian citizens stay in Cambodia?
The time limit that Indian citizens have to stay in Cambodia is for 30 days in Total with a Single Entry type.
For how long is the Cambodia eVisa valid for?
With the eVisa you have the right to enter the country for 90 days after issued.
What do I need to apply for a Cambodia eVisa?
These are the required documents you need to send:
Passport Scan

Last Page of Passport (if applicable)

Applicant's Photo

Proof of Accommodation (if applicable)
How long does it take to get a Cambodia eVisa and what is its price?
It depends on the processing time you choose. We offer three options:
Standard: For USD $95.99, your application will be processed within 5 Business Days.

Rush: If you want your application much quicker, you can select this option for USD $158.99 . You will receive the eVisa in your email inbox within 3 Business Days.

Super Rush: For urgent cases we truly recommend you this one for USD $197.99. Your eVisa will be ready in just 2 Business Days.
Can I travel to Cambodia with a refugee travel document instead of a passport?
If you have a refugee travel document, you must contact the Cambodian Consulate to apply for a visa. For this type of document, a valid ordinary passport is required.
What are the ports of entry & exit into Cambodia that I may use with this eVisa?
Cambodia has some entry-points that allow tourists to enter:
Phnom Penh International Airport.

Siem Reap International Airport.

Poi Pet (Banteay Meanchey).

Bavet (Svay Rieng).

Cham Yeam (Koh Kong).

Tropaeng Kreal Border Post (Stung Treng).

Sihanoukville International Airport.
How long does it take to apply for a Cambodia eVisa?
You just need to make the first part that it will take you no more than 10 minutes. Then, we will take care of the rest and shortly we will let you know the status of the application by email.
How can I apply for a Cambodia visa?
Please follow these three easy steps:
Fill in your general information and choose the processing time from the options mentioned above.

Revise step one and make the corresponding payment. You have three options to choose: credit/debit card and Paypal.

Complete a questionnaire and upload a photo. Then, upload your passport scan and submit your application.
Upon completion of the above steps, we will handle your application request and send you an email with the Cambodian Government's response. When you receive the document, you must download the eVisa and print at least one copy to submit upon arrival in Cambodia.
How does the Cambodia eVisa look like?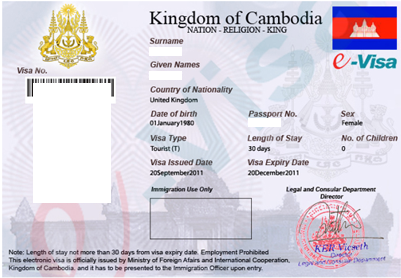 Do I need to get a Cambodia eVisa for my kids too?
Yes, you do. All Indian travelers are required to apply for a visa, including the kids.
How can I apply for my family or friends?
Get all the required documents and apply here introducing the data of the people you are going to apply for. For those cases you need to apply for more than one person, just click on 'Add new applicant' in the application form and completing the information required.
Do I need a Cambodia eVisa if I am in transit through Cambodia?
This will depend on two things: if the traveler stays within the transit area, then he/she will not be required to apply for a visa; however, if at the time of arrival at the airport, he/she wishes to go outside to get some air or walk around, then a visa will be required.
What can I do if I make a mistake in my application?
If this happens, then please immediately contact our customer service support via online chat to assist you.
PLEASE NOTE: If you want to make a new application, you need to pay again (we will not charge you another service fee.) So be careful with the information you are providing in the application form. All your details have to be correct.
Is it safe to use iVisa to get my Cambodia eVisa?
Yes, it is. We care about the safety of our customers. We manage to safeguard the information provided to us by begging databases that prevent the exposure of your personal data on the Internet. Thanks to this, we have managed to get many customers to trust us. If you still do not feel safe and want to confirm our information, you can enter here and see what our customers say about the services we provide.
I have more unresolved questions, where can I find more info?
Indian citizens can click here to easily apply for the eVisa using our services. However, if you still find any questions or concerns during the application process, then you can contact us and we will be more than glad to assist you.