Cambodia is allowing more tourist people to make the processing of their visas more quickly with an online application form. This is why we are presenting an article that shows the most frequently asked questions that will help you to know more about the requirements and processing of this Cambodia eVisa for Japanese citizens.

Frequently Asked Questions (FAQs)
As a Japanese citizen, do I need a visa to enter Cambodia?
Yes, all Japanese citizens need to apply for an eVisa to visit Cambodia. Nonetheless, there are also other regulations you will need to be aware of. You can see more information about those requirements in the next questions.
What is the Cambodia eVisa?
This document is a special one that gives you the proper authorization to enter Cambodia legally.
How long can Japanese citizens stay in Cambodia?
Japanese visitors can be in that country only for 30 days in Total with a Single Entry. Do not stay more days than you are allowed because you could receive a penalty.
For how long is the Cambodia eVisa valid for?
It is valid for 90 days after the issuance of the document.
What do I need to apply for a Cambodia eVisa?
If there is one thing you do not have to worry about is the list of requirements for an online eVisa. Before providing the documents, you should consider the following details:
Passport scan - when you apply online, you must have at hand a valid passport. Moreover, this document must maintain its validity for at least another 6 months from your arrival date.

A digital passport photo - you can take it yourself! Just make sure it meets the photo requirements. Otherwise, you can provide a photo that has to be no older than 6 months.

Methods of payment - An online payment method is required for this service. Fortunately, we accept different types. Among them, we have the following: credit or debit card, but we also accept PayPal.
How long does it take to get a Cambodia eVisa and what is its price?
To know the total amount of your Cambodia eVisa, you first have to determine your means of travel to this country, as well as the processing timeframe you select. Here is what you can choose from:
Standard: We process your eVisa in 5 Business Days with a price of USD 81.49.

Rush: You get your document within 3 Business Days with a total of USD 125.99.

Super Rush: Known as the rapid processing option that allows you to get your eVisa in just 2 Business Days. It has a charge of USD 170.99.
Can I travel to Cambodia with a refugee travel document instead of a passport?
No, you can not use a refugee travel document for this type of visa. In case you have one, we recommend you call the Embassy and ask them how to proceed.
How long does it take to apply for a Cambodia eVisa?
It doesn't take that long to apply for an eVisa. Just fill out a quick form and you're done! After that, you can continue enjoying your day in other activities.
How can I apply to a Cambodia visa?
We will provide a short description of the application form so that you know what to expect during the process. Just remember that we offer a non-stop customer support that will help you solve any questions and it is for free!
The form you are asked to fill in consists of only three steps:
First, fill in your basic details and select the processing time from the options aforementioned.
Second, revise all the information provided and then click on the next step.
The last step is dedicated to complete the payment. In iVisa, we are currently accepting these payment methods (all online:) credit/debit cards and Paypal.
Click here to start your process and submit it now!
View Cambodia eVisa sample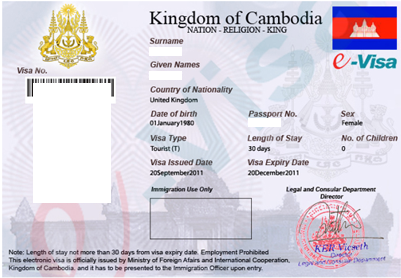 Do I need to get a Cambodia eVisa for my kids too?
Yes, you have to apply for them separately too.
How can I apply for my family or friends?
It is very easy! Just apply here with the documentation required and introduce his/her data. In case you need to apply for more than one person, go to the application form and click on 'Add new applicant', there you will need to fill in the information from all your relatives.
Do I need a Cambodia eVisa if I am in transit through Cambodia?
If you do not get out of the airport, then you do not require to process a visa, however, if you decide to go out for a while to see the streets or visit somewhere near the airport in Cambodia, then you will need to apply for a visa.
What can I do if I make a mistake in my application?
Please contact our customer service support as soon as you can and we will assist you.
Is it safe to use iVisa to get my Cambodia eVisa?
Yes! Many people trust that online information can easily leak and that their personal info is at a higher risk of getting into the wrong hands. But that does not happen with our services. We provide maximum safety for your personal information.
I have more unresolved questions, where can I find more info?
You can get more information and assistance from our customer team here.