Even a short visit to the United States takes some paperwork. Unless you are from a visa-exempt country or your country of origin is in the US Visa Waiver Program, you'll need to apply for a visa. The most commonly issued visa to travelers is the B1/B2 visa, the Visitor Visa, which allows its holder to enter the United States and stay for up to one year. But if you're already in North America for travel, it can be tempting to travel north.
So, what happens when you want to travel to Canada from the US with a B1/B2 Visa? You may need to apply for the Canada Visitor Visa; keep reading for more information.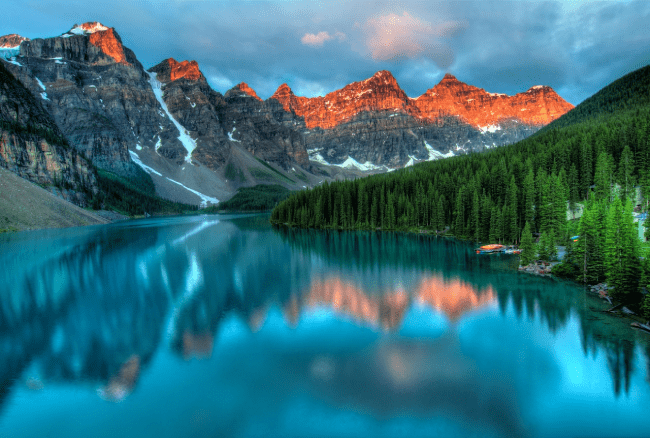 Canada Visa Policy
Canada's visa policies vary by nationality, length of stay, and the purpose of your trip. Currently, citizens of more than 50 countries can enter Canada for a short trip without a visa. These countries include:
Andorra

Australia

Austria

Bahamas

Barbados

Belgium

Brunei

Bulgaria

Chile

Croatia

Cyprus

Czech Republic

Denmark

Estonia

Finland

France

Germany

Greece

Hong Kong

Hungary

Iceland

Ireland

Italy

Japan

Latvia

Liechtenstein

Lithuania

Luxembourg

Malta

Mexico

Monaco

Netherlands

New Zealand

Norway

Papua New Guinea

Poland

Portugal

Romania

Samoa

San Marino

Singapore

Slovakia

Slovenia

Solomon Islands

South Korea

Spain

Sweden

Switzerland

Taiwan

United Kingdom
However, many other nationalities need to apply for a Tourist Visa through the Canadian embassy. You can check your eligibility using our iVisa visa checker tool.
Canadian eTA
The Electronic Travel Authorization or eTA is a digital authorization available for a group of countries. This digital system assures that the Canadian Government has all your details before your arrival. Only citizens or permanent residents of the United States don't need an eTA to enter Canada, as there is a special agreement in place. Once you receive the eTA, you will have a smooth entry to Canada.
Canada Visitor Visa
The Canada Visitor Visa is a travel document that allows you to enter Canada as a tourist, for business purposes, or to visit family and friends. The visitor visa (also referred to as a temporary resident visa) is an official document proving that you meet the entry requirements for Canada.
The majority of the Canada Visitor Visa application process is done online. The only step you cannot do online is to bring your biometric information to your local visa application center. An appointment must be booked online, over the phone, through web chat, or in person before visiting the center.
Thats why iVisa offers an expert guided service to assist you with the application and save time and energy in the process. Read more here
Visiting Canada with a US B1/B2 visa
At the end of the day, a US visa can't grant entry into Canada, but visiting the great north is still possible. You can check what documents you need with iVisa. Simply enter your country of residence and Canada as the destination to find travel requirements and application steps.
Check Canadian Visitor Visa Requirements
Frequently Asked Questions
Can I Enter Canada With a US Visa?
No, in most cases, Canada requires a visitor visa or an eTA for most nationalities. The US B1/B2 visa allows you to enter Canada for 30 days before re-entry into the US, as noted on your Form I-94. However, you will still need the Canadian eTA or Visa to visit Canada
How can I check if I need a visa to visit Canada?
You can do it by using this link and entering your country of residence. Be sure to select Canada as your desired destination to get recommendations on the next steps.
How can I get my Canada Visitor Visa if need one?
If you require a visitor visa to travel to Canada from the US, then look no further, iVisa is hands on in helping you apply for it! As soon as you apply with us, you will be assigned a visa expert to guide you through the process.
After all, you must apply for a visa just as you applied for the US B1/B2 visa. Fortunately, you do not need to return to your home country to do it. Just make sure you apply for your Canadian visa before your stay in the US expires.
What about if I do not need a visa to visit Canada?
If you are indeed visa-exempt, you will still need to apply for an electronic travel authorization (ETA).
What is a Canada Electronic Travel Authorization (ETA)?
This type of document is necessary for those nationalities that have the advantage of requesting an application online. That is why it is important to emphasize that from March 15, 2016, those countries that do not need a visa will have to apply for an ETA in order to travel to Canada.
Do I need any documents to apply for a Canada ETA?
For this ETA, you will have to provide the following documents:
A valid passport

Email address

A credit/debit card to pay for your application.
What is the price of the Canada ETA?
Standard processing (24 hours): USD $64.49

Rush processing (6 hours): USD $106.49

Super Rush processing (2 hours): USD $153.49
These prices include the cost of the ETA (USD $5.50)
Can I return to the United States after I visit Canada?
If you have a US B1/B2 Visa, then you can do it as long as your visa remains valid.
Can I Visit The USA With a Canadian Tourist Visa?
No, visitors from other countries will still need proper documentation to enter the USA. The Visa Waiver Program allows visitors of participating countries to enjoy visa-free entry. A B1/B2 Visa can be used as long as the visa is valid.
I have more questions, who can I talk to?
If you have more questions about a Visa to enter Canada, or the U.S, you can contact our customer service team whenever you like, we are available to help you 24/7.