It's impossible to visit Prague without taking the time to traverse the city's most important river crossing, the spectacular Charles Bridge. This famous structure spanning the River Vltava was built in 1357 and has many unique points of interest along its 520-meter span, including numerous fine statues.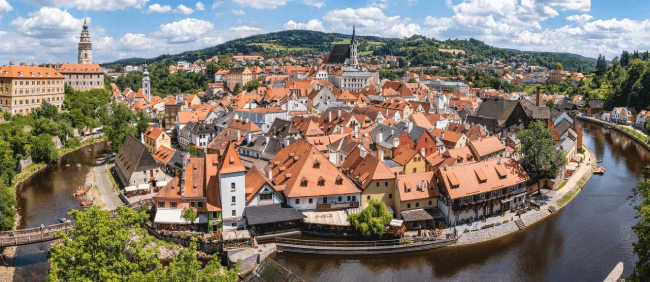 Perhaps the most famous are those of the bridge's namesake, Holy Roman Emperor Charles IV, as well as the 1683 statue of John of Nepomuk, which honors the country's most revered saint who, ironically, was deliberately drowned in the Vltava.
Explore this wonder and much more of this stunning country along with a Schengen Visa for citizens of countries that do not enjoy a visa-free equation with the Czech Republic with iVisa.com.
Read along to know more about the Czech Republic Schengen Visa for citizens of Indonesia.
Frequently Asked Questions
This section is an attempt to resolve the general queries for citizens of Indonesia who want to travel to the Czech Republic and get a Schengen visa via iVisa.com.
WHAT IS THE CZECH REPUBLIC SCHENGEN VISA AND IS IT IMPORTANT FOR INDONESIAN CITIZENS TO HAVE ONE WHILE ENTERING CZECH REPUBLIC?
The Czech Republic Schengen Visa is an obligatory document required by citizens of Indonesia to enter the Czech Republic which is in the Schengen Zone.
You can apply for this visa by clicking this link.
WHAT ARE THE PROCESSING TIMES AND FEES ASSOCIATED WITH IT?
Every Indonesian citizen who wishes to travel to the Czech Republic Schengen has 3 options for the processing times of their visas that iVisa.com offers them. The fees are directly proportional to the processing times.
These are the 3 available options:
Standard Processing: This process follows the standard procedure and protocol. It will process and deliver your visa to you well in time for your trip.
Rush Processing: This procedure is for those who require their visas a bit earlier than the standard processing. This option is the most ideal and best option available.
Super Rush Processing: This process is the fastest of all three options for those who are in a rush to visit the Czech Republic.
You can click this link to proceed with your application process right away!
WHAT ARE THE STEPS INVOLVED TO APPLY FOR AN CZECH REPUBLIC SCHENGEN VISA?
Applying for a Czech Republic Schengen Visa is fairly easy with the right platform and iVisa.com makes the whole process a hassle-free one. You will have to follow a standard procedure to apply for the visa.
These are steps that need to be followed in order for one to apply for their visa:
Choose your Schengen visa type. There are different types of Schengen visas that one may require depending on the purpose of their travel.
Fill the application. This requires you to fill in your general information in the form and choose your processing time.
Pay visa fees. Every Schengen state has a fixed visa fee that must be paid after the application has been filled and checked.
Upload all the required Schengen visa documents for citizens of Indonesia. Attach scanned copies of the documents and provide them along with your application.
Wait until the processing of your visa. After the interview, you will have to wait for around 15 days for a response from the embassy or consulate on your application.
WHAT ARE THE DOCUMENTS REQUIRED FOR INDONESIAN CITIZENS TO APPLY FOR AN CZECH REPUBLIC SCHENGEN VISA?
When applying for a Czech Republic Schengen Visa, you will have to submit several documents that are crucial to the process.
All the documents produced must meet the standards set by the embassy.
The essential documents include the application form, two recent passport-sized pictures, passport, evidence of residence in Indonesia, travel insurance for the visa, a cover letter stating the purpose of visit and itinerary, proof of civil status, proof of sufficient financial means for the period of stay, flight itinerary reservation and proof of accommodation for stay.
These are the basic documents required for a visa.
HOW LONG DOES IT TAKE TO GET A SCHENGEN VISA IN INDONESIA?
The minimum time required is 15 days from the visa application. This period may extend to 30 days in a few cases.
IS IT SAFE TO USE IVISA.COM TO GET MY VISA?
People usually refuse to provide their personal details to online sites that handle visas because they fear it might be misused.
But iVisa.com assures its customers of quality work. With high security and encryptions, iVisa.com keeps your personal details safe. To check our client testimonials, click here.
I STILL HAVE UNRESOLVED QUESTIONS, WHERE CAN I GET MORE INFORMATION ON THIS MATTER?
If these questions were not enough to clear your queries, you can find out more here. For specific queries, you can contact our super customer support team who are available 24/7 to solve your doubts.