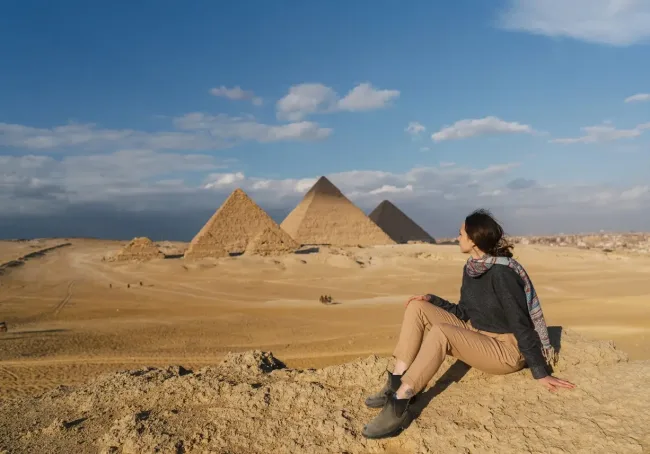 Egypt is a fascinating destination in Africa! The impressive pyramids delight all tourists, whether history fans or not. There are many historical sites to explore, a unique local culture, and the welcoming people add to the great experience.
If you are from Australia and want to go to Egypt on vacation, we have good news: Egypt allows 46 nationalities to apply for an Egypt visa online, and Australian citizens are one of them. That means you do not have to go to an Egyptian embassy or consulate to apply for an Egypt visa. Instead, Australian passport holders can obtain the document by applying online and from the comfort of their homes.
Another option is the Egypt VOA (visa on arrival) that Australian travelers can apply for at the airport. Read below for more information about Egypt visa requirements, how to apply for this Egypt Tourist Visa, and other details about the visa application.
Egypt e-Visa
As an Australian citizen, do I need an Egypt visa to enter the country?
Yes, the Egypt visa is one of the entry requirements to visit Egypt. Travelers must present the document at the immigration counter. However, it's quite easy to apply for an Egypt visa for Australian citizens since the entire process is online.
Other nationalities can use the Visa Checker Tool to see which documents they are eligible for.
Be aware that for stays longer than three months, Australians must apply for a paper visa in an Egyptian diplomatic mission (embassy or consulate).
Can you explain to me what an Egypt e-Visa is?
The e-Visa is an online Egyptian visa that authorizes Australian passport holders to enter the country legally. The Egypt e-visa works as a paper Egypt tourist visa, but instead of visiting the embassy, with iVisa Australian nationals can fill out an Egypt e-visa application form online. Travelers must provide some passport details and personal and travel information. Once the document is processed, it is sent via email.
The Egypt e-Visa allows holders to enter the country for tourism and business purposes. Be aware that this Egypt visa is not a study or work visa. For other visa types to enter Egypt, check the necessary documents and visa requirements with the embassy.
How long can I use the electronic Egypt visa for Australian citizens?
The e-Visa for Australian citizens is valid for 90 days after issued (the days run from the date the visa is issued) and permits you to stay in the country for up to 30 days in Total. The traveler can choose to apply for a single-entry or multiple-entry visa.
Australian citizens - Egypt visa: Which documents should I provide to apply?
Australian citizens, like most nationalities, have the option to apply online on the iVisa platform. The process is straightforward and only requires you to provide brief documentation before moving on to the Egypt visa application form. Here is a list of required documents you need to have at hand:
A valid Australian passport (it must have at least six months until the expiry date).

A scan of the information page of your valid passport.

Valid payment method. Australian citizens can use a credit or debit card to pay the visa fee.

Valid email address to receive the visa for Egypt.
On arrival, travelers must present their passports and e-Visas. The immigration officers may also request more information about the travel itinerary and other documents, such as onward travel tickets and hotel bookings.
What is the price, and how long will it take to process the e-Visa?
Getting a visa for Egypt is easier than ever. iVisa simplifies travel, so we do the hard work, and you can focus on planning your trip. Counting on our services, you can choose a single or multiple-entry visa; both visas have three processing time options. The visa fee varies according to how many times you can enter Egypt and how quickly you need the visa. Check the options below:
Egypt single-entry visa for Australia passport holders

Government fee of $25.00 included

Standard Processing: 6 Business Days - USD $64.49.

Rush Processing: 4 Business Days - USD $132.99.

Super Rush Processing: 3 Business Days - USD $201.99.

Egypt multiple-entry visa for Australia passport holders

Government fee of $60.00 included

Standard Processing: 6 Business Days - USD $133.99.

Rush Processing: 4 Business Days - USD $178.99.

Super Rush Processing: 3 Business Days - USD $246.99.
All prices include service and government fees. Apply now and get your e-Visa for Egypt on time!
How does the electronic visa work?
The Egypt e-Visa is issued electronically by the Ministry of Foreign Affairs of the Egyptian Government. Travelers fill out the form, and iVisa uses the Egypt eVisa system to process their e-Visas. This means the applicant doesn't have a visa sticker on the passport; the documents are linked electronically, and the e-Visa is sent via email.
Does it take a long time to finish the application form?
Not at all! It will take you a maximum of 10 minutes to complete the whole form request for your eVisa.
What is the process for obtaining an Egypt Visa for Australian citizens?
The e-Visa process is straightforward! You just need to follow these three steps:
First, fill out the form with your basic information, and select the eVisa type (single or multiple entries) and processing time that suits you better.

Second, double-check all the information provided to avoid mistakes. Then, proceed with the fee payment using a credit or debit card.

The last step will require you to complete the personal questionnaire and upload additional documents. The entire process should last 10 minutes, and if you need assistance, iVisa has a free 24/7 customer service team.
Once I submit my application, what happens next?
Once you complete the application, we will send you an email confirming the reception of your order. You have to wait for the chosen timeframe; then, you will receive the eVisa by email. That's it!
If I have minor children, will they also require an eVisa?
Yes, they will need an eVisa. The good news is that they can apply in the same form as their parents (in conjunction).
If I want to apply for my friends or family, how can I do that?
It is very easy to apply for your relatives. Just make sure to get all the documents and information from them. If you are applying for only one friend or family member, you can start their application here by adding their info. If you need to apply for more than one person, click on 'Add new applicant' in the form and fill in the info required.
I made a mistake filling out the form. What can I do now?
Please contact our customer service team as soon as possible via online chat. Remember that after we apply on the Egyptian Government website, we can not make any changes or modifications, so please be careful when filling in personal details in our application form. If you make any mistakes, you would need to apply again.
Do you provide reliable and quality service?
Yes, we do. Nowadays, it's normal to have security questions about online services, but you don't need to worry about your e-Visa. iVisa cares about you and the processing of your travel document. Our excellent database secures your information, so it will not be exposed on the Internet. If you want to know more about us and our services, look for the happy comments we receive from our customers.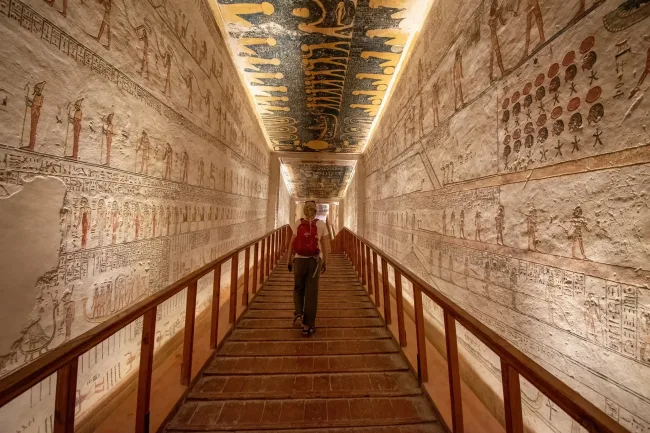 Tips for expediting an Egypt visa application
Use iVisa services for fast processing, receiving the visa within 2-6 working days.

Apply in advance. The sooner you submit your application, the sooner you will receive your visa.

Verify all the information you provide in your application form to avoid mistakes and possible rejection. The details have to match your document's information.

Count on the iVisa customer service team to clear your doubts anytime during the application process. They are available 24/7 to assist you.
Benefits of the Egypt e-Visa for Australian Citizens
Apply from anywhere in the world - Australians can easily obtain an Egyptian e-Visa without the need to physically visit an embassy and go through an in-person interview or submit extensive paperwork.

Convenient application process - You can complete the application from home using a computer, tablet, or smartphone, and it only takes a few minutes to fill out.

Fast processing - Unlike traditional embassy visas that can take weeks to process, e-Visas are approved and delivered via email within 2-6working days.

Travel hassle-free - Apply in a few minutes and let iVisa do the hard work! Plan your trip relaxed and receive your visa on time to travel with all the required documents.
How to check the status of an Egypt visa application
Log in to your iVisa account and look for your application status. An account is created for you automatically after the visa fee payment. You'll receive a confirmation email; click the link on it to set up a password, or visit the iVisa login page to set up the password and enter your account.
Usually, you will receive your visa via email, but you can also find it in your account.
Common reasons for an Egypt visa application rejection
There are several common reasons why an Egypt visa application may be rejected:
Incomplete or inaccurate application: The visa application may be rejected when the application form is incomplete, or the information doesn't match the documents.

Insufficient supporting documents: If the applicant does not provide all the required documents.

Previous immigration violations: When the traveler has a history of immigration violations, such as overstaying a previous visa.

Criminal record: If the visitor has a criminal record.

Lack of funds: When the applicant cannot prove they have sufficient funds to support themselves during their stay in Egypt.

Security concerns: If the Egypt government considers the applicant may pose a threat to national security, for example, if they are on a watchlist.

Invalid passport: If the passport is invalid or has less than six months of validity remaining.

Incorrect visa type: If the applicant applies for the wrong type of visa, such as a tourist visa instead of a business visa.
Remember, iVisa experts will review all your documents to avoid mistakes and inconsistent information. Count on us for a successful visa application.
Egypt Visa on Arrival
What is the Egypt visa on arrival?
The Egypt visa on arrival is another option for citizens from Australia. Travelers apply at the airport, when they arrive in the country.Prepare to wait in lengthy lines and make a cash payment for the visa. Plus, there is no assurance of visa approval. So, if the visa application is denied, it could disrupt travel arrangements and cause delays.
What's the difference between the e-Visa and Egypt visa on arrival?
Most nationals eligible for the e-Visa are also eligible for the Egypt visa on arrival, and neither document requires you to visit an embassy. The difference is that you get the e-Visa in advance, while you will obtain the Egypt visa on arrival at the airport. The e-Visa advantage is that you travel with all the necessary documents without spending your valuable time waiting for a visa in airport lines, no one likes to queue at the airport!
Click here for further information about the difference between the visa on arrival and the e-Visa.
Who is eligible for the visa on arrival?
Australians are one of the nationalities eligible to apply for the Egypt Visa on Arrival. Here are all the countries that can count on this visa:
| Albania, | Guinea, | Papua New Guinea, |
| --- | --- | --- |
| Andorra, | Guyana, | Paraguay, |
| Antigua & Barbuda, | Haiti, | Peru, Poland, |
| Argentina, | Hungary, | Portugal, |
| Australia, | Iceland, | Romania, |
| Austria, | Ireland, | Russia, |
| Bahamas, | Italy, | Saint Kitts and Nevis, |
| Belgium, | Jamaica, | Saint Lucia, |
| Bhutan, | Japan, | Samoa, |
| Bolivia, | Kazakhstan, | San Marino, |
| Brazil, |  Kiribati, | Sao Tome & Principe, |
| Brunei Darussalam, | Laos, | Serbia, |
| Bulgaria, Cambodia, | Latvia, | Seychelles, |
| Canada, | Liechtenstein, | Singapore, |
| Chile, | Lithuania, | Slovakia, |
| Colombia, | Luxembourg, | Slovenia, |
| Costa Rica, | Malaysia, | Solomon Islands, |
| Croatia, | Maldives, | South Korea, |
| Cuba, | Malta, | South Sudan, |
| Cyprus, | Marshall Islands, | Spain, |
| Czech Republic, | Mexico, | Saint Vincent & Grenadines, |
| Denmark, | Micronesia, | Suriname, |
| Dominica, | Monaco, | Sweden, |
| Dominican Republic, | Montenegro, | Switzerland, |
| Ecuador, | Nauru, | Taiwan, |
| Estonia, | Nepal, | East Timor, |
| Fiji, | Netherlands, | Tonga, |
| Finland, | New Zealand, | Trinidad and Tobago, |
| France, | Nicaragua, | Tuvalu, Ukraine, |
| Georgia, | North Macedonia, | United Kingdom, |
| Germany, | Norway, | United States, |
| Greece, | Palau, | Uruguay, |
| Grenada, | Panama, | Vanuatu, |
| | | Vatican City, |
| | | Venezuela |
Where can I get the visa on arrival?
While you can apply for the Egypt eVisa from anywhere in the world, there are specific airports where you can apply for the visa on arrival. You must enter Egypt from the following airports:
Cairo International Airport

Hurghada International Airport

St Catherine International Airport, St Catherina

Borg el Arab International Airport, Alexandria

Hurghada International Airport, Hurghada Sharm El Sheikh International Airport

Luxor Airport International Airport
How Much Does Visa On Arrival Cost?
The Visa on Arrival fee is $25. You can pay with US dollars, euros, or pounds. You can't pay with a credit or debit card, and it's recommended to have the exact amount of change to optimize your time during the immigration process.
How long can I use the Egypt visa on arrival?
The Egypt VOA is valid for three months from the issue date. It's a single-entry visa and allows you to stay for up to 30 days in Egypt.
Required documents for the Egypt VOA
You need the following documents to obtain an Egypt Visa on Arrival:
A valid passport. It must remain valid for at least six months and have at least one blank page.

25 USD in cash to pay the visa fee.

Yellow fever vaccination from countries such as Brazil, Ecuador, Venezuela, and Sudan.
How to apply for a visa on arrival
Note that you have no guarantees of a visa on arrival approval, so it's a risky way to travel. The safest option is to apply in advance for an Egypt e-Visa.
However, if you decide to apply for a VOA, you must go to the immigration kiosks at the international airports listed above. You'll wait in line carrying your valid passport, the visa fee amount, and a completed application form to present to the immigration officers. The local authorities will check if you meet the entry requirements and decide if they will grant you a visa.
If I want more information, who can I contact?
If you still have questions about travel documents to travel to ancient Egypt, you can contact us by clicking here and starting a live chat conversation with one of our visa experts. You can also email us at [email protected].