Organizing a trip can get overwhelming very quickly. But once you learn which Egypt visa types are available, your trip to Egypt will run smoothly.
iVisa.com offers you all the assistance you need to get your documents sorted hassle-free.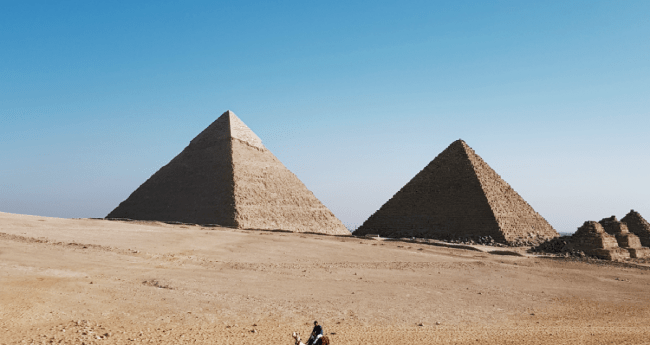 In this article, we'll tell you all about Egypt visas and some recommendations to have a memorable trip. We hope you enjoy it and take advantage of our services and our team of experts to get everything you need on time.
Egypt Visa Types - We have compiled everything you need to know in our FAQs below!
Frequently Asked Questions
What COVID-19 requirements should I consider before traveling to Egypt?
Travelers looking to visit Egypt need to arrive with a negative PCR test result, taken within the previous 72 hours. Vaccination is preferred, but not mandatory.
COVID-19 requirements are constantly changing. That's why we recommend you check our FAQ section to find out the most updated information about the COVID-19 restrictions to enter Egypt.
What is the Egypt Visa, and how do I apply?
The Egypt Visa is an electronic document that grants travelers expedited entry to Egypt. You can choose between the two options for this visa: Single Entry and Multiple Entry. They are valid for 90 days after issued, but allow a maximum stay of 30 days in Total.
The application process only takes these steps:
First: Answer the questions in the online form and pick a processing time.

Second: Check your information and decide how you want to pay, whether with a credit or debit card.

Third: Attach the required documents and apply.
Egypt Visa Types - Applying for the Egypt Visa is straightforward with iVisa.com.
Which documents do I need to apply for the Egypt Visa?
To get your Egypt Visa, you'll need:
Valid Passport - Your passport should have at least two blank pages and must be valid for more than 6 months after your trip.

Email address - We will email you your e-Visa once ready.

Payment method - We accept credit or debit cards.
Egypt Visa Types - Now that you're ready to process your Egypt Visa for citizens of country of origin, it's time to talk about prices. Keep reading below!
What are the processing times and fees for the Egypt Visa?
We have different prices depending on the type of visa you select and how fast you want to receive your Egypt Visa:
These are the options:
Single entry visa.
Standard Processing:

6 Business Days

for

USD $86.99

.
Rush Processing:

4 Business Days

for

USD $138.99

.
Super Rush Processing:

2 Business Days

for

USD $201.99

.
Multiple entries visa.
Standard Processing:

6 Business Days

for

USD $85.49

.
Rush Processing:

4 Business Days

for

USD $104.49

.
Super Rush Processing:

2 Business Days

for

USD $124.99

.
Egypt Visa Types - Choose the type of visa and processing time that best suits your needs to get your Egypt Visa.
Can I rely on iVisa.com?
Of course! We have helped thousands of travelers with all types of travel documents. We can give you a hand with the Egypt Visa.
Egypt Visa Types - Head to our user reviews section and check out what our past customers are saying about our services at *iVisa.com.
Where could I find more information?
Connect with our customer care agents, who are available at any time for any inquiries you have about the Egypt Visa or Egypt Visa Types.
iVisa.com Recommends
Visit the stunning Siwa Oasis.
To get there you'll need to drive through the arid desert, but once you arrive you won't believe your eyes. Siwa is an endemic island full of mineral springs and salt lakes.
The oasis' main town is Shali. Here, there are many historical sites to explore. Get a tour to visit the strange ruins of the Shali Fortress in the town center. Afterward, follow the sandy trails towards the Temple of the Oracle. Here, Alexander the Great consulted his own fate once. Finally, head out to the Mountain of the Dead. It features numerous tombs that date back to the 26th Dynasty and the Ptolemaic era.
Now, a trip to the oasis is not complete without a dip in its healing waters. There are many options to consider, but the most popular one is Cleopatra's pool. It's a swimming pool fed by a natural spring, which the queen herself once visited. But our favorite is actually outside Siwa. Bir Wahed is a sulfurous spring with impressive healing properties.
Finally, take the opportunity to get some Siwan crafts as souvenirs. It's best to visit Siwa during the cooler months, from October to April.