Please be aware that if your visa was issued before October 6th, 2021 it is no longer valid and you will need to apply for a new visa.
Canadians can apply for an Electronic Tourist Visa (Tourist eVisa). Below you will find useful information for how Canadian citizens can apply and obtain an India eVisa in the easiest way possible.

Frequently Asked Questions (FAQs)
If I'm a Canadian citizen and want to visit India do I need a Visa?
SURE, it is mandatrory to obtain an India Visa before you visit India. Please, click here to know all the requirements.
How many types of India visas are available for Canadians?
Tourist eVisa.

Business eVisa.

Medical eVisa.
IMPORTANT: All the information provided in this article is regarding the India Tourist eVisa. The info can change, it depends on the visa type you need. Each one has specific indications. If you need information about Business and Medical eVisa just click here.
What is a Tourist electronic Visa?
The India Tourist eVisa is a formal document allowing entry into and travel within India. It's also connected to a passport.
How much time can I stay in India from Canada?
180 days in Total. The India Tourist eVisa validity is 1 year after issued and allows you Multiple Entry.
India Visa for Canadian Citizens Requirements
To apply you will need:
Applicant Photo

Passport Personal Details Scan

Last Page of Passport (if applicable)
have these requirements at hand and begin your India eVisa application here.
Which are the visa application requirements for an India eVisa?
It must be a digital photograph, you will need to upload it during the process for Visa to India.
DIGITAL PHOTO REQUIREMENTS:
If you want to ensure that your photo is 100%, we recommend using iVisa Photos.

Size: Height and Width of the Photograph must be the same.

The photo should show your entire face, front view, and have your eyes open.

Center your head within frame and also show the full head from the top of your hair to the bottom of your chin.

The background should be white or as a second option plain light-colored.

The photo must not have any shadow, either on the face nor on the background

Without borders
What are the processing times and prices?
Keep in mind that the cost of an India eVisa will depend on two factors that you will choose: visa type (tourist, business, medical) and processing time. About this last mention, iVisa has three options, you can see all of them here:
Standard processing – 5 days. This is the most common and cheapest choice, this is why the price is USD 88.05 (service fees included).

Rush processing – 3 days. This is why, you will have to pay a little bit more than the previous option, exactly USD 118.05 (service fees included).

Super Rush processing time – 36 hours. This is the fastest option, this is the reason why the cost is higher, you will pay USD 153.05 (service fees included).
If you are ready to start your application, just click here.
How does this evisa work?
Presently, travelers from over 160 countries can apply for Medical eVisa, Business eVisa, or a Tourist eVisa, based on the goal of their trip to India. Travelers who use the eVisa application employ, pay a fee online, and get their visas online before traveling to India. Yes, it is that easy.
Can I travel to India with a refugee travel document instead of a passport?
NO. All travelers who wish to apply online for their India Visa need to have a valid passport document.
IF you have a refugee travel document, then you need to contact the nearest Indian Consulate to apply.
How long does is the application process for this Indian Tourist eVisa?
You will spend filling the form 10 minutes or less.
Can I know-how is the procedure to apply for this evisa?
The application process is simple and easy. You can complete the application form following three steps. In case you need some guidance through the process, just contact iVisa's support service. They will receive your call 24/7.
Fill your application form online (it takes less than 5 minutes).

Complete adding all your information and upload any extra documents.

Once we get your information online, the passport photograph, and the passport data, we'll process your eVisa.
Are you ready to apply? If yes, then click here.
What is next, after I submit my application?
After you have done all these previous steps, we will send the application to the government and finally, once they approved it, we will send your India Tourist eVisa by e-mail in the timeframe you chose (in PDF format). It is as simple as that. No need to deal with the embassy.
Do you need a printed copy of the Indian eVisa?
YES. Just print the eVisa we will send you after filling out the online form.
NOTE: The confirmation email contains: your application ID, visa number, and visa validity. We suggest travelers print this confirmation and keep a copy of your passport.
How does the Electronic Tourist Visa look like?
This is how your eVisa will look like: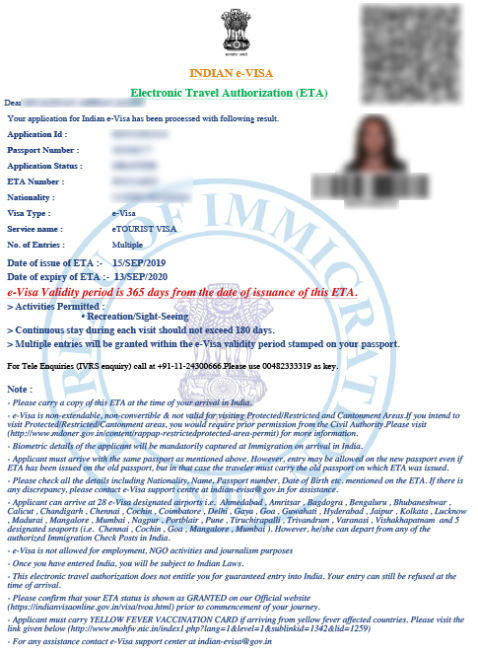 If I make a mistake in my application what should I do?
If you made an error on your program, just contact one of our customer service agents as soon as possible. We'll be prepared to assist you. When we submitted your application, you won't have the ability to make any adjustments and you'll need to use again but we won't bill you a different service fee.
Is it safe to use iVisa to obtain my India Tourist electronic Visa?
Together with iVisa, your personal information couldn't be safer because we provide you security for your information and we spend a great deal from our database's safety. You can assess what hundreds of clients say about us here.
I have more questions, where can I find more info?
In case you still have doubts, just click here and you will be ready to chat with one of our customer service representatives. You can also find more info and FAQs here.