Please be aware that if your visa was issued before October 7th, 2021 it is no longer valid and you will need to apply for a new visa.
Getting a tourist visa for India is very simple and the process can be done 100% online. As a UK passport holder you only need to apply for an online India eVisa. The Indian government will issue UK travelers a tourist eVisa via email that allows you to travel to this country.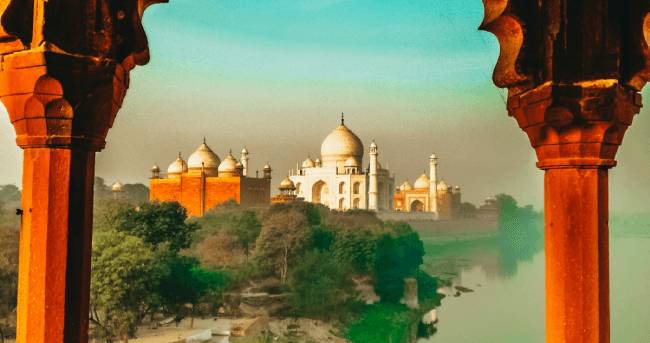 Frequently Asked Questions (FAQs)
Do UK passport holders need a Visa to go to India?
YES, UK passport holders must obtain an India Visa before traveling to India. To check the requirements, click here.
Do I need to contact the Embassy for my Visa?
NO. To travel to India for any periods under 60 days you can apply online and the visa will be sent to your email.
Which visa types are there for UK citizens wishing to go to India?
There are these types of visas:
Tourist eVisa
Business eVisa
Medical eVisa
PLEASE NOTE: the information on this blog is about the India Tourist eVisa. Data can change depending on the visa type you need. You can review the information and requirements for the Business and Medical eVisa here.
What is a Tourist eVisa?
The India Tourist eVisa is an official document permitting entry into and travel within India and is electronically linked to your passport.
How long is the India eVisa valid for?
The India Tourist eVisa remains valid for 1 year after issued and grants Multiple Entry for a maximum of 180 days in Total per entry.
What do I need to apply for the Oman eVisa?
We require the following to submit your application for the India eVisa:
Applicant Photo

Passport Personal Details Scan

Last Page of Passport (if applicable)
What are the photo requirements for an India eVisa application?
You have to upload a digital photograph as part of the application process for the eVisa to India.
The photo should meet the following requirements:
The height and width of the Photo must be equal.
Photo should present Full face, front view, eyes open.
Center head within frame and present full head from the top of hair to bottom of the chin.
Background should be plain light-colored or white background.
No shadows on the face or on the background.
Without borders.
Do I require any vaccines when traveling to India?
IT DEPENDS. Some governments require proof of yellow fever vaccination IF you are arriving from a country with the risk of yellow fever.
What are the processing times and prices?
For the processing time, you have three options to choose from. The option will determine the price and they are as follows:
Standard processing – 15 days. Because it is the cheapest option, most applicants go for standard. It only costs USD 86.00 (service fees included).

Rush processing – 3 days. The cost goes a bit higher than with the previous option. You will be charged USD 116.00 (service fees included).

Super Rush processing time – 2 days. As you can expect, the price goes even higher. This option will cost you USD 151.00 (service fees included).
Click here to start your application.
How does the India Tourist eVisa work?
Currently, travelers from more than 160 countries can apply for a Tourist eVisa, Business eVisa or Medical eVisa, depending on the purpose of their visit to India. Travelers use the eVisa program to apply, pay a fee online, and receive their electronic visa online before traveling to India. Yes, it's that simple.
How long does it take to apply for an Indian Tourist eVisa?
Filling in the application form with your data will take you less than 10 minutes.
How can I apply for an Indian Tourist eVisa?
Don't worry the process is very simple. The form we provide is broken down into three easy steps, and if you need help, iVisa's awesome support service will take your call 24/7 and will guide you through the process.
Complete your application form online.

Complete all your info and upload additional documents (passport photo and a photo scan of your passport).

Once we have your details online, the passport photo and the passport photo information, we will process your eVisa.
Click here to apply. Once you complete all three steps, just submit your application and wait for it to arrive in your e-mail inbox in the timeframe you chose.
What happens after I have applied?
You just need to wait for your India Tourist eVisa to be sent by email in the timeframe you chose in PDF format. No need to deal with the embassy.
How does the Electronic Tourist Visa look like?
This is how your India eVisa will look like: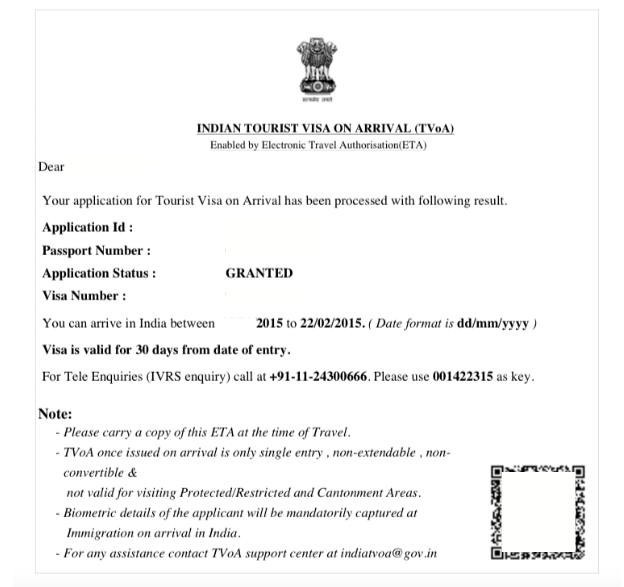 Does my child need a visa to travel to India?
YES. everybody must apply for an eVisa regardless of their age.
What can I do if I make a mistake in my application?
If you made a mistake in your application, just contact one of our customer service representatives immediately. We will be ready to help you 24/7.
If we already submitted your application, you will NOT be able to make any changes and you will have to apply again but we will NOT charge you another service fee.
Is it safe to use iVisa to get my India Tourist eVisa?
With iVisa, your personal information could not be safer since we offer you maximum safety for your personal data, confidentiality, and we invest a lot in the security of our database. You can check what hundreds of happy customers say about us here.
I have more unresolved questions, where can I find more info?
If you have some specific questions click here and start chatting with one of our customer service representatives. Alternatively, you can find more info and FAQs here.