India - Open for Tourism, here's what you'll need
India - Open for Tourism
Trustpilot recommended. We lead the industry in innovation and reputation
Learn More: Embassy Visa
Apply Today for an Indian Visa with us!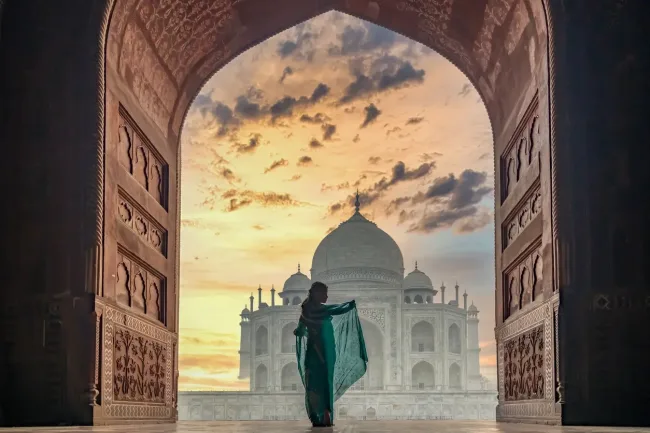 India is a vibrant and culturally rich country with a fascinating history and diverse cuisine. From the majestic Taj Mahal to the bustling streets of Mumbai, there are countless sights and experiences to discover!
Applying for the India Tourist Visa allows visitors to explore India's beauty and immerse themselves in its unique culture.
Learn more in this ultimate guide and apply for the Tourist Visa online with us!
What is the India Visa (Embassy Visa)?
The India Tourist Visa is an official travel document to visit the country. The application requires visiting the Indian embassy near you to drop off documents and pay the visa fee. This regular paper visa is stamped into your passport as a sticker by an immigration officer.
This visa is different from the India e-Tourist Visa, which can be applied for entirely online.
Use our handy Visa Checker Tool to find out which visa you are eligible for. You can also read more about the differences further in this guide.
What you can do with the embassy India Tourist Visa:
Meet family and friends.

Join tours and explore the country.

Visit the country for religious purposes.

Attend a short-term yoga training program (less than 6 months, and without receiving a certificate).

Receive short-duration medical treatment.
What you can't do with the embassy India Tourist Visa:
Work or/and receive any payment in an Indian Bank.

Attend business-related activities.

Attend educational institutions.

Do voluntary work.
Who must apply for the India Tourist Visa to visit the country?
Depending on your nationality and the visa requirements, you can apply for this India Embassy Visa (tourism) with us.
If you're not eligible for this visa, you can most likely apply for the India Tourist eVisa instead! The visa application for the regular Tourist Visa for India requires more documents and time, but allows longer stays.
With our help, both applications are simple, affordable, and quick! Find out your eligibility with our Visa Checker Tool and apply today!
Children and minors also need a visa for India but must provide additional documents. You can easily apply together as a family by clicking 'Add another person' during the visa application process.
Nationals from Bhutan and Nepal can enter India visa-free. Some travelers are eligible for a visa on arrival. Find out more about the visa on arrival on the Indian government website here.
How long is the India Embassy Visa valid?
The Indian Embassy Visa is a Multiple Entry document, and the validity varies between 5 and 10 years, depending on your nationality.
Eligible foreign nationals can stay in India for a maximum of 90 to 180 days.
Please note that travelers with a Pakistani passport can only apply for a single-entry visa, valid for stays of up to 90 days.
Required documents for the India Tourist Visa
To apply for the India Embassy Visa, you must provide the following documents:
Your original passport with at least 2 blank visa pages.

High-quality copies of your passport bio page and any other relevant passport pages (for example, with previous visas and stamps from India).

Recent passport photo against a light background. To get one easily that meets all government criteria, use our convenient digital photo service.

Visa application form completed, printed, and signed. You'll receive complete guidance and tips from our expert team!

Bank statements from the last 3 months OR salary slips from the last 6 months, to prove you have sufficient funds to cover your stay in India.

Appointment letter and document checklist (if applicable).

If you apply for the India Embassy Visa in a different country than your citizenship, you must present proof of legal residence status, such as a residence permit.
If you're traveling with a minor, you will need the following documents:
A consent letter or parental authorization signed by both parents or legal guardians and legally certified.

Birth certificate for the minor.

Valid passports of both parents or legal guardians.

In the case of divorced parents, provide a child custody letter. In the case of a single parent, provide a consent letter and child benefit letter.
Sounds complex? Don't worry. By applying with us, a visa expert will assist you from start to finish, and you'll receive a step-by-step guide for your peace of mind.
How to apply for the India Tourist Visa
To apply for the India Embassy Visa, simply follow the below steps:
Step 1: Fill out our simplified visa application form with your travel details and pay the iVisa processing fee. You'll receive a full document checklist, and an iVisa Expert will carefully review all your information to avoid errors.

Step 2: Attend the embassy or application center with the required documents and pay the government visa fee.

Step 3: Wait for the embassy's response, pick up your passport with your visa, and get ready to travel to India!
Get your India Embassy Visa with us!
Costs and processing time for the India Tourist Visa
The standard processing time for the India Tourist Visa is up to 30 days from the moment you submit your application.
The government fee is approximately US$180, excluding the iVisa processing fee.
Both fees vary depending on your nationality and where you apply, so please check the exact costs during the application process!
Do I need the India Tourist Visa to transit through the country?
An India Transit Visa is only required for international travelers with a connecting flight in more than 24 hours. You'll need to have onward travel tickets, as well as a visa for the destination country.
Benefits of getting your India Embassy Visa with us
100% government-compliant: Our team of iVisa Experts will review all information and make sure your application is 100% compliant with government requirements.

Unlimited access to your iVisa Expert: You'll be assigned a personal iVisa Expert to guide you through the entire application process and answer any questions you may have.

Simplified form: Visa applications can be confusing and tedious. At iVisa, we only ask relevant questions, making the application up to 50% shorter than the government!

Fill out at your own pace: Save your progress, make changes, and return to your application later, whenever you need a break.

Step-by-step guide: Apply with us and receive a PDF manual with travelers' and expert tips to answer difficult sections, and a step-by-step guide to get your document without hassle.
Complete your application now!
Differences between the India Tourist Visa (Embassy Visa) and the India Tourist eVisa
The government of India offers various visa categories, depending on the reason for traveling, nationality, and duration of your trip. Ensure you choose the right visa for your trip!
Here are some of the main differences between the India visa categories:
The paper visa requires applicants to visit an Indian embassy or consulate. Additionally, the regular visa has more flexibility regarding duration and reasons for travel.
India e-Tourist Visa: This eVisa allows applicants to submit their documents and pay the fees online. You're informed via email if the electronic tourist visa is granted. This visa is only valid for tourist purposes and is valid for a shorter period of time.
You don't have to courier your passport or visit an Indian embassy or consulate. Authorities will stamp the tourist visa on your passport when visiting India.
Besides these Tourist Visas, there are a few more categories you can select based on your travel purpose:
India e-Business Visa: Select this business visa if you want to visit India for business purposes. This electronic permit is a double-entry visa that grants a stay of up to 180 days in the country to, for example, attend a business meeting or conference.

India e-Medical Visa: The e-Medical Visa for India is designed for foreign nationals seeking medical treatment in India. It's a multiple-entry visa that allows the holder to enter the country three times within 60 days.
An additional category is the e-Medical Attendant Visa for travelers assisting a person that seeks medical attention in India.
India Visa on Arrival: This visa is only available to a small selection of countries, and offers similar conditions to the Tourist eVisa.

India Transit Visa: A visa for transits exceeding 24 hours.
More questions about the India Tourist Visa?
If you have any questions about the India Embassy Visa, but can't find the answer on this page, feel free to contact us!
Our expert customer service team is available to assist visa online chat or email at [email protected].
Required Documents to Apply
Applicant's photo.

Passport scan.
Important Instructions
The India Embassy Visa is a travel authorization that allows you to enter the country for tourism purposes.

With iVisa you can apply for a multiple-entry visa.

The validity of the multiple-entry visa for India could be from 5 to 10 years.

To apply for this visa, your passport must have at least 2 blank pages.

If you apply for a visa in a different country of residence, you must present proof of legal residency (It could be a utility bill for water, gas, or electricity that is no more than 3 months old).

The standard processing of the India Embassy Visa will take 30 days from the moment you start your application.

iVisa is a legitimate company, accredited and recognized by the International Air Transport Association (IATA). For more information, see the FAQs below.