Over the last few years, we've come a long way when it comes to diplomacy and international accords. Nowadays, almost anything is possible. It may seem futuristic, but have you ever thought that embassies would become obsolete as far as visas are concerned?
If you think about it for a second, every person who needs a tourist visa, a business visa, or even a medical one, needs to go through a process at the consulate of the country in which they want to go. But nowadays, it is possible to simply apply for an electronic visa in some countries if you want to visit them.
Kuwait is one of the countries where the principle mentioned above is applicable. iVisa.com is some sort of intermediary between a person and the Government of Kuwait. That is how Kuwait eVisas are possible. In fact, there are more than 50 countries whose citizens are eligible for a Kuwait e-Visa. In this article, we will explain you a little about this electronic visa for Kuwait.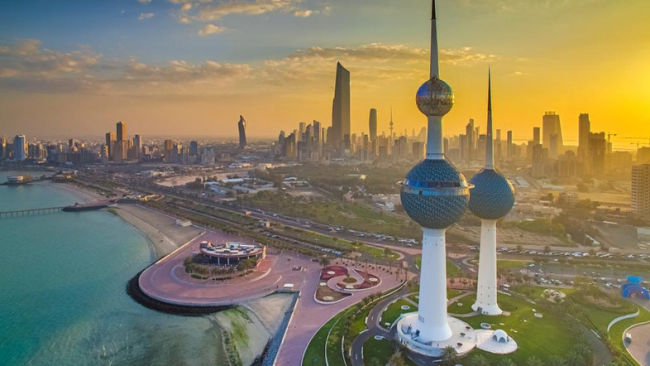 Frequently Asked Questions
How do I know if I can apply for a Kuwait e-Visa?
It is quite simple to know if you're elegible for an e-Visa. You only need to use iVisa.com's Checker and write your nationality in the drop-down menu. After that, just write Kuwait as the destination country and you immediately know if you can apply for this visa or not.
How many types of visas are there for Kuwait?
There's only one that can be obtained online, which is the e-Visa, but you also can have your visa by visiting an Embassy.
Which countries are elegible to get an e-Visa to Kuwait?
If you want to know precisely which countries can apply for a Kuwait e-Visa, simply enter this link to check the list in the FAQs section. Or you can use the iVisa.com's Checker as we mentioned before.
What should I do if I'm a GCC resident?
In case you are a resident from GCC country (Saudi Arabia-Bahrain-Qatar-United Arab Emirates-Oman) then you can also apply online and submit proof of your GCC residency card (exceeding 6 months).

The applicant's work according to the GCC residency should be one of the following: Consultants, Doctors, Engineers, Lawyers, Judges and Members of Public Prosecution, University Teachers, Press and Media Staff, Pilots, System Analysts and Computer Programmers, Managers, Businessmen, Diplomatic Corps, University Graduates – Owners, Managers and Representatives of Commercial Companies and Establishments.

Also remember that in this case, you must not have any security restrictions that prevent you from entering or exiting the country.
What are the requirements for a Kuwait e-Visa?
The requirements are not impossible. In fact, they are mostly basic, and they're probably the same as requested when you go to the consulate of Kuwait in your country of origin. You need to have a few documents, beginning with the fact that you need to fill in an application form, and you must pay a fee. There is nothing out of the ordinary.
This is the basic list you need to consider when applying for this visa:
Passport Personal Details Scan

Last Page of Passport (if applicable)

Birth Certificate (if applicable)
You also need to have a valid e-mail address and a Method of payment if you apply with iVisa.com's services. Keep in mind that you can pay using a credit/debid card.
When should I apply for the Kuwait e-Visa?
You can have this visa as soon as 4 days, but we suggest you to get it at least 5 days before your intended flight.
How long does this e-Visa is valid for?
The Kuwait Electronic Visa is valid for 30 days after issued as average. After you apply for the e-visa and receive it, the document will maintain its validity for that amount of time.
How long can I stay in Kuwait?
It will depend on your nationality, but most of the time it'll be 90 days in Total
What are the prices and processing times?
Your Kuwait e-Visa can vary a lot with the price according to your needs. If you want to have it as fast as possible, the fee will be higher. But a good thing is that iVisa.com offers three options for you:
Standard processing – Aren't you in a hurry? then you can select this option. It takes 8 days for your application to be ready for just USD $61.99.

Rush processing– In case you pay USD $105.99, this option will have your visa done in just 6 days.

Super rush processing – This is an excellent option if you plant to take a plane to Kuwait tomorrow. Your application will be processed within just 4 days, and you will pay USD $158.99 for the urgency.
Consider that these prices are just in case you're an American citizen going to Kuwait, so you can have an idea, but the prices can vary according to your nationality.
Also remember that the weekend in Kuwait differs from most countries. Their weekends are on Fridays and Saturdays
How can I apply for this e-Visa?
If you have your passport with at least 6 month validity, and you also have a scanned copy of passport bio page, a GCC Residence (Valid Residency Card) - if applicable and a credit/debit card for payment, then all the process will be as simple as these steps to follow:
STEP 1: Fill out online application
STEP 2: Upload the required documents.
STEP 3: Receive your visa via email.
STEP 4: Print out you e-visa.
STEP 5: Entry to Kuwait.
That's it!
After the process is completed, you receive a valid visa, just like the one you receive from the embassy of Kuwait. It has the same validity, and it has the same value. It is not a Kuwait visa on arrival (like the one you get when you apply for Vietnam, for example), it is not a temporary travel document. It is a full-power visa.
The fact that the process can be completed entirely online is something that appeals to many people. Imagine that your effort is minimal, there is no stress about it, and you can do it from your home or while you are at work on your lunch break. Relax about your trip with this application!
What should I do if I travel with kids?
Keep in mind that each adult that visits the Republic of Kuwait is required to submit e-Visa applications in their personal account. Parents can apply for their children from the parents account.
Is it safe to apply with iVisa.com?
iVisa.com started its activity in 2013, and since then, thousands of people used its service. And why wouldn't they? It is fast, cheap, hassle free, totally safe and your visa arrives via email. As far as visas are concerned, the next best thing is their total non-existence. However, for now, it does not get any better than that.
This means that with iVisa.com, you can feel sure about your personal information. And to prove that, you can read our testimonials here.
How does a Kuwait e-visa look like?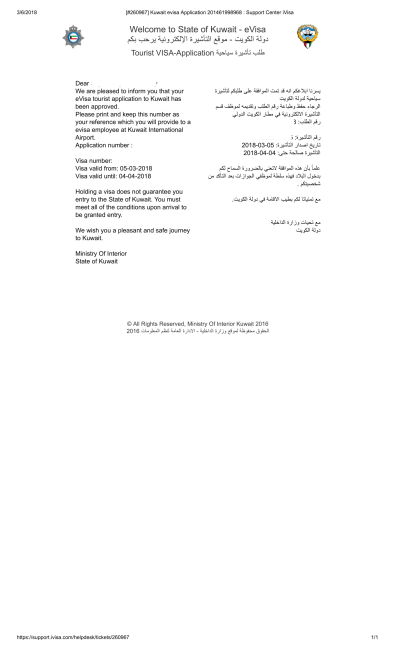 Where can I read more?
You can easily click here to read more about Kuwait and its visas, or you can simply click here if you want to contact one of our customer service agents.
Feel free to travel to this country with no pressure, and start your application form now! With iVisa.com, this process will be a lot easier!