If you've spent the last few months fantasizing that borders are being reopened to tourists just like you- desperate to enjoy Kuwait's impressive water towers and fabulous shopping experiences or keen to absorb the local culture and history in the Red Fort. Then you'll be over the moon with the news we have to share with you today!
This impressive Arabian country has once again opened its doors to tourists from all over the world. Eager to reactivate the vital tourist economy, its leaders have launched a vaccination plan, while maintaining a high level of sanitation and hygiene.
The beaches are open for business, so you don't have to worry about missing the main attractions in this dazzling region. You may be wondering Do I need a vaccine to travel to Kuwait? so the iVisa.com team has gone to the next level to make sure you are informed and educated to the highest degree. Read on to discover the important actions you need to take to make sure your vacation is a safe one. Click here to find out more about applying for a Tourist visa for Kuwait at your nearest embassy.
Note: Since February 23rd, 2022, the Kuwait Travel Registration is no longer necessary to enter the country.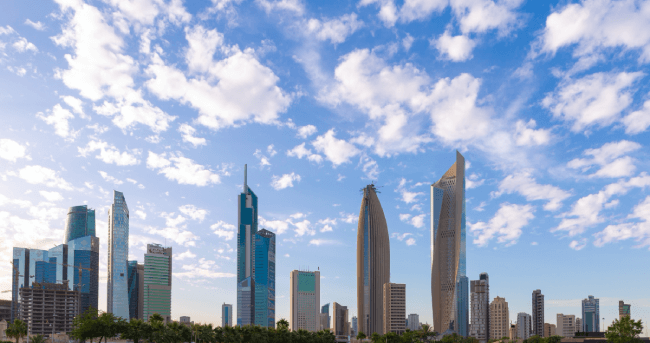 How can I apply for a Kuwait eVisa?
Whether you need a Kuwait eVisa or a Health Declaration, the process will remain the same with our services. These are the steps:
Write down your private information to complete the first part and select a processing time.
Review your information and pay for the fees.
Upload and add the items required to process your document.
That would be all! After that, you're ready to receive your documents via email inbox.
Frequently Asked Questions
Do I need a vaccine to travel to Kuwait?
Like many countries around the world that are demanding certain requirements, at the moment, the authorities require that visitors provide evidence of vaccines such as yellow fever. Please use the iVisa.com chat feature if you are unsure about this essential requirement or still not sure about the topic Do I need a vaccine to travel to Kuwait?
Do I need a COVID vaccine or vaccination certificate to enter Kuwait?
No, you don´t. COVID vaccine or vaccination certificate are not required to enter Kuwait at this moment.
Accepted vaccines are AstraZeneca, Janssen, Moderna and Pfizer. Travelers who have been vaccinated with Sinopharm, Sinovac or Sputnik V will also be accepted if they have received one vaccine dose of AstraZeneca, Janssen, Moderna or Pfizer as well. The definition of full vaccination is when the final dose of a vaccine against SARS-Cov-2 has been administered at least two weeks before traveling.
Do I need a negative COVID-19 test result to enter Kuwait?
COVID test requirements: There are no testing requirements.
Do I need to quarantine when I get to Kuwait?
Quarantine requirements: There are no quarantine requirements.
Do I need a visa to enter Kuwait?
You do need to apply for a Tourist Visa to enter Kuwait. On the iVisa.com you will find the helpful visa checker tool, which provides information about which citizens of countries around the world can apply for the Kuwait Tourist visa. Unfortunately, we cannot apply for you, so you'll have to get in touch with your local embassy to find out where to start.
Can iVisa.com assist me with these documents?
Yes, we can! Besides, we offer an easy-to-use platform that won't take you much time to apply. Click here to start the application process.
Do I have to pay to enter Kuwait?
iVisa.com charges a small processing fee to perform document processing work on your behalf. You can choose from 3 different options for when applying through our services:
Standard Processing Option : This is the best option for travelers who have time to spare.

USD $61.99

-

8 days

.
Rush Processing Option : The option for travelers who don't have as much free time.

USD $105.99

-

6 days

.
Super Rush Processing Option : The option for travelers without time to spare who need to travel now.

USD $158.99

-

4 days

.
Remember that you cannot apply for the Kuwait Tourist Visa with iVisa.com yet, but hopefully, we will be able to offer our customers this service in the future. Watch this space!
What items do I need to apply?
We can help you process your document as long as you have these items:
Your passport with a valid expiration date plus a scanned copy of the first page.
A portrait photo of the credit/debit card holder.
Debit/credit card for payments.
An email address to send you the document and all the required information.
Why is iVisa.com's processing system so good?
iVisa.com prides itself on offering high-quality services that don't leave you feeling stressed and confused. Just follow these three standardized steps for a painless paperwork experience. Now that we clear the question of Do I need a vaccine to travel to Kuwait?, you can learn more about our hassle-free system. Once we've nailed the Kuwait Tourist Visa process, you'll hopefully be able to follow these steps in the not-so-distant future:
Fill out the form with your personal details and review the processing fee.
Check your answers thoroughly and pay with a Paypal log-in or a credit/debit card.
Attach any scanned documents and submit your form. That's it!
Find out more about our professional services for last-minute travel needs.
Is iVisa.com safe to use?
Security is the number one goal for the entire iVisa.com team. The premise of the company is to provide a fast and secure document processing service and without the highest standard of data protection, none of this would be possible. Read our customer reviews to see real-life testimonials.
Where can I read more information?
Click on the iVisa.com home page for fascinating blogs, detailed information on more queries like Do I need a vaccine to travel to Kuwait?, as well as comments, reviews, and advice. You can also communicate with a member of the customer service team using the chat feature. They are waiting to talk to you at any time, day or night.
iVisa.com recommends
Kuwait is a desert country with skyscrapers and commerce in its capital city, as well as beach resorts and Mesopotamian ruins. It may be quite arid at first glance, but it actually has a wide variety of tourist spots that can instantly make anyone fall in love.
Kuwait is also one of the richest countries in the world, making it the perfect place to take advantage of the shopping centers and thus observe luxury in all its splendor. It may be difficult to buy some things, but it never hurts to walk around the capital and enjoy its high-class atmosphere.
In the homonymous capital city, you can find the Kuwait Towers, a group of three slender towers that feature a rotating observation deck. You can also walk near the Liberation Tower, one of the most emblematic places in this city, or simply relax on Green Island.
But Kuwait goes beyond its modern constructions, it also has older and more historical places like The Grand Mosque of Kuwait. Not to mention the wide variety of parks and beaches in the area.
So that you can make the most of your visit to this place, do not forget to apply for the Kuwait eVisa with us.