Home
>
Kyrgyzstan Travel Guide: All you need to know to visit Kyrgyzstan in 2023
Kyrgyzstan Travel Guide: All you need to know to visit Kyrgyzstan in 2023
Welcome to Kyrgyzstan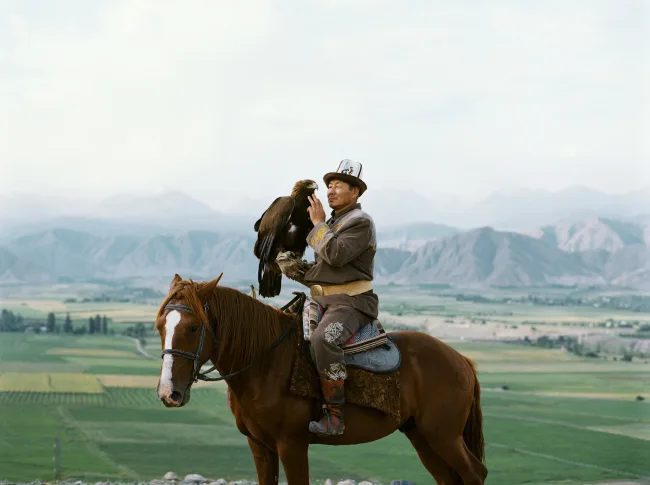 From the moment you set foot in this country in Central Asia, Kyrgyzstan will pique your interest. The nation offers breathtaking, untouched mountains, crystal clear lakes in the highlands, fascinating culture, and intriguing traditions.
Here's the ultimate Kyrgyzstan travel guide with practical tips and travel advice to make the most of your trip.
Document checklist for Kyrgyzstan
Visa (for stays longer than 60 days)

Valid passport (must be valid for at least 6 months from the date of entry and have two blank pages)

Sufficient funds to cover your trip
Essential Kyrgyzstan travel information
Currency - The Som (KSG) is the official currency of Kyrgyzstan. USD 1 is approx. KSG 87.

Daily budget for 1 person - You should plan to spend around USD 55 (KSG 4808) per day on a holiday in Kyrgyzstan.

Languages - Russian and Kyrgyz are the two languages spoken in Kyrgyzstan.

Number of travelers per year - According to the World Tourism Organization, in 2019, Kyrgyzstan received around 6,431,000 international tourists.

Socket type - Types C and F. Kyrgyzstan operates on a 220V supply voltage and 50Hz.

Top 3 major cities to visit - Bishkek, Osh, and Ak-Su.

Top 3 landmarks/monuments - Ala Archa National Park, Burana Tower, and Kol-Tor Lake.
Visa information for Kyrgyzstan
Before you travel to Kyrgyzstan, you need to know if you need a visa, how to apply for it online, and how much it costs. Use our handy Visa Checker Tool to find out which travel documents to visit the country, or keep reading for more information.
The Kyrgyzstan Tourist eVisa explained
The Kyrgyzstan eVisa is an electronic travel document that allows travelers from over 100 countries to visit for tourism. This single-entry visa lets you stay up to 30 or 60 days, based on your nationality, travel purpose, and preferences.
Some of the countries eligible for the Kyrgyz eVisa include the United States, Canada, the United Kingdom, Australia, and many European countries. Use our handy Visa Checker Tool to check the requirements for your nationality!
You can apply quickly and easily for this visa online without visiting an embassy or consulate, with iVisa.
Visa difficulty index for Kyrgyzstan
Accessibility: 5/5
The Kyrgyzstan Tourist eVisa is an electronic document that you can apply for online. As soon as you find out that you're eligible for it, you can just fill in a short application form on iVisa and you're good to go.
Time to get your visa: 4/5
The Tourist Visa application process for Kyrgyzstan can take anywhere between 5 and 9 business days.
Costs: 3/5
The cost of your visa depends on your nationality and how soon you want it processed. Simply click 'Apply now' below and find out the exact requirements and costs for you!
Typical costs and budget for Kyrgyzstan
A guide to what you'll spend on a daily basis traveling through Kyrgyzstan on a mid-range budget.
Daily spending - You should plan to spend between USD 55 (KSG 4,808) for one day, including:

Meals - Expect to pay $10-20 (KSG 840-168) per day, as food in Kyrgyzstan is generally quite affordable for tourists.

Transport - Plan to spend around $5-15 (KSG 420-1,260) daily on taxis/public transportation.

Hotel - Expect to spend around $20-40 (KSG 1,680-3,360) per night on mid-range hotels and guesthouses in Kyrgyzstan.
A couple can expect to spend around USD 110 (KSG 9,616) per day in Kyrgyzstan, including meals, transportation, and accommodation, on a mid-range budget.
Transport and best ways to travel around Kyrgyzstan
There are many ways to get to and around Kyrgyzstan, depending on where you come from. Here are some tips for navigating the country safely.
Getting to Kyrgyzstan
Bishkek and Osh are the two main airports serving Kyrgyzstan. Bishkek will be the destination of most international flights.
Here are some of the known airlines that fly to Kyrgyzstan:
Pegasus

Turkish Airlines

Air Arabia

Fly Dubai

Uzbekistan Airways

Air Astana

Emirates
Arrival and immigration tips for Kyrgyzstan
Bishkek and Osh are modern and easy to navigate. Here are some tips to make the immigration process smoother:
Make sure you have all the required documents for your trip before you go, such as the Kyrgyz eVisa.

Amounts more than USD 10,000 must be disclosed at customs.

Not all land border crossings are valid entry and exit points for the Kyrgyz eVisa. Generally, eVisas for Kyrgyzstan are valid for entry and exit at international airports such as Manas International Airport in Bishkek, and land border crossings such as Ak-Jol in Kazakhstan or Dostuk in Uzbekistan.

If you are staying longer than 60 days you must register at the State Registration Service. To register, foreigners must go in person to a local SRS office and provide the necessary documents.

If you are using an emergency travel document, you must first get an exit visa from the immigration department.
Getting around Kyrgyzstan
Tourists can travel around major cities on a network of local buses, mini buses, and trolleybuses. There are also shared and private taxi services where your seat and your luggage may be charged separately.
There is one domestic train route that departs from Bishkek and travels east, stopping at Balykchy, which is located on Lake Issyk-Kul.
Long-distance buses travel between Bishkek and Karakol, however, they stop frequently en route. Although mini buses have more lenient schedules, they frequently wait until they are completely packed before departing. On the other hand, they often travel farther distances.
Renting a car is another option if you have an international driving permit. However, roads are poorly maintained. If you choose this option, remember to abide by all local traffic laws.
Safety in Kyrgyzstan
Although generally safe, traveling to and around Kyrgyzstan is not always straightforward. Here are some tips to keep in mind while visiting Kyrgyzstan:
Avoid displaying valuable items to avoid attracting the attention of potential criminals, especially at a location like Osh Bazaar where pickpockets frequently prey on tourists.

Always get travel insurance to ensure you can access medical services and medical treatment while in another country. Travel insurance is also useful in case of an unexpected medical evacuation.

Respect all local laws and contact local authorities for assistance should you encounter any trouble.

It's best to keep your distance from any demonstrations or political gatherings. Monitor local media to stay up-to-date about the political situation and civil unrest in the country.

Avoid all non-essential travel to the Kyrgyz-Tajik border areas, as tension between these countries still exists. Terrorist attacks in this region are common.
Weather in Kyrgyzstan
You can travel to Kyrgyzstan at any time of the year, but summer tends to be the busiest travel season. The best time to visit Kyrgyzstan are July and August, as the highlights of the country undoubtedly include trips to the highlands and outside the cities.
Must do and see in Kyrgyzstan
Don't forget to include these top sights and activities on a trip to Kyrgyzstan:
Sleep in a yurt camp: A warm, spacious building that is straightforward yet creative and easy to build and move in rural areas. It is one of the most important aspects of Kyrgyz culture. Contrary to popular misconceptions about tents and other temporary structures, yurts are quite comfortable places to sleep.

Horse Trekking: Even if you have never ridden a horse before, it's a must when you are in Kyrgyzstan. The majority of Kyrgyz horses are exceptionally well-trained, and their owners are excellent at helping new riders feel at ease. It's a great opportunity to take in the unique landscapes and culture.

Issyk Kul: One of the most beautiful, largest, and deepest lakes in the world is Issyk Kul. Due to its enormous size and mild salinity, it never freezes, even in winter, a fact that helped give it its nickname. Issyk Kul means "hot lake" in the Kyrgyz language.

Ala Kul: Ala-Kul is the name of a mountain lake located between the Karakol Valley and Altyn Arashan at the top of a mountain pass. Ala-Kul actually means "lake of many colors" in the Kyrgyz language. The color of the lake seems to be constantly changing - from blue and green on a clear day, to black on rainy days.

Visit a market:There are a variety of markets in Kyrgyzstan. The most typical and probably the most fascinating kind is the traditional bazaar. There are many bazaars in Osh, Karakol, and Bishkek that you can visit.
Typical Kyrgyz food to try
Here are a few dishes you should try in Kyrgyzstan
Beshbarmak - This is one of the most popular Kyrgyz recipes and is well-loved by locals. Beshbarmak is typically cooked with noodles and horse meat in an onion broth. That said, some locals use mutton or beef.

Kuurdak - Another popular Kyrgyz dish, kuurdak, features grilled mutton, fat, and onions. It often also includes some vegetables such as potatoes or carrots.

Oromo - Oromo is another Kyrgyz republic dish that contains more vegetables than meat. The filling is a combination of pork, cabbage, carrots, and thin layers of dough.
Vaccine information for Cyprus
Before booking your trip to Kyrgyzstan, it's important to know which vaccinations and COVID-19 measures are required. We advise you to check the CDC website for more info.
Eagle hunting in Kyrgyzstan
In the nomadic culture of the Kyrgyz, eagle hunting is a very ancient and highly revered ritual. Eagle hunting, as the name implies, is a custom in which native golden eagles are trained to hunt game for entertainment or food (food, pelts, etc.). This custom is also practiced in other Eurasian nations, especially Kazakhstan and Mongolia, where nomadism is celebrated.
It goes without saying that eagle hunting is not really necessary in modern times. In truth, the vast majority of Kyrgyz people live without this custom. Nevertheless, there are a few who strive to preserve the spirit of nomadism.
The customs of eagle hunting are maintained by the Salbuurun Federation, which has its headquarters in the village of Bokonbayevo on the southern shore of the Issyk Kul. For those who are interested, this small group of locals offers eagle hunting demonstrations.
They are entertaining and informative because, let's face it, it's pretty awesome to watch someone manage a creature with a wingspan as big as a grown man. It's definitely one of the most interesting things about Kyrgyz culture.
Trustpilot recommended. We lead the industry in innovation and reputation
Our Customers Have Great Stories About Us