Since Mexico is part of North America just like Canada, it's quite popular to see many Canadians planning a trip to this exotic nation, especially with wonderful places like Cancún and Acapulco to chill out with the family.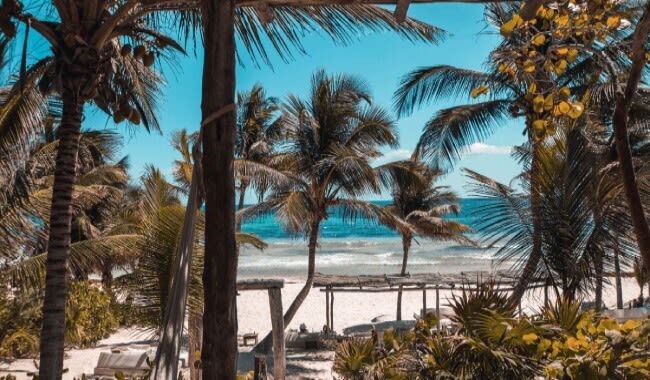 However, before planning a trip to this destination, you have to make sure that you have the Mexico Visa for the citizens of Canada on hand. Plus, keep in mind that this document is not a traditional visa or Paper Visa, so it's easier to get. Also, this travel paper is formally called a Mexico Tourist Card or Forma Migratoria Múltiple.
You can fill in an application on the plane on your way to Mexico, but it can be a time-consuming alternative. That's why we recommend you use the services provided by iVisa.com, especially to save a lot of time and effort.
You can read more details about this document in the article below.
Frequently Asked Questions (FAQs)
What is an FMM or Mexico Tourist Card? Is it a Mexico Visa for the citizens of Canada?
The FMM is the acronym for 'Forma Migratoria Múltiple', which is also known as the Mexico Tourist Card. This is an online document that authorizes you to enter Mexico and stay there as long as your trip is for tourism purposes.
This electronic document is not the same as a Mexico Visa because the Visa can be obtained only through a local embassy, while the FMM is available through an online form.
Nevertheless, many people call this document the Mexico Visa for the citizens of Canada just because it works like a travel permission.
But you don't have to worry about it, you can be sure that this is not as complicated to get as a traditional visa. It's a lot easier.
The FMM has a validity of 180 days after arrival, it also has a Single Entry benefit for a maximum stay of 180 days in Total.
Do I need a Mexico FMM if I'm from Canada?
Yes, if you're from Canada you have to apply for a Tourist Card before entering Mexico. This is mandatory for a lot of nationalities, but the process gets easier when you use iVisa.com.
By applying online with us, you avoid lines at the airport that can cause you to waste a lot of time. However, you should know that our service has a price, but these prices are always affordable.
What do I need to apply for this document?
To get your Mexico Tourist Card as fast as possible, you need to make sure you have this shortlist first. These aren't difficult to get:
Firstly, you have to offer a scanned copy of your passport (it's the most important document on the list).
You need an airplane ticket (including flight number).
You also need a Credit/Debit card or Paypal account for payment.
The last thing you should have is a valid email address where you'll get the FMM.
How much does it cost?
If you apply for the FMM with iVisa.com, you'll be saving a lot of time, which is why we ask you to pay a small fee. This is necessary for us to work properly and offer you the document as fast as possible.
Nevertheless, you can also have the FMM by using Mexican websites, but they might be tedious if you're not used to online processes. Another thing you have to recognize is that you'll probably have to wait for their availability (sometimes the servers get very crowded).
By using iVisa.com you don't have to worry about that because we give you an online form that's speedy and manageable.
Depending on how fast you want to receive your FMM, you can choose one of these options:
Standard processing: you'll get your FMM in only

24 hours

, and the price is

USD $27.49

(service fees included).
Rush processing: your FMM will be processed in

4 hours

, and the total price will be

USD $49.99

(service fees included).
Super rush processing: with this option, you'll have to wait

30 minutes

, and you'll be charged

USD $84.99

(service fees included).
You won't need more than 10 minutes to apply for this document.
How can I apply for it?
Once you enter the online application page, you will see that it has three steps:
The first step of the form is to write down your basic information. You also have to select the processing time from the options we mentioned above.
The second step of the form is to verify the information you previously wrote and make the payment.
The last step is to upload the items required. It's at this point when you have to upload your passport scan and a photo if needed.
You can begin this process here. Once you complete it, don't forget to click on the submit button. After that, iVisa.com will operate the rest of the process so you can obtain your FMM on time. If you have doubts about it, iVisa.com has a great support service ready to assist you at any time.
Can I apply for other people?
Yes, you can apply for friends or family members. The steps are the same, but the only thing that might change is that, if you're traveling with them, you can add their info by clicking on 'add new applicant' while applying. Don't forget that your kids also need a Mexico Tourist Card when entering Mexico.
What should I do If I'm just passing through Mexico?
You don't have to apply for a Mexico Tourist Card if you're just passing through this country. But take into account that as soon as you leave the airport, you'll have to apply for it.
How safe is iVisa.com's services?
We can guarantee that our services are very secure because we have an updated system that won't jeopardize any detail you offer. Plus, our representatives are always ready to treat your eVisa or Travel document delicately so you can receive it as fast as you want without any issues.
We've offered high-quality services for many years, and you can see that in our reviews.
If I have more questions about the Mexico Visa for the citizens of Canada, what should I do?
Don't worry if you have more questions about this or other travel documents. We advise you to read other articles related to the Mexico Visa for the citizens of Canada on our blog page. Or you can contact our customer service representatives here.