Mexico has immigration agreements with many countries across the globe, meaning that to visit Mexico as a tourist or for business reasons, most nationalities don't need a Mexican visa. Of course, this is amazing news, but at the same time, many might wonder, what are the requirements to enter Mexico for tourism and business purposes?
So, if you don't require a tourist visa for Mexico due to your nationality, you must provide the Mexican immigration authorities with a Mexico FMM Form (Forma Migratoria Multiple). But don't worry, it is easy to get, and iVisa is here to help you fill out the form and obtain your travel document.
Throughout this article, you will find all the information and details about fulfilling this requirement to enter Mexico.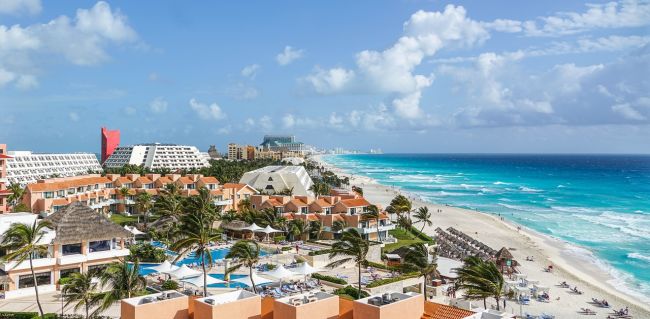 What is the Mexico FMM Form?
The Mexico Forma Migratoria Multiple (in English, Multiple Immigration Form) is a travel document introduced by the Mexican Immigration Authority in 2011 to replace old forms, simplifying the immigration process for tourists and encouraging tourism in the country.
With the Mexico FMM Form, you can enter Mexico via air and land and engage in activities related to tourism and businesses, as long as no paid work activities are performed. The duration of the permit is 180 days and entitles its holder to a single entry into the country.
How many types of FMM are there?
Not many! There are only two types of FMM:
What are the requirements to apply for a Mexico FMM Form?
As mentioned before, it is an easy-to-get document. These are the required documents:
Valid passport. Make sure it is valid for a minimum of six months after you arrive in Mexico. Failure to comply with this requirement may be grounds for the Mexican authorities to deny you a Mexican tourist card.

To pay the tourist card fee, you can use a credit or a debit card.

Airplane tickets in case you travel by plane (this is not mandatory but highly recommended)

An email address where you'll receive the document.

Accommodation information.
Once you have the previous documents and information in place, you can apply for a Mexico FMM Form.
How to get a Mexican Multiple Immigration Form?
Getting an FMM Form is as easy as meeting the requirements to apply for it. You can obtain this Mexico Customs Form at the airport or request it from immigration officials or Mexican authorities, but this could take a while and be stressful.
It is also possible to find the Mexico Customs Form online in a .pdf version for printing purposes. Still, we strongly recommend you get it with iVisa, where the process is straightforward and completely digital.
To further simplify the application for the immigration form with iVisa, we describe the step-by-step below:
Enter your personal information, including name, gender, date of arrival, and others. Data entry will take up to ten minutes.

Select the Mexico tourist card or type of FMM you need, meaning Tourist Card - Air or Tourist Card - Land; and how quickly you want it. This selection will determine its cost.

Review all the information and make sure everything is correct, then you can proceed with the payment.
Apply for the Mexico FMM Form here.
How many times can I travel to Mexico with the Tourist Card?
The Mexico Tourist Card entitles its holder to a single entry into the territory, which means you can enter Mexico just once with the same tourist card. Once you leave Mexico, your tourist card will no longer be valid. Therefore, you must reapply for the FMM Form if you wish to revisit Mexico.
What are the prices and processing times?
If you are planning to enter Mexico by airplane, the FMM is free of charge. However, please keep in mind that most airlines no longer provide immigration forms to their passengers, so you will most likely need to queue and request them from an immigration officer at the airport, which is not very appealing.
Processing it with iVisa will always be the best choice. It is simple, fast, and trustworthy. You can do it and print it from your place in advance before the trip, so you don't have to rush to the border or the immigration office. This can take time and delay your immigration process once you arrive in Mexico.
Please note that the Mexico tourist card provided by iVisa is exactly the same as the one you fill out at the border, on the plane, or at the immigration counter. The difference is that the tourist permit provided by iVisa to foreign nationals shortens the timing and helps avoid the hassle at customs. This is because you will get the tourist card via email in advance, so all you need to do is print it out and submit it to the immigration officer for stamping and signing.
The costs and processing times with iVisa are as follows:
Standard processing: under this choice, you can get your Mexico tourist card in 24 hours and the cost is USD $34.99

Rush processing: under this choice, you can get your Mexico tourist card in 4 hours, and the cost is USD $61.99

Super rush processing: under this choice, you can get your Mexico tourist card almost immediately in 30 minutes, but of course, the cost is a bit higher at USD $99.99
If you plan to enter Mexico by land, be aware that the tourist visa will cost an additional USD 32.00. Therefore, when choosing the desired processing time, please keep it in mind because it will change the final price.
Is it safe to apply for the Mexico Tourist Card with iVisa?
Absolutely! You can count on a professional team that has worked with this type of tourist visa for over five years, so you can definitely trust us. In addition, we have never had any data leakage issues as we have an advanced platform and system that ensures no information in our database is exposed.
Choosing the FMM Form provided by iVisa is the smartest choice. Why bother lining up at the airport, at the border, or at the immigration counter, when you can print the Form at home or at your office before the trip? With iVisa, the process is easy, cheap, and fast. It can take a maximum of 24 hours and a minimum of 15 minutes, depending on your choice and how much you wish to pay for its processing time.
Where can I find more information about the Mexico Forma Migratoria Múltiple Form?
You can get more information here if you still have questions or doubts about the FMM. And if you want to know more about our services or products, please contact our customer service team or write to [email protected]. We will be willing and happy to help you 24/7.