Are you thinking of visiting the Netherlands? The country offers beautiful tulip fields to get lost in and many attractions for art lovers, such as the Van Gogh Museum. It is also a perfect place to stroll or cycle around Amsterdam's charming streets for a romantic getaway.
However, the Netherlands can be an expensive country to visit. Planning your travel expenses is essential for enjoying your trip to the fullest.
iVisa is here to help you in this mission. Keep reading for our top tips to save money, exploring the Netherlands on a budget, and getting your Schengen Visa quickly.
Planning your visit: Netherlands trip cost and budget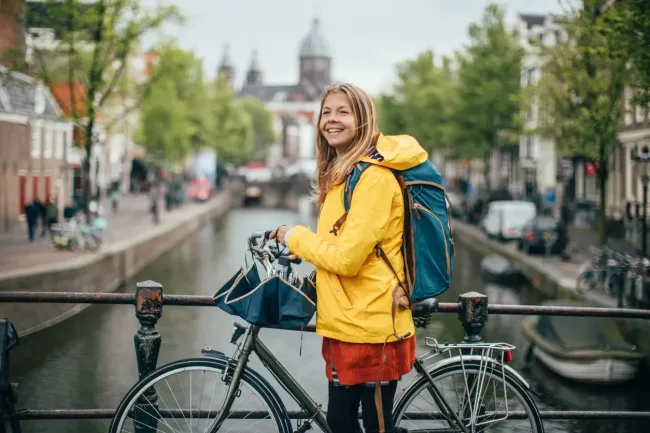 Your travel budget depends on factors such as your standard of travel, priorities, places you will visit, and if it will be a group, couples', or solo vacation.
Traveling to the Netherlands on mid-range budget costs around $152 per person, per day.
A couple would spend $1,926 in one week.

A solo traveler would spend $1,063 in one week.
Find out more below about the different costs of flights, accommodation, and more for a trip to the Netherlands.
Average prices of flights to the Netherlands
In addition to your daily budget, you need to factor in flight costs. Prices vary according to distance. From Chile, direct flights to Amsterdam start from $1455, while flying from the United Kingdom, tickets start from just $75.
Average prices for accommodation in the Netherlands
There are plenty of places to stay in Amsterdam for each type of traveler. Choose a shared room in a hostel if you have a tight budget, or a fantastic room in a luxury hotel if money is not an issue. Prices for accommodation can be lower in small towns or more expensive if you select a desirable location, like the city center.
Hostels: The average price is $50 for one bed in shared dorm rooms. However, many hostels also have private rooms, where you can book an entire dorm for around $250, a great choice for a group of backpackers or friends.

Hotels: The typical price for a hotel in Amsterdam is around $145 per night for a double room.

Airbnb: The average price is $144 for a private room.
Average daily cost of food in the Netherlands
Based on the average food prices in Amsterdam, set a budget of $40 per day per person for meals, including breakfast, lunch, and dinner. You can also opt for takeaway to save money or if you're not on a budget, do an awesome food tour. If you choose to stay in an Airbnb accommodation or hostel with access to a kitchen, cooking is also an option.
Here are some prices of food in the Netherlands to help you plan your budget:
Sandwich from a deli with soft drink: $8

A serving of bitterballen (deep-fried snacks): $7

A pack of stroopwafels (local biscuits): $4

A bottle of water: $1.60

A three-course meal with a glass of wine in a high-end restaurant in Amsterdam: $65

A steak dinner with a glass of wine: $48
Average costs for local transportation in the Netherlands
Public transportation is the best way to travel around major cities in the Netherlands. The GVB runs the Amsterdam city transport company, which includes trams, metro, and buses. With a local transport card, known as the OV Chipkaart, you can use any of these options.
Day passes are available for 1 to 7 days: the 1-day pass costs $9.65, while the 7-day pass costs $44. You can also buy a single ticket (valid for one hour) at metro stations for $3.43. Single tickets are only useful if you plan to make only one or two daily trips.
From Amsterdam, you can travel to other cities via the rail network. Here's the one-way ticket cost for some train trips across the Netherlands:
Train from Amsterdam to Utrecht: $10.60
Train from Amsterdam to Leiden: $12.54
Train from Amsterdam to Maastricht: $32.60
Train from Amsterdam to The Hague: $15.54
Bike rental costs in Amsterdam
Bikes are popular transport options in Dutch cities. It's a great way to explore the surroundings, and most places are bike-friendly, offering many bicycle paths and routes. Prices vary according to the type and how long you will use it.
Dutch bike (pedal brake): 3 hours for $10 - 24 hours for $13
City bike (hand brakes & 3 gears): 3 hours for $13 - 24 hours for $17
Car rental prices in the Netherlands
There are many car rental companies in the Netherlands, so finding rental cars is not a problem. The prices are around $60 per day, and they vary depending on the car model and features.
It is relatively affordable compared to other countries. However, be aware that parking is a hassle and can get expensive in the Netherlands. Plus, navigating streets filled with bicycles, trams, and pedestrians can be stressful. As a result, what should be a comfort option can become a nightmare.
Consider a road trip only if you're planning to travel around the countryside. The autonomy and comfort of driving a car allow you to explore small towns better, especially those without train stations.
Costs for main attractions in the Netherlands
Don't forget to include sightseeing expenses in your trip budget for the Netherlands. Depending on the attraction you want to see, ticket prices can be a significant part of the budget. Here are some must-see attractions in the country and the prices.
Anne Frank House
During World War II, this was not Anne Frank's house, but the place where she hid in the annex with her family, to escape prosecution. The Jewish teenager wrote her biography there, telling her fears and dreams during the war times. The museum is dedicated to honoring her memories and the Jewish journey in that dark time.
Ticket for an adult: $18
Ticket for a child: $9
Van Gogh Museum
This museum houses Vincent van Gogh's largest collection of artworks in the world. The permanent collection includes over 200 paintings by the artist, 500 drawings, and more than 750 letters.
Ticket for an adult: $21
Ticket for a child: Free
Rembrandt House
This is the 17th-century house where Rembrandt lived and worked for 20 years. The museum shows the unknown aspects of the famous painter's life and artistic craft.
Ticket for an adult: $18
Ticket for a child: $6
Rijksmuseum
The Rijksmuseum is the national museum of the Netherlands and was founded in 1798. The place houses the country's huge collection of rare art and antiquities.
Ticket for an adult: $32
Ticket for a child: Free
Check out more information in our ultimate Netherlands travel guide, such as weather, traditional food to try, and cities to visit.
How to apply for a Schengen Visa to travel to the Netherlands
Use our handy Visa Checker Tool to find out if you need a visa to visit the Netherlands. If the answer is yes, you can directly apply online, and count on iVisa to give you full guidance to get your Netherlands Schengen Visa hassle-free!
This visa allows you to travel freely between the 27 Schengen countries once you get it.
iVisa simplified the application for you! Applying with our guidance, you'll benefit of a shorter application form that takes just a few minutes to fill out. In addition, you will receive a detailed instruction manual on how to complete the form and successfully go through the interview process. We provide you with an exclusive visa expert throughout the entire process.
Apply for your Netherlands Schengen Visa now and explore this fantastic country!