Norway is a popular nation in Europe and probably the most visited in Scandinavia. Many tourists travel to this country every year, which is why its government authorized the use of the ETIAS visa waiver program. This electronic system will be available in 2022, and it'll be mandatory for all the foreign citizens wishing to enter this territory, even those who don't need a visa.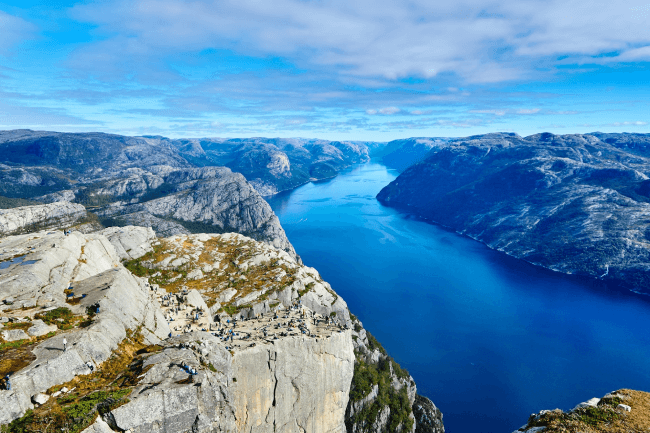 You'll have to apply for the Norway ETIAS from 2022 and on. However, in iVisa.com we're ready to help you with the application process because we created a 3-step easy-to-understand system that won't take you more than 20 minutes of your day, meaning that you could be ready to visit Norway in less than an hour.
To learn more about the Norway ETIAS, including the number of entries allowed, we invite you to read the information below.
Frequently Asked Questions / FAQs
What is a Norway ETIAS?
The ETIAS is an acronym used for European Travel Information and Authorization System. This document can be used to enter the Norwegian territory, but it can also be used to visit other countries in the Schengen Area. When we mention the Norway ETIAS, we talk about the specific ETIAS application that allows you to visit not only Norway but other countries like France and Italy.
The ETIAS is an online visa waiver system that permits you to receive the pre-travel authorization to visit the Schengen Zone. You receive this authorization via email inbox by completing an online application form that's short and effortless.
How many countries can apply for the Norway ETIAS?
At least 60 countries can apply for the ETIAS visa waiver program. It means that citizens from 60 countries can apply for the Norway ETIAS before entering this Scandinavian nation. All of these countries don't need another document to enter, aside from the passport.
You can verify if you're one of the countries eligible for the ETIAS by using our website. Simply take advantage of the checker tool on the homepage to see what documents you need to enter Norway or any country you wish to visit. There's plenty of information about the Norway ETIAS multiple entry features.
What documents do I need to apply?
You can apply for the Norway ETIAS with an official ETIAS website or even by visiting the embassy, but keep in mind that it can be tedious and tricky. Therefore, we recommend you to apply with iVisa.com to save a lot of time that you could invest in the rest of the travel plans.
The list of requirements you need with iVisa.com is very short, these are:
Your current passport with a valid due date (at least 3 months of use upon arrival).
A valid email address where you'll obtain the document.
Payment options like a credit/debit card, or a Paypal account.
Look no further for guidance about the Norway ETIAS multiple entry format.
How much does the ETIAS cost?
There's not an official price for the Norway ETIAS because this document is too new. The only reference is the tentative price that the E.U. Commission would be charging, which is €7, but that wouldn't include any extra fee related to the nationality or iVisa.com's processing fee.
By choosing iVisa.com as your application method, you can apply for the ETIAS at any time and from anywhere because our servers are always available. We work hard to offer you any travel requirement asap, which is why we also charge a small fee while applying, but don't worry, it's a small fee depending on the processing time you choose:
Standard Processing: For the most affordable price with a decent waiting period.
Rush Processing: If you want your document a bit faster but by paying just the necessary.
Super Rush Processing: For emergencies or if you want your document as fast as possible because it's the most expensive option.
You should also consider that we work hard to provide you with the best attention, and that includes our rule that we don't charge you anything unless we receive your valid permission.
How can I get the Norway ETIAS with iVisa.com?
Getting your document with iVisa.com is simple and it can save you any stress in comparison to other options. All you have to do is to complete the following steps:
First, complete the online application form by giving your basic details and after that be sure to select your favorite processing time.
Second, verify all the information you gave in the first step and double-check the spelling to avoid typos or mistakes. Then, complete the payment part by using your credit/debit card or Paypal.
Third, attach the documents if necessary and click the 'submit' button to complete. You can also make a last revision at this point t before sending the form.
Click on this link when you feel ready to apply!
How many entries does the Norway ETIAS permit?
As for the number of entries the ETIAS has, take into account that this document is a multiple-entry permit, and it's valid for a period of up to 3 years or until your passport expires. Once you enter Norway or any country that belongs to the Schengen Zone, you can stay there for 90 days. The Norway ETIAS validity is great for travelers.
Can I apply for my family and friends?
Yes, you can apply for them, but confirm if you're traveling with the first, or if they'll travel separately. This is important because there are two ways of applying for them: firstly, you can click on 'add applicant' while completing your form to add their information, but for that, they must travel with you. Secondly, you can apply for their Norway ETIAS separately by following the steps we mentioned before, and this can be useful if they're not traveling with you.
Is it safe to use iVisa.com?
Yes, it is because iVisa.com takes safety seriously. We designed a top-notch online system that can take care of all the information you provide us. Everything you see and also everything you enter on our website can't be leaked. We can confirm our amazing results with these reviews.
Where can I get more information about the Norway ETIAS?
If there are more questions about this online process, then don't worry, we're ready to take them! Contact our customer service center at any time to receive personal attention or explore iVisa.com's webpage to keep reading more FAQs or other useful tips.
Apply for your Norway ETIAS today to be one click closer to your journey!