Getting your Austrian passport should not be a challenging task. However, each passport is different, and you need to make sure that you meet all the requirements. One thing you have to submit along with all the required documentation is one or multiple passport photos. You could go to a photo studio and have them done, but we suggest a faster and easier approach. iVisa Photos can help you get your passport photos from the comfort of your home. With the guidelines presented below, you should be able to achieve this requirement all by yourself.
Also, if you are interested in traveling abroad after you get your passport, we suggest checking out our website. If you happen to qualify for an electronic visa, they can help you get it online with very little effort on your part.
Photo specs
Size: 45 mm in height and 35 mm in width. The face should be 2/3 of the photo, meaning 36 mm in height
Color: while black and white images can be accepted, we recommend a color photo
Head size and position: your head must not be at an angle, and you cannot take a portrait-style photo
Recency: as recent as possible but not older than 6 months. It has to reflect your current look
Background: a light color, preferably white or light grey
Smile: no. Only neutral facial expressions are acceptable
Eyes: must be clearly visible
Your ears should be in the shot
Blurred photos will be rejected
Glasses: only if absolutely necessary and do not alter your look
Headgear: not accepted unless you cover your head for religious purposes
Dimensions and size (pixels): at least 600 dpi
Attire, clothing, dress code: must be in contrast with the background
Beard: only if you usually have one
Quantity needed in application: 2
Austria Passport Photo Size Requirements Guide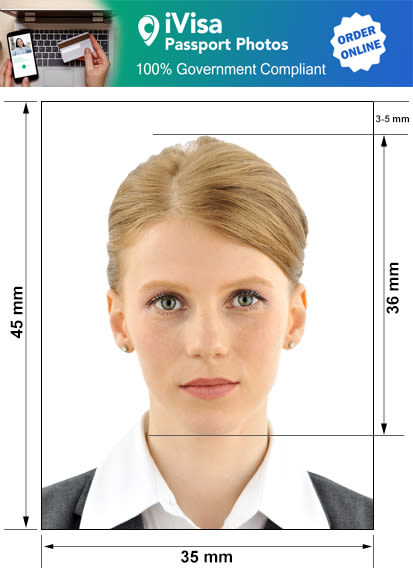 Austria Passport Photos and Visa Photo Requirements – Rules, Guidelines, and Specifications
While we did mention the specifications of the passport photo above, we feel that further details are required. Did you know that an inadequate passport photo is one of the most common causes a passport application is rejected? With that in mind, take a look at the details of some of the specifications we have already given.
The background can be white or light grey. It should never have colors or patterns on it. Also, make sure that there are no shadows on the background when you take the passport photo. That can lead to a rejection, so better to not risk it.
Your head should always be straight. Do not tilt or rotate it in any way. Your shoulders should also be in the picture. You are not allowed to submit a portrait-style photo. Basically, both sides of your head must be visible equally.
Place yourself in front of a source of light. That way, you will not have any shadows or reflections on your face. That can distort your facial features and lead to a rejection. The source of light should not be too bright or too dim.
When you take your passport photo, relax your face so that you create a neutral expression. You cannot smile, frown, squint, raise your eyebrows, or anything else that may modify your facial features.
Your eyes should be looking straight into the camera. Do not squint because they will not be as visible.
If you absolutely have to wear glasses in your passport photo, make sure that there is no glare in the picture. Also, if your glasses frames cover too much of your face, take them off. Sunglasses or glasses that have tinted lenses are prohibited.
Headwear usually is not accepted. However, if your religious beliefs prevent you from uncovering your head, make sure that your face is visible from the bottom of your chin to the top of your head. That is the only allowed compromise.
If you have a beard, you can keep it when you take your passport photo. Nevertheless, if you plan on shaving it off, you should do so before having your picture taken.
Rules and Requirements for Babies, Infants, and Newborn Passport and Visa Photos
Children, no matter the age, need their own passport and visa, which is why a passport photo is necessary for them as well. There are a few differences when it comes to adults' passport photos and children's passport photo, but nothing too significant. Here are some tips you must consider:
If your baby is too young, you can hold him/her during the photo shoot. Just remember that your hands cannot be visible in the picture.
Make sure that the baby's eyes are open.
If you want to photograph your child in his/her car seat or on the ground (from above), do not forget to put a white sheet on the backrest of the seat or underneath him/her. The background rules apply to children as well.
The baby cannot have his/her head covered during the photoshoot. Remove the pacifier as well.
Pricing
Getting passport photos may prove to be a costly affair. However, with iVisa Photos, this is not the case. We offer some of the lowest prices on the market when it comes to high-quality passport photos. To get an Austrian passport, you need 2 photos, and you can get the set for only 5.54 Euros (the amount may be slightly different due to currency conversion rates).
How to get Austria Passport Photos or Austria Visa Photos Online
Using the services of iVisa Photos could not be easier. You can use a smartphone or a tablet to take your picture using the guidelines we talked about above. Keep in mind that iVisa Photos allows you to make several attempts until you get the passport photo you love. Once you have one that you like, you can submit it. You can choose between downloading it, in which case you have to print it yourself, or we can send the photos to your home address. It is as simple as that.
Do you need more information about the services rendered by iVisa Photos? Feel free to contact us at any time. We are more than happy to answer all your questions and concerns.
References