Here are the requirements for an Angola passport photo or visa photo. It covers how one's face should be in the photo, where it should be in the photo, and the rules for the pose. It also cover the photo's size and technical photography details.
You can also use the iVisa photo app to create your own passport photos at home. We'll make sure it is in compliance with the Angola passport photo and visa photo rules. The photos will be shipped to you via mail or you can pick them up at a nearby pharmacy. Click here to learn more.
Photo specs
Size: 45 mm in height and 35 mm in width
Color: the picture must be in color
Head size and position: the head should be positioned straight, not tilted. Portrait-style photos are not accepted
Recency: no older than 3 months
Background: white
Smile: no. Neutral expression only
Eyes: looking straight into the camera. Clearly visible
Make sure your ears are both visible
The photo should not be blurry
Glasses: only if they do not alter the visibility of your eyes and face
Headgear: not allowed unless your religious beliefs do not permit an uncovered head
Dimensions and size (pixels): not specified
Attire, clothing, dress code: must be in contrast with the background
Beard: only if it represents your everyday appearance
Quantity needed in application: 3
Angola Passport Photo Size Requirements Guide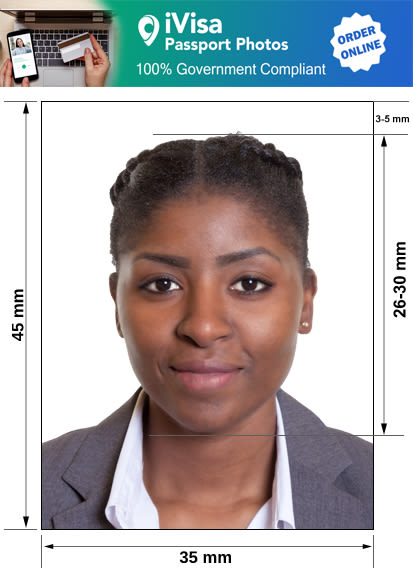 Angola Passport Photos and Visa Photo Requirements – Rules, Guidelines, and Specifications
Although we listed the Angolan passport photo requirements above, we feel like we should elaborate on a few of them just to be precise. After all, an inadequate photo can lead to a rejected passport application, and we want you to get it right from the first try. There are not many details to be aware of, but it is enough to potentially miss one. Below, you will find the information you need so that you can take a successful passport photo.
Make sure to use photo-quality paper if you decide to print out the pictures yourself.
Your head cannot be at an angle or tilted. Portrait-style images are not allowed. Make sure that your face is perpendicular to the camera. The shoulders must be visible as well. The face has to be 29-34 mm in height. If you have voluminous hair, it is preferable that you contain it somehow. If that is not possible, the face still has to cover 29-34 mm in height, even though your hair will cover much of the background.
The background can only be white. The light color of the background can make your skin tone more distinguishable. Avoid colored backgrounds or backgrounds with patterns. Your photo will be rejected for that.
It is not only smiling that is not accepted. You cannot frown or make any other facial expressions. Keep your face relaxed while taking the picture so that it is neutral.
Your eyes must look straight ahead. If you usually wear glasses, you can keep them on but only if the frame does not cover a good portion of your face and your eyes can be seen clearly. A photo with glare from the lenses will be rejected. Also, sunglasses are not permitted.
When you take your passport photo, you cannot wear anything on your head such as a beanie, hat, etc. However, an exception can be made for people who keep their heads covered for religious purposes. Even then, your whole face must be visible from the top of your forehead to the bottom of your chin.
If you are planning on shaving your beard, do it before you get your picture taken. If you are planning to grow a beard, wait for it to grow before you take the picture.
The light should be in the right position when you take your passport photo. Make sure that the source is in front of you so that it does not create shadows or reflections on your face.
Photos from male applicants must be taken without earrings, dreadlocks or Mohican hairstyles.
Rules and Requirements for Babies, Infants, and Newborn Passport and Visa Photos
Did you know that children need their own passport and visa as well? There are no significant differences between an adult's passport photos and those taken for a child. Even so, it is perfectly acceptable that the child's head occupies less space in the picture. After all, children do have smaller heads.
Taking a picture of a child may prove to be a challenge, but surely you can manage. For greater chance of success, here are a few useful tips you should keep in mind:
If the baby is too small to sit on their own, you can hold them, but make sure that your hands are not visible in the photo. It will be rejected otherwise.
Many parents choose to place their kids on their backs when taking their pictures. If you want to do that, remember to put a white sheet underneath.
Another useful method of photographing a small child is in a car seat. In case you wish to do that, put a white cloth on the seat's backrest.
Try as best as you can to capture the child with his/her eyes open.
Cost
Getting your passport photo taken at a photo studio can cost you quite a bit. However, if you use iVisa Photos, you will save some money. The Angolan passport requires 3 photos, meaning that you are going to have to opt for the set of 4 pictures. You can receive them for only 447 AOA. You will not find a better price anywhere.
How to get Angola Passport Photos or Angola Visa Photos Online?
If you decide to use the services rendered by iVisa Photos to get your passport photos, then you will learn that it is incredibly easy. What you need for the process is a decent camera from a phone or a tablet. Some people use the webcam from their laptop. As long as you follow the guidelines we outlined above, it does not matter what camera you use.
What you will like about iVisa Photos is that you are allowed to make multiple attempts at taking your photo. That way, you are not stuck with a picture you hate. Once you find one that you love, you can either download it to print it yourself, or we can have it delivered to your house. The choice is yours.
Do you have any questions or concerns regarding iVisa Photos? Then do not hesitate to contact us. We are more than happy to answer all of your questions.
References