Applying for a Belarus passport means that you have to meet a few requirements. Among them, you will see that you have to procure 4 passport photos. Getting them should not be a challenge. You could go to a photo studio and have them done professionally, or you could just take your photo at home using iVisa Photos. The latter option is more convenient and cheaper.
At the same time, if you are planning on using the Belarus passport after you get it, you should check out our iVisa.com website. In case you are eligible for an electronic visa, iVisa.com can help with the online visa application process so that you do not go through too much trouble.
Photo specs
Below, you will find a list of the general guidelines for a valid Belarus passport photo:
Size: 50 mm in height and 40 mm in width. The face should measure 32 mm to 35 mm from the chin to the crown of the head
The photo cannot be black and white
Head size and position: your head must not be at an angle, and you cannot take a portrait-style photo
Recency: as recent as possible but not older than 6 months. It has to reflect your current look
Background: white
Smile: no. Only neutral facial expressions are acceptable
Eyes: must be clearly visible
Your ears should be in the shot
Blurred photos will be rejected
Glasses: only if absolutely necessary and they do not alter your appearance
Headgear: not accepted unless you cover your head for religious purposes
Dimensions and size (pixels): at least 600 dpi
Attire, clothing, dress code: must be in contrast with the background
Beard: only if you usually have one
Quantity needed in application: 4
Belarus Passport Photo Size Requirements Guide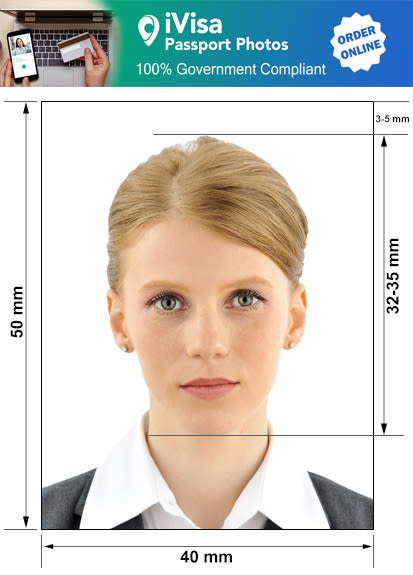 Belarus Passport Photos and Visa Photo Requirements – Rules, Guidelines, and Specifications
If you think that the Belarus passport photo guidelines above are not detailed enough, we expanded on some of them so that you will know precisely what you need to do. Submitting an improper passport photo can lead to a rejection, which is why it is essential that you get this requirement right from the start.
As far as the background is concerned, make sure that it does not have any colors or patterns on it. It has to be plain white. Shadows on the background are not adequate either, so be careful about the setting you choose to take your picture in. If you do not have a white wall in your house, you can use a white sheet. Just hang it on a wall, and you are good to go.
The position of your head is important as well. You must keep your head straight and eyes forward. Make sure to place the camera at your eye level for better capture of your facial features. You must not tilt or rotate your head while taking the picture. Your passport photo will be rejected if you do so.
The light you use for your photo must not be too bright or too dark. Make sure that the light source is in front of you. Shadows or reflections on your face have the potential of distorting some of your facial features, so make sure to avoid that.
The best facial expression for a passport photo is neutral. Relax your face while taking the picture. You cannot smile, frown, or make any other expression.
When you are taking your passport photo, your eyes should look straight into the camera. Do not squint. Also, if you wear glasses, you need to make sure that there is no glare in the photo and that the glasses do not cover your eyes in any way. Tinted glasses, sunglasses, and glasses that have big frames are not allowed in a passport photo.
The general rule is that headwear is not allowed in a passport photo. However, if your religion does not allow you to have your head uncovered, you may keep the headwear. Even so, it must not create shadows on your face, and your face should be clearly visible from the bottom of your chin to the top of your forehead.
Beards are permitted only if they represent your everyday look.
Rules and Requirements for Babies, Infants, and Newborn Passport and Visa Photos
It does not matter how old a child is when it comes to passports and visas. They all need their own individual travel document. As far as specifications go, there are no significant differences between a child's passport photo and an adult's picture. Of course, some concessions can be made. For example, it is acceptable for the head of a child to occupy less space in the picture. Below, you will find some tips on how to take a passport photo of a child.
If you have a baby and you need to hold him/her during the photoshoot, remember that your hands cannot appear in the picture.
Remove the headwear and the baby's pacifier before taking the photo.
Keep in mind that the white background rule applies to children as well.
Pricing
If you think that getting passport photos from a studio is expensive, then you have come to the right place. With iVisa Photos, you will spend as little money as possible. For a Belarus passport, you will need 4 passport photos, and we can get you a set of 4 for only 19.80 BYN. We can guarantee that you will not find a lower price than that.
How to get Belarus Passport Photos or Belarus Visa Photos Online?
If you decide that you want to get your passport photos online with iVisa Photos, know that using our service is easy. Utilizing a camera from a tablet or phone, take your picture. Keep in mind that you have to follow the rules and guidelines above. You are allowed to take more than one photo until you get the one you love. Once you choose the best picture of yourself, submit it. You have the option of downloading it, but we can also send it to you if you provide your address. That's pretty much it.
Do you have questions or concerns regarding iVisa Photos? Do not hesitate to contact us. We will gladly answer all of your questions.
References