If you have a passport from the Czech Republic, it's important that you know what kind of standards your passport photo needs to meet to be considered valid. The best way to get a compliant passport photo is through iVisa Photos since we're an easy to use service with accurate information on the requirements for many countries. Just look through our Quick Facts, then get a suitable photo for your Czech Republic passport.
You may also find our website to be of interest if you plan on using your passport to visit another country. iVisa will tell you if the country you're going to requires a visa for entry or exit so that you can settle that too before you leave.
Photo Specs
Size of visa photo: 45mm x 35mm
Color: Full color, not in black and white
Head size / position: Full face, centered in the photograph
Background: Plain white
Smile: Neutral, try not to smile and or frown
Eyes: Open and visible
Glasses: You can use daily wearing glasses. Just make sure that there are no glares visible on the lenses if you use a flash with you camera.
Headgear: None allowed, except for purposes for religoin
Qty needed: Two (2)
Czech Republic Passport Photo Size Requirements Guide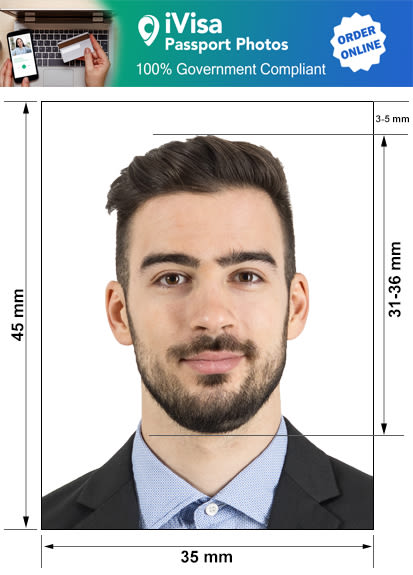 The Czech Passport Photo and Visa Photo Requirements, Rules, Guidelines, and specifications
The iVisa Photos app´s photos are 100% compliant with the Czech Embassy´s visa specifications. Make sure you meet these guidelines when taking your photo. Notes regarding your photo:
The visa photo requires a white background
Keep your head in the center of the photograph
Size specifications: 35 x 45mm
Must be a recent photograph, any photo older than 6 months should not be used.
Do not wear hats or any other headgear
If you plan to wear your glasses then you should take care to avoid glares on the lenses
You need to submit two (2)photographs with your Schengen visa application
Rules and requirements for babies, infants, and newborns Passport and Visa photos
The Schengen tourist visa for the Czech Republic has the same requirements for all who will apply. If you need to take a photo of your infant baby, then see the following tips.
One, baby's eyes need to be open in the photograph. We suggest that you show a few toys to the baby while taking the photo so that they are wide awake and happy. Just make sure that the toyes do not show in the photo.
Two, background need to be a white background. You can use anything to create a white background, such as a white blanket or bed sheet. Three, if the baby is small then you can take the baby and place him or her in their car seat and take his visa photo there.
Price and Cost
iVisa Photos prices start from $3.99. We offer 2 types of delivery options as well so its really easy and convenient to use the app´s service. 1 - home delivery via mail or 2, in store pickup at a local CVS, Walgreens or Walmart store.
How to get your Czech Visa Photographs Online with iVisa Photos?
The iVisa Photos app can be used after you downloaded their app with a smartphone or tablet. The app can be downloaded as follows: iOS here and Android here.
Tips on how to take a photograph:
Use a white door, white fridge or a white wall as a background. You should maybe ask someone to keep a white towel or bedsheet in the air for your photo if you do not have a wall/door that will work.
Face the camera directly, avoid shadows, keep you face centered in the photo
Maintain a neutral face
Do not wear sunglasses or headgear (Except headgear for religion)
What you need to know before getting started:
Select Czech Republic in the country section and use a smartphone or a tablet
iVisa Photos has an editing service from a photo editor who will review your photo before its submitted for printing. If you want to ensure that your photo will be 100% compliant then use this service for an additional fee. For example, if you do not have a white background, then the photo editor will edit your photo so that your images will have a white background. Select home delivery or pickup your photo at a Walmart, CVS or Walgreens and if your photo is not accepted then we offer to retake your photo at no extra fee.
You can also take passport photos with us. You only need to select passport under "Photo Type". Enjoy planning your trip to Europe´s Czech Republic.