Getting or maintaining a working passport in Israel necessitates that you have an appropriate passport photo. can help you take one, since we're well acquainted with the Israeli passport requirements and offer a convenient way to meet them. Just look through our Quick Facts, then use the information there to take a photo that will function perfectly for your Israeli passport.
Once you've done that, head over to our page and see whether the countries you plan on visiting require you to have a visa too. With visas for many countries available for online processing, this is an easy way to make sure you're ready for your journey.
Photo Specs
Size of visa photo: 5 x 5 cm
Color: Full color
Head size and position: Full face, centered
Background: White
Smile: Neutral
Eyes: Open
Glasses: Not allowed, you can however use your daily wearing glasses
Headgear: Non allowed
Quantity needed: Two (2)
Israel Passport Photo Size Requirements Guide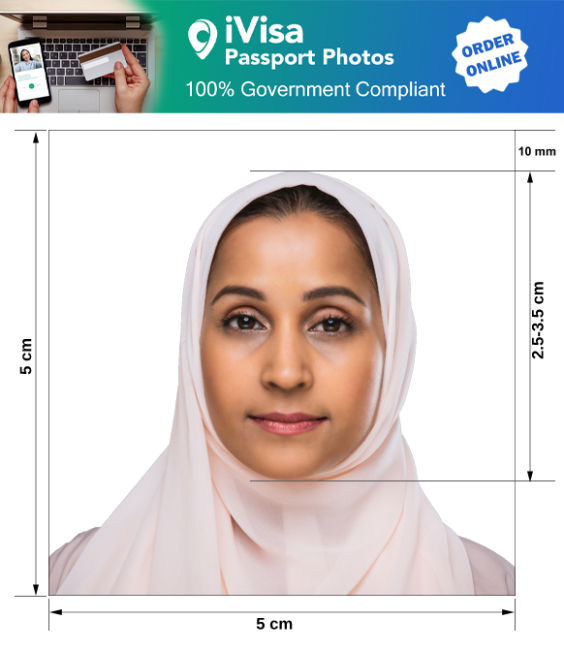 The Israeli Passport Photo and Visa Photo Requirements, Rules, Guidelines, and specifications
iVisa Photos delivers photos that are 100% compliant with the Israeli Government's specifications. Important notes regarding the photo:
The photo should have a white background
Your eyes should look straight into the camera
Size: 5 cm x 5 cm
Must be a new photo, taken recently
Headgear can only be used for religious purposes
If you use glasses, avoid glares because of the camera flashes
You need two (2) photographs
Rules and requirements for babies, infants, and newborns Passport and Visa photos
The Israeli Tourist visa needs to be obtained before arrival in Israel and requires a visa photo when applying at one of their embassies. If you need to take a photo of a baby then follow these tips: One, your baby's eyes have to be open so take the photo after they took a nap, Two, the background of the baby photo needs to be white. We recommend that you use a white blanket or bed sheet or even sheets to lay the baby on. Three, if you baby is very small, then you can take your baby's photo when sit in their car seat. Finally, take a lot of photos so that you will have at least one that is good quality.
Price and Cost
iVisa Photos has competitive prices and offer the following methods of delivery: 1 - home delivery, 2, in store pickup at a local CVS, Walgreens or a Walmart store in the USA. The photo can also be downloaded at the end of the order.
How to get your Israeli Visa Photographs Online with iVisa Photos?
The iVisa Photos app is available for both iOS here and Android here.
Tips on how to take a photo with the app:
Use a white background
Face the camera directly, avoid shadows behind you by standing with you back right next to a wall or door.
Maintain a neutral facial expression, do not smile or frown
Don't wear sunglasses or any hats that may cover your face
What you need to know before getting started:
It will take only a few mins, maximum 5 or so to complete the photo order
Select Israel in the country section at the start of the app
Use your smartphone, tablet
For an additional charge, you can use the photo editor service to ensure the photo is 100% compliant
You can download the photo, select home delivery or a Wal-Mart, CVS, and Walgreens for pick up in a store.
The cool thing about the iVisa Photos app is that you can also take passport photos with the app. Select passport under "Photo Type" and start the process as easy as that. Get a passport or visa photo with iVisa Photos if you plan to travel to Israel.