Are you working on applying for your Mexican passport? Whether traveling or working abroad, ensuring all your Mexican passport documentation is in order is a crucial step you need to take. One of the steps often left to the last minute is figuring out where to have your passport photo taken.
Don't pay for a professional passport photograph, when you likely have a picture of yourself that can be tweaked to meet travel requirements. Save time and money by uploading your image to iVisa Photo. Need to save time applying for a visa, too? Log on to our website for help.
What is the Mexican visa Photo Size Requirements?
A Mexican visa must be 45 x 35 mm (4.5 x 3.5 cm). The chin to the crown of the head must be between 30-36 mm.
More Photo Specs
Size: 45 x 35mm
Color: The visa and or passport photo must be in color - no black & white photos will be allowed with your visa application
Head size and position: you should look directly into the camera at a straight angle, face filling the photo completely.
Background: White
Smile: Neutral smiling expression
Eyes: Eyes should be open
Glasses: No glasses
Headgear: Uncovered head
Quantity needed for visa application: One (1) photograph
Mexico Passport Photo Size Requirements Guide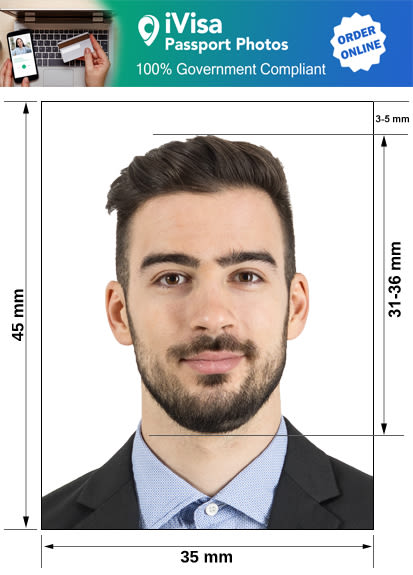 Mexico Passport Photo and Visa Photo Requirements, Rules, Guidelines, and specifications
Taking your visa photo online is easier than ever before. We here at iVisa Photos dedicated ourselves to create a simple, easy experience. The iVisa Photos service is 100% compliant with the Mexican Government specifications making life even less stressful when applying for your visa.
So what are the Mexican passport photo requirements?
The Photo is required to be 4.5 by 3.5 mm and must show the entire front of the face on a white background.
Here is a list of the of of the remaining requirements:
The photo can not be older than 6 months.
You have to show your entire face on the image as well as the top part of your shoulders.
Do not wear or use any headgear such as a hat
No glasses, although you are allowed to wear your everyday glasses
You have to submit one (1) photograph with your visa application form found here.
Rules and requirements for babies, infants, and newborns Passport and Visa photos
The visa to Mexico photo rules and requirements are the same for adults and children alike. We have some tips below that will help you in getting a compliant photo for your baby so that they too can apply for the Mexican visa.
One, your baby needs to have their eyes open and a lot of moms out there recommend that you take a picture after your baby had a good rest
Two, the background needs to also be white so dressing the baby in a contrasting color will help.
Three, you can use a white blanket, bed sheet, or even paper.

Four, if your baby is too young, say a few weeks old then we recommend that you take the baby and lay him or her on the kitchen or a dining room table in their car seat. When your baby is ready and in position, one person should take the photo and another person should make sure that the baby is safe.
Finally, take a lot of pictures so that you will have at least one acceptable image among them.
Price and Cost
At iVisa Photos we offer competitive industry prices starting from as low as $3.99 for 1 passport and or visa photo. We also offer home delivery if you prefer. In addition to that you can select the next day pick up at a CVS, Walgreens or Walmart store location near you for your convenience.
How to get your Mexican Visa Photographs Online with iVisa Photos?
Use the iVisa Photos app from the convenience of your house or office. The iVisa Photos app is available for both iOS here and Android here - smartphones and tablet.
See tips below when taking your photo:
Use a white background
Your head should be straight and face the camera directly
You should have a neutral expression.
Lightning is important as you should avoid shadows.
Don't wear anything which obscures your face such as sunglasses, wide-rimmed glasses, and hats.
Here is what you need to know about getting started:
It will take you a few mins, maximum 5 minutes.
Select the country where you will use the visa photo at the start of the app
Take a photo with a smartphone, tablet or if you prefer a digital camera and upload it on the website.
iVisa Photos can also edit your photo for an extra fee in order to ensure that it is 100% compliant
Once your photo is approved, you will have the option to download your image immediately, select home delivery or select a Wal-Mart, CVS, or Walgreens for next day pickup if you are located in the United States
If your photo is not accepted at the Mexican Embassy, then we will retake your photo at no extra charge.
Another cool thing is that whenever you need to apply for or renew your passport then you can use the same app to take your passport photo. You only have to select passport under the "Photo Type" prompt. You can get a passport photo for Canada, New Zealand, United States etc online. These are not the only ones though, all nationalities can take their picture with iVisa Photos. Simply click on the "Take Photo Now" button. Contact our 24 hour customer team via online chat if you need help. iVisa Photos offers you an affordable, reliable and convenient service to get your photo before your trip to Mexico.