Are you in a rush to get your Norway passport ready before your big trip? Waiting on your passport for too long could cause costly delays in your trip and can produce unnecessary stress. Luckily, if the holdup is caused by needing your Norway passport photo, there is a quick way to get your photo passport ready.
Upload a compliant photo of yourself using our guide below and our team will edit it to make sure that it will meet all passport regulations. It's that easy! For quick, helpful visa services, talk to iVisa.com.
Go to our iVisa.com website to find out more.
Photo Specs
Size of visa photo: 35 x 45mm
Color: Full color
Head size and position: Entire face, central in the photograph
Background: White
Smile: Neutral
Eyes: Open
Glasses: None.
Headgear: None
Quantity: Two (2)
Norway Passport Photo Size Requirements Guide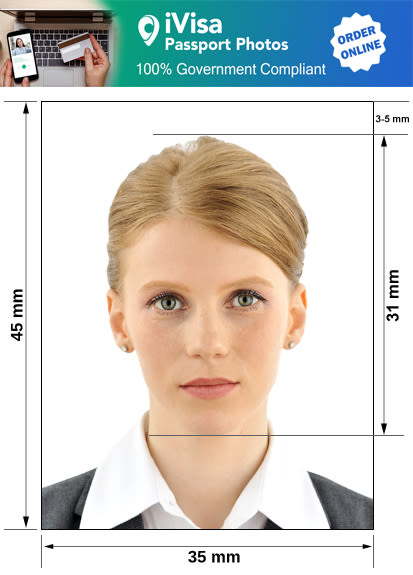 The Norway Passport Photo and Visa Photo Requirements, Rules, Guidelines, and specifications
The Norwegian Tourist Visa has a lot of requirements. You need to submit supporting docs like, a visa application form, visa photographs, round trip flight reservations, proof of hotel accommodation, proof of sufficient funds, travel insurance.
See notes regarding your photo:
Your photo should have a white background
Face should be centered
Size: 35 mm x 45 mm
Must be a photo taken within the past 6 months
No headgear
If you will use glasses then try to avoid glares on the glass lenses
You need two (2) photographs
Rules and requirements for babies, infants, and newborns Passport and Visa photos
The Norwegian Schengen visa is required for all children as well as adults who wish to visit the Schengen area if they are not part of the countries that are waived by a visa. This means that your baby will also have to submit a visa photo.
Tips if you need to take a photo for a baby.
One, eyes should be open.
Two, background should be white.
Three, if the baby is too small to lay straight on a floor, sit up straight by itself, then you can lay the baby in its car seat and take the pictures there.
Price and Cost
iVisa Photos prices start from $3.99 with delivery via mail to your home address or in store pickup at a CVS, Walgreens or a Walmart store if you live within the United States.
How to get your Norwegian Visa Photographs Online with iVisa Photos?
You can use the iVisa Photos app with a smartphone / tablet: iOS here and Android here.
Tips to take a good photo:
Use a white background such as a white bed sheet, table cloth or even a white t-shirt will work if you out it on the floor
Keep your face aligned centrally
Do not smile or frown
What you need to know before getting started:
It will take only a few minutes to get a photo. Delivery within 24 hours if you select next day in-store pickup.
Select Norway where you will use the photo at the beginning of the app
Use a smartphone or tablet, you can also use our website
You can download your image, have it mailed or you can even select next day pickup at Walmart, CVS or Walgreens stores.
You can also take a passport photo with our app. Select passport under "Photo Type". Get your photo with our iVisa Photos app and visit Norway before the end of this year!