If you are preparing to renew your passport or apply for a visa to Sweden, your photo must meet their strict and exacting requirements. Let iVisa Photos utilize their experience in preparing thousands of passport photos to get your photo right. Just review the Quick Facts below to get started saving time and money.
Also, to avoid hassles traveling abroad, visit our website to determine whether you need a visa for you impending travel. iVisa.com can process most visa applications online, cutting costs and time delays significantly.
Photo Specs
Size of visa photo: 45mm x 35mm
Color: Must be color, not black and white
Head size and position: Full face, centered
Background: White, light grey or cream
Smile: Neutral
Eyes: Open
Glasses: Sunglasses are not allowed in your photo. You may use your daily wearing glasses if needed.
Headgear: None, except headgear for religious reasons.
Qty needed: Two (2)
Sweden Passport Photo Size Requirements Guide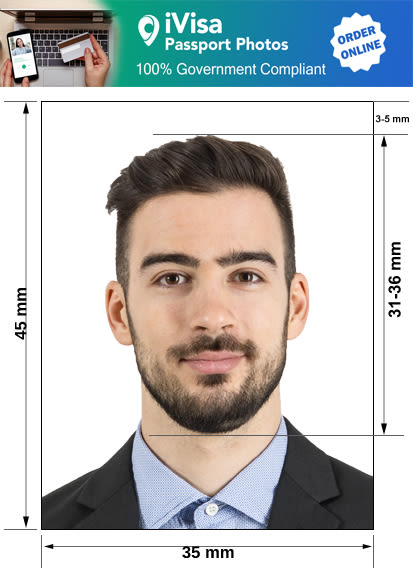 Sweden Passport Photo and Visa Photo Requirements, Rules, Guidelines, and specifications
iVisa Photos app ensures your photo for the Schengen Visa application will be 100% compliant by the Swedish Embassy. The photo plays an important part of the visa application so make sure your photo meet the required specifications. A few notes regarding your visa photo:
Photograph should have a white background
Face centered
Size specifications: 35 mm x 45 mm
Must be a recent photo, taken within the last few weeks, no later than 6 months
No headgear.
If you use glasses, take care not to have any glares on the lenses from the flash.
Two (2) photographs need to accompany your Schengen visa application
Rules and requirements for babies, infants, and newborns Passport and Visa photos
The Swedish Schengen visa similar requirements for the young and old who wish to apply, we recommend that you follow these tips for babies.
1.the baby's eyes must to be open before taking photos.
2.the background of the photo must be all white, you can use a blanket, sheet or sheets of paper as a background to lay your baby on.
3.if the baby is only a few weeks or months old then you can lay him in his car seat and take the passport photo.
Finally, take a lot of photos..
Price and Cost
iVisa Photos start as low as $3.99. In additional to the very low prices, we offer customers different types of delivery options such as home delivery, in store pickup etc. If you live in the United States then you qualify to have your photos ready at a CVS, Walgreens or a Walmart for next pay in store pickup.
How to get your Sweden Visa Photographs Online with iVisa Photos?
The iVisa Photos app can be used with a smartphone. See apps here: iOS here, Android here. Tips for taking a complaint photo:
Use a white background such as a white door, wall or fridge
Face the camera directly, avoid shadows
Have a neutral facial expression, do not smile too much
Take your photo in front of a window so that you have full light on your face, avoiding shadows
Do not wear sunglasses
What you need to know before getting started:
Taking a photo with our app will take you less than five minutes
Select the country where you will use your visa picture at the beginning.
Use your smartphone or tablet with the app
We here at iVisa Photos have the option available for customers to use our "photo editor" service to review your photo before printing. You can download your photo, select home delivery or choose next day in store pickup at a Wal-Mart, CVS or Walgreens. Our guarantee to you is that if your photo will always be accepted for any reason at the Swedish Embassy, then we will retake your photo at no extra charge.
The iVisa Photos app can also be used to take passport photos. You need to select passport under "Photo Type" to use that service. Click on the "Take Photo Now" button, and if you need help while using our app then please do not hesitate to contact customer service team visa email or online chat. Get your photos today and start preparing for your trip to Sweden.
References