Tanzania passport and visa photos must meet very specific guidelines. iVisa Photos is very familiar with those guidelines, having processed numerous compliant photos. To start your journey off right, review the Quick Facts below and let iVisa Photos make your travel hassle free.
To further simplify your travel abroad, visit our website to determine whether you need a visa for any upcoming trip. They can process most visa applications online to save you time and money.
Photo Specs
Size of a Tanzania visa photo: 2"x2" / Passport size is 45x40 mm.
Color: The photo must be in color
Head size and: Full face
Background: White for a visa / Light Blue for a Tanzanian Passport application
Smile: Neutral
Eyes: Open and not obscured by anything
Glasses: Only daily reading glasses, no sunglasses
Headgear: No
Quantity required - depends on the country where you apply and visa type. 2-6 photos on average.
Tanzania Passport Photo Size Requirements Guide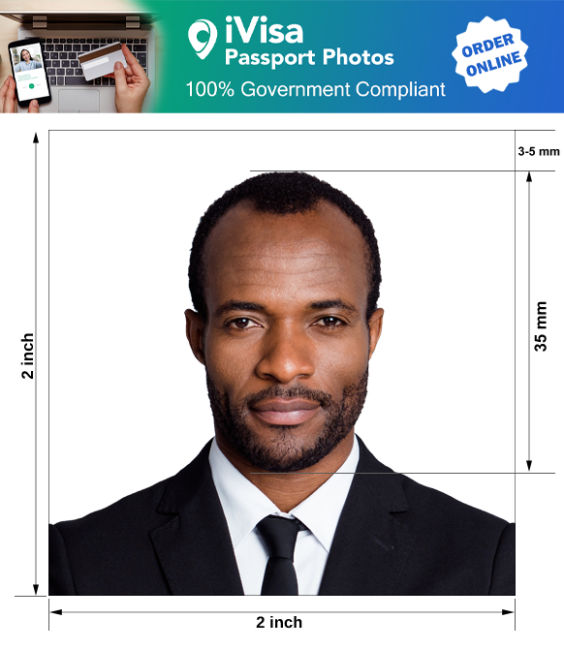 Tanzania Passport Photo and Visa Photo Requirements, Rules, Guidelines, and specifications
iVisa Photos app delivers visa photos that are 100% compliant with the Tanzanian Government.
A few things to note regarding your photo:
You will need a white or light blue background for taking your photo - make sure its the correct color as it depnds on a visa or passport application.
Face should be centered in photo
Must be a photo taken recently - less than 6 months ago.
No hats
If you wear your everyday wearing glasses then you should make sure that there is no reflection on the lenses from the camera's flash
Submit 2-6 photographs for your application for a Tanzanian visa or passport.
Rules and requirements for babies, infants, and newborns Passport and Visa photos
The Tanzania visa application process is pretty easy and the rules are the same for adults and infants. If you need to take photos of a baby then read the following tips to ensure you get the highest quality photo possible.
One, your baby´s eyes need to be open so to ensure this happens a lot of mom´s believe that if the baby had a rest, then the baby will be awake and in a good mood.
Two, the background needs to be white or light blue (depending on visa or passport application) so use a blanket, bed sheet or even sheet of paper to lay the baby on.

Three, if you baby is very small/young then we recommend that you to take the baby and lay him/her on the kitchen or a dining room with the mentioned white background in their car seat and take the passport photo there.
Finally, take lots of pictures so you will have at least one acceptable ones that you can choose from.
Price and Cost
iVisa Photos prices starts from as little as $3.99 for a photo. MPP offers you various delivery options such as home delivery via regular mail or in store next day pick up. This last option is available in the USA at CVS, Walgreens or a Walmart stores near you.
How to get your Tanzania Visa Photographs Online with iVisa Photos?
iVisa Photos app is available for iOS here and Android here smartphones and tablets.
See our tips here:
Use a plain background such as a wall or door
Your head should be facing the camera directly, the idea is that you should avoid all shadows in the background
You should have a neutral facial expression, as neutral as possible
Lightning is important, we suggest that you stand in front of a window and have someone else take a picture for you. If this is not possible then you can take a selfie. Just avoid creating any shadows behind you.
Don't wear sunglasses, wide rimmed glasses and hats.
Here is what you need to know about getting started:
It will take less than 5 mins to take your photo with our app.
You need to select a country where you will use your visa picture
The photo can be taken by using a smartphone, tablet or a digital camera. iVisa Photos offers you the option to have a photo editor review your photo for an additional fee so that you can be assured to have a 100% compliant photo
After photo approval you will have the option to select home delivery or if you are in the USA, select a WalMart, CVS or Walgreens for next day pickup.
Our guarantee to you: If your photo is not accepted when submitting your papers at the Tanzanian Embassy, then we will retake the photo at no extra fee.
In addition to taking visa photos, you can also take passport photos with our app in case you need to renew your passport or in case you need to apply for a new passport entirely. You just need to select passport under "Photo Type".Get your affordable and compliant photo with iVisa Photos today before your trip to Tanzania in Africa.