If you are ready to visit The Kingdom of Saudi Arabia, you will be glad to know that borders have been opened for tourists from all around the globe. We'll tell you what you need to get your Saudi Arabia Tourist e-Visa. Take a look at the Saudi Visa you are required to apply.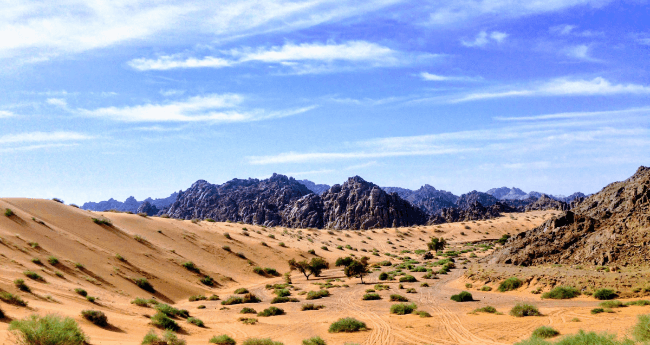 With iVisa.com, getting all the information you need involving the Saudi Arabia Visa documents is quick, simple, and worry-free. You will be able to apply for your Saudi Arabia Tourist e-Visa in minutes. You can count on our team of experts to take you through every step of the process and give you all the details you need to know.
For more information on Saudi Visa, keep reading our FAQs below.
Frequently asked questions
What are the COVID-19 restrictions to enter Saudi Arabia?
Saudi Arabia stated on 28 April 2022, that these are the COVID restrictions.
Vaccination card or full vaccination scheme (with some).
All travelers above 12 twelve years of age are obliged to present a negative RT PCR test done up to 72 hours or Antigen- RDT negative test up to 24 hours before departure time.
For more details, we invite you to get more information regarding the Saudi Arabia Visa Documents on our product page FAQ section.
What is the Saudi Arabia Tourist e-Visa, and how do I apply for it?
To learn more about the Saudi Arabia Tourist e-Visa and apply easily, you can do it with the help of iVisa.com, following these 3 simple steps:
Step 1: Provide basic information about yourself and your trip by answering a couple of questions. Make sure you are selecting the correct document you wish to apply for.
Step 2: Once you've made sure you have all the necessary Saudi Arabia Visa Documents and delivered the correct information, you just have to choose the processing times you are going for, so you can pay the fees using a credit or debit card.
Step 3: Finally, add the documents, and click 'Submit.'
You will receive an email with a PDF confirmation with a QR code attached that our team will send you. Once you arrive in Saudi Arabia, you only need to show it with the other required documents at the airport, and you can begin your journey.
What are the Saudi Arabia Visa Documents I need to apply for?
The Saudi Visa documents required to apply for a Saudi Arabia Tourist e-Visa are:
A recent passport photo.
Letter from a host (Travel Authorization).
Hotel reservations or Proof of lodging.
National Identification Card or Birth Certificate.
Valid Passport details Scan.
Bank statements proving you can sustain your travel expenses during your stay.
Departure ticket.
Recent passport photo in color.
What are the costs/processing times for a Saudi Arabia Tourist e-Visa?
With iVisa.com, you get to pick between 3 different processing times and pricing options:
Standard Processing:

5 days

-

USD $169.49

.
Rush Processing:

3 days

-

USD $188.99

.
Super Rush Processing:

24 hours

-

USD $209.99

.
Can I trust iVisa.com?
Our Company is accredited and recognized by the International Air Transport Association (IATA) and has a validated IATA Agency Code. If you want to check this information you can verify our membership using our bearing No. 23716873 at clicking here.
You have more questions and would rather talk to someone?
If you have more questions regarding the Saudi Arabia Visa documents, we invite you to contact our customer service team. They're available 24/7 through our website to answer any of your questions.
iVisa.com Recommends
Remember to have everything ready before heading to your desired destination, you don't want to pass through uncomfortable experiences or even being forced back home or isolated during your precious vacation time for a document you overlooked. You wouldn't want to miss out on the experience of a lifetime, would you?
Being able to finally visit Saudi Arabia is very appealing to those who have always felt curious about it, but knew it was something that would probably be impossible to achieve. Its beautiful desert landscapes that contrast with modern cities are only some of the things you will be able to see once you are there. Still, there is a truly exciting thing to see that many people are unaware of, The Line. This almost crazy idea seems to rethink how we had found to establish cities up to now, like in a radio concentric plane, irregular plane, or the orthogonal plane. Instead, Saudis have decided to take advantage of their geography and settle this new city in a perfect line of 170 km crossing the desert all the way straight up to the Aqaba Gulf.
All this with the only purpose of giving the population an efficient and free of carbon dioxide emissions city. According to the Saudi Crown, this way of building The Line will allow the creation of a city that will preserve 95% of its natural surroundings, as well as grant inhabitants access to services and transportation to the furthest spot of the city in brief periods of time.
If you want to experience The Line and get to the Red Sea in 20 minutes, we definitely recommend you start planning your trip and apply for a Saudi Arabia visa right now. You won't regret it.