If you are looking forward to visiting Saudi Arabia and undertaking a pilgrimage to Mecca, you must be a holder of a Saudi Arabia Visa for Hajj. This visa will allow you to visit Saudi territory, and it will only be issued for a period of time, from Mid-Shawwal until the 25th Dhual-Qa'dah of each year. Make sure you are eligible for a Saudi Arabia e-Visa and begin your pilgrimage on the right foot.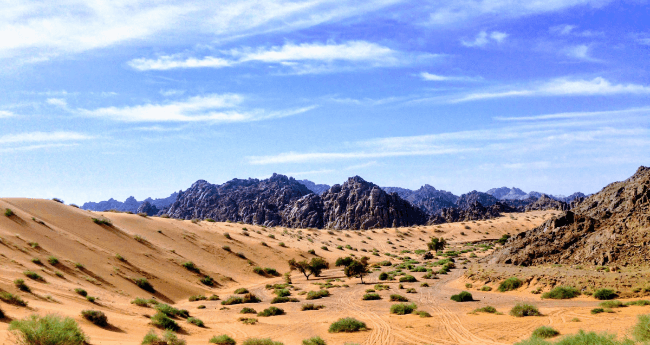 iVisa.com offers you a fast, simple, and worry-free way of getting all the information you require related to the Saudi Visa. You will be able to apply for your Saudi Arabia e-Visa in a matter of minutes, and you may be confident that our team of experts will take you through every step of the process.
For more information on Saudi Arabia Visa for Hajj, keep reading our FAQs below.
Frequently asked questions
What are the COVID-19 restrictions to enter Saudi Arabia?
Saudi Arabia stated on 28 April 2022, that these are the COVID restrictions.
Vaccination card or full vaccination scheme (with some).
All travelers above 12 twelve years of age are obliged to present a negative RT PCR test done up to 72 hours or Antigen- RDT negative test up to 24 hours before departure time.
If you want more information or have more questions, we invite you to get more information regarding the COVID rules on our product page FAQ section.
What is the Saudi Arabia Visa for Hajj, and how do I apply for it?
The Visa for Hajj is a visa to enter Saudi Arabia for pilgrimage. However, it is only issued for a certain period of time in accordance with the Islamic year. The rest of the year, you must apply for a Saudi Arabia Tourist e-Visa to enter the country.
To learn more about the Saudi Arabia Visa for Hajj and easily apply, you can do it with the help of iVisa.com following these 3 simple steps:
Step 1: Provide basic information about yourself and your trip by answering a couple of questions. Make sure you are selecting the correct document you wish to apply for.
Step 2: Once you've made sure you have all the necessary Saudi Visa and submitted the correct information, you just have to choose the processing time you want for your Saudi Arabia e-Visa. After that, you can pay the fees easily using a credit or debit card.
Step 3: Finally, add the documents and click 'Submit.'
You will receive an email with a PDF confirmation with a QR code attached that our team will send you. Once you arrive in Saudi Arabia, you only need to show it with the other documents at the airport, and you can begin your journey.
What documents do I need to apply for a Saudi Arabia Tourist e-Visa?
To start your Saudi Arabia Tourist e-Visa application, you will need:
Letter from a host (Travel Authorization).
Hotel reservations or Proof of lodging.
National Identification Card or Birth Certificate.
Valid Passport details Scan.
Bank statements proving you can sustain your travel expenses during your stay.
Departure ticket.
Recent passport photo in color.
What are the costs/processing times for a Saudi Arabia Tourist e-Visa?
With iVisa.com, you get to pick between 3 different processing times and pricing options for your Saudi Arabia e-Visa application:
Standard Processing:

5 days

-

USD $169.49

.
Rush Processing:

3 days

-

USD $188.99

.
Super Rush Processing:

24 hours

-

USD $209.99

.
Can I trust iVisa.com?
Our Company is accredited and recognized by the International Air Transport Association (IATA) and has a validated IATA Agency Code. If you want to check this information you can verify our membership using our bearing No. 23716873 at clicking here.
You have more questions and would rather talk to someone?
If you have more questions regarding the Saudi Arabia Visa for Hajj, we invite you to contact our customer service team. They're available 24/7 through our website to answer any of your questions.
iVisa.com Recommends
Muslims consider Hajj to be one of the best and most important expressions of worship. This is considered one of the Five Pillars of Islam. It is written that Hajj purifies sins, and the pilgrim that undertakes such an act becomes sinless as a newborn child. If they are blessed enough to be awarded the high award of Hajj Mabroor (the one accepted by Allah), they are given a place in paradise. "The pilgrims that are performing Hajj are considered guests of Allah." (Ibn Majah: 2892) This said, it is understandable that 2.5 million pilgrims visit Mecca each year with such devotion and commitment.
It is also said that the women who perform Hajj are given a guaranteed place in heaven and the equal reward given to that of the highest of blessings. To be able to make the act of Hajj, a person has to be Muslim and of sound mind, be able to afford their journey, and be free. These conditions were stipulated and written in the times of slavery.
Beyond these, there are also a few no obligatory rules to Hajj etiquette. The expenses of the Hajj should be arranged from Halal (free from impurity) earnings, and the intention should only be for Hajj and not business or other purposes. Of course, women, and children are welcome to do Hajj if a Mahram accompanies them.
Other than that, it is said the person should be full of love and positive vibrational energy to complete their spiritual journey through Saudi Arabia.