Singapore is loosening its travel restrictions and are gradually allowing travelers into their borders. In particular, travelers from New Zealand and Brunei Darussalam have been able to enter the country since September 8th, 2020. Visitors from these two countries can enter Singapore without having to undergo a quarantine period of 7 or 14 days. All they have to go through is a Singapore COVID-19 PCR Test upon arrival at the port of entry.
Travelers from countries that are considered low-risk to medium-risk can still enter Singapore but with more restrictions. Like all travelers who are allowed inside the tiny island country, travelers from these nations are required to get a Health Declaration Form pre-entry. They also need to undertake quarantine protocols for 7 days, but they can no longer complete their quarantine at a hotel. They can complete it at their place of residence inside the country.
The countries on this list are Taiwan, Macao, Mainland China, Malaysia, Vietnam, and Australia (excepting the State of Victoria). Per the entry requirements, all of these passengers will need a Singapore COVID-19 PCR Test when they are at the port of arrival.
Note: Since April, 2022, the Singapore Air Travel Pass is no longer necessary to enter the country.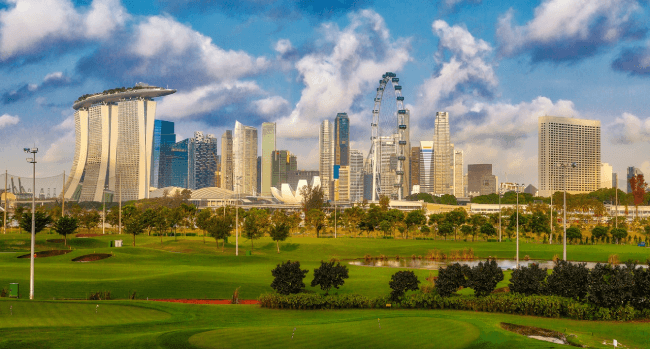 Frequently Asked Questions
What do I have to do to prepare for my Singapore travel?
Of course, the first thing that you need to remember is to check if Singapore requires visitors of your nationality to present a visa at the port of entry. Secondly, you have to make sure whether you would be required to undergo quarantine or not. This is important since, like the Singapore COVID-19 PCR Test, you may have to pay for the cost yourself.
In this regard, make sure that the travel insurance that you have will cover all the health-related costs including quarantine protocols and testing. You may also need to apply for a Health Declaration Form if you are not eligible for an Air Travel Pass.
What are the two countries that need Air Travel Passes and how can their travelers enter Singapore?
Only travelers that are from New Zealand and Brunei Darussalam are eligible for Air Travel Passes, for now that is. To be able to apply for one, the traveler needs to have stayed in these two countries for the previous 14 consecutive days before their entry into Singapore.
If the traveler is eligible, he needs to apply for the ATP between 30 and 7 days prior to his intended entry date into Singapore. They do not need an SHN or quarantine period when they arrive. However, they have to subject themselves to Singapore COVID-19 PCR Test upon arrival and pay for the cost of the test.
Do I need a COVID vaccine or vaccination certificate to enter Singapore?
No, it's not necessary. COVID vaccine or vaccinated certificates are not necessary to enter Singapore. Since information may change quickly, we advise you to follow up on the latest Singapore travel updates and/or contact your local embassy.
Do I need a negative COVID-19 test result to get a visa?
Fully vaccinated travelers aged 13 and older are exempt from showing a negative PCR or antigen test result if they can show a vaccination certificate. Unvaccinated or not fully vaccinated travelers must still show a negative PCR or an antigen test result taken within 48 hours before departure.
Do I have to quarantine once I get to Singapore?
Quarantine requirements: There are no quarantine requirements.
How do travelers from low-risk countries enter Singapore?
Visitors that come from countries that are considered low-risk for disease importation have a few restrictions when they enter Singapore, although these restrictions have loosened considerably. Visitors that came from these countries have only to undergo quarantine for 7 days, instead of the previous 14 days. However, they still need to have Singapore COVID-19 PCR Test done upon their arrival at the country and when they complete their quarantine. They may also still need a Health Declaration Form on top of their other entry credentials.
How safe is it to use iVisa.com?
With years of experience in the travel document service niche, iVisa.com has become one of the most trusted brands. Committed specialists will make sure that you get the document you need. And the website's security software will make sure that your information is safe from thieves and hackers.
Is there a good way to reach you?
The best way to get in touch with us is to use iVisa.com's chat feature to speak with a live agent. You can also send us an email at [email protected] for any concerns or questions. You can also browse the website for additional information.