Singapore is gradually re-opening their borders even in the middle of the health issue that has gripped the whole world for close to a year now. The country has implemented travel agreements with a few countries and regions that would be able to facilitate international travel while keeping both their citizens and visitors safe from further health concerns.
From August 21st, 2020 onwards, the Singapore government lifted their restrictions on border entry to allow more visitors to travel into the country. Residents of countries that have been tagged as low and medium risk can travel to Singapore provided they quarantine themselves for at least 7 days at their place of residence. They are no longer allowed to use hotels as quarantine facilities.
Citizens of Brunei Darussalam and New Zealand, on the other hand, are able to enter Singapore without the need for quarantine protocols. That aside, travelers who are visiting Singapore short-term, specifically travelers from New Zealand, are required to apply for an Air Travel Pass on top of other documents for entry. That requires knowledge of how to apply for an Air Travel Pass for Singapore.
Note: Since April, 2022, the Singapore Air Travel Pass is no longer necessary to enter the country.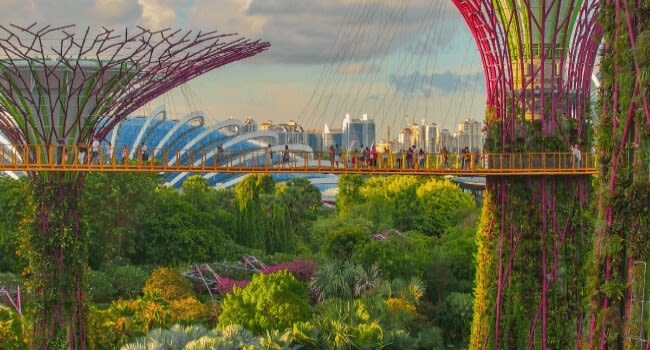 Frequently Asked Questions
What do I need to do when preparing for my trip to Singapore?
The first thing that you need to do is to check your nationality's visa requirements for entry into Singapore. If you are required to present a visa before entering the country, then it's recommended that you learn how to apply for the Air Travel Pass for Singapore and get the pass early.
Application for the Pass is between 30 and 7 days before the travel date. Successful applicants will be tested for COVID-19 prior to entry, replacing the need for the Stay Home Notice and Health Declaration Forms.
What are the countries that require quarantine protocols when arriving in Singapore?
Travelers from a few countries can enter Singapore without the need for special permits. However, they do need to be quarantined (now 7 days down from 14 previously). These countries are Mainland China, Macao, Taiwan, Malaysia, Vietnam, and Australia (aside from the state of Victoria). They will be allowed to complete their quarantine at their place of residence. They can't use hotels as quarantine facilities anymore.
Do I need a COVID vaccine or vaccination certificate to enter Singapore?
Yes, Singapore has been taking steps to restore travel within its borders. Travelers aged 12 and older need to display the COVID vaccine passport or vaccination certificate to enter Singapore.
Accepted vaccines are Pfizer, Moderna, AstraZeneca, Covishield, Janssen, Sinopharm, Sinovac, Covaxin, Novavax.
Since information may change quickly, we advise you to follow up on the latest Singapore travel updates and/or contact your local embassy.
Do I need a negative COVID-19 test result to enter Singapore?
COVID test prior to arrival: PCR or antigen test within 48 hours.
COVID test upon arrival: PCR test on arrival for unvaccinated travelers.
COVID test exemptions: Children under 2 and fully vaccinated travelers.
Do I have to quarantine once I get to Singapore?
Quarantine requirements: 7-day quarantine.
Quarantine testing: PCR on day 7 for unvaccinated travelers
Quarantine exemptions: Fully vaccinated travelers.
Are there any other documents that I am required to present to immigration?
Aside from the Air Travel Pass, New Zealand visitors who are allowed inside Singapore need to present only two other documents with them upon arrival. Note that the Pass needs to be specifically dated for the traveler's period of entry into the country.
For visitors who need a visa to enter, they should produce a valid visa upon inspection. All visitors will need to download an app called TraceTogether on their mobile phones and show the downloaded app to the port authorities.
How can I apply for the Air Travel Pass safely?
A lot of travelers from New Zealand are getting their Air Travel Passes from iVisa.com. The service guarantees successful applications even if the travelers know little of how to apply for the Air Travel Pass Singapore. Plus, the security software used by the website ensures that their personal information is safe from prying eyes.
What's the best way to reach out if I have questions?
We can assist you when you drop us an email at [email protected]. You can also go to iVisa.com and use our chat feature or browse the site for more information.