If you're visiting Singapore soon, you should know that this country has strict measures to continue limiting the spread of coronavirus within their community, and one of them is their 14-day quarantine requirement.
Travelers entering Singapore who come from Australia, Brunei Darussalam, Hong Kong, Japan, Macao, Mainland China, New Zealand, Republic of Korea, Taiwan, and Vietnam are permitted to quarantine at the lodging of their choice. Visitants coming from other countries will be required to serve their 14-day quarantine at a government-designated facility.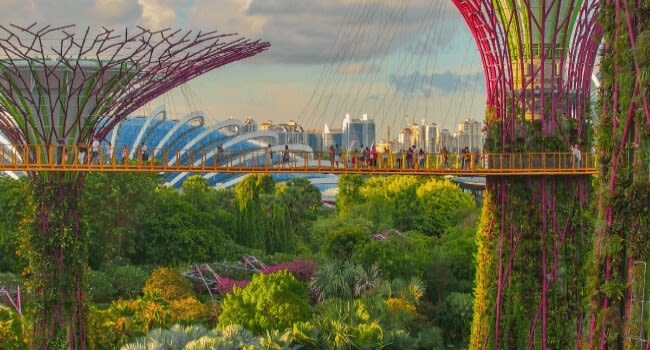 At this time, travelers who have obtained approval from the Ministry of Manpower, Immigration and Checkpoint Authority, or other ruling government authority are allowed traveling to Singapore. This means you will need to process an SG Arrival Card and a Singapore Health Declaration to enter the country.
A Singapore Health Declaration is a document in which you truthfully declare your medical condition and your travel history as an effort to keep flattening Singapore's curve in the COVID-19 pandemic. Every traveler without exception needs to present this on arrival. You can yours through our simple and 100% online application process at iVisa.com.
If you need to travel to Singapore soon, keep reading to learn more about the process, times, and fees, in order to get your Health Declaration Form with iVisa.com.
Frequently Asked Questions (FAQs)
WHY DO I NEED A HEALTH DECLARATION TO ENTER SINGAPORE?
You need a Health Declaration to enter Singapore in order to comply with the country's legislation to stop the spread of the novel coronavirus within their community. You will not be allowed entry to Singapore if you don't present one at the moment of arrival.
Request yours easily and comfortably from home applying here.
WHAT DOCUMENTS DO I NEED TO PROVIDE TO REQUEST MY SINGAPORE HEALTH DECLARATION?
To process your digital Health Declaration, you will need to send us the following documents:
Your Passport Scan: We need you to please send the scan of your passport that contains all your personal details and other contact information.
The Payment Method: Once you send us your passport detail scan and are done filling out your application, you will move forward with the payment. You'll have the choice to do it via Paypal or with a credit or debit card.
WHAT ARE THE PROCESSING TIMES AND PRICES TO GET MY SINGAPORE HEALTH DECLARATION?
Through our highly intuitive platform, our team of experts will process your application as fast as you need. These are the three options for you to pick the one that is most suited for your traveling needs:
Standard Processing Time: USD $27.49 - 24 hours.

Rush Processing Time: USD $49.99 - 4 hours.

Super Rush Processing Time: USD $84.99 - 30 minutes.
Obtain your digital Health Declaration with iVisa.com today.
Do I need a COVID vaccine or vaccination certificate to enter Singapore?
No, it's not necessary. COVID vaccine or vaccinated certificates are not necessary to enter Singapore. Since information may change quickly, we advise you to follow up on the latest Singapore travel updates and/or contact your local embassy.
Do I need a negative COVID-19 test result to get a visa?
Fully vaccinated travelers aged 13 and older are exempt from showing a negative PCR or antigen test result if they can show a vaccination certificate. Unvaccinated or not fully vaccinated travelers must still show a negative PCR or an antigen test result taken within 48 hours before departure.
Do I have to quarantine once I get to Singapore?
Quarantine requirements: There are no quarantine requirements.
HOW DO I PROCESS MY SINGAPORE HEALTH DECLARATION?
Requesting your digital Health Declaration with iVisa.com is the simplest way to do it that there is! Our process is very reliable and it won't take longer than 10 minutes to complete if you follow these uncomplicated steps:
Just fill out the application form here and answer a few set of questions. When you're finished, choose the processing time that works best for your travel needs.

Then double-check the information that you provided in order to proceed with the payment via Paypal or with your credit or debit card.

Lastly upload your passport scan and any other document that is required. After this, our great team of experts will process your application and send you the Health Declaration as a QR code directly to your email.
Now, you'll only have to show it at the migration officer when you arrive at the airport and your personal information will pop up in their system, simultaneously with the Health Declaration.
Please know that you can contact us at any time if you need further assistance in submitting your application. Reach out and our customer service reps will help you.
WHY WILL YOU SEND ME A QR CODE?
The QR code will allow you to enter Singapore.
The port authorities will request your documentation in one of the airport modules along with the QR code of your Health Declaration.
Then, they will pass the QR code through one of their electronic devices, and your personal information will show up in their internal system. This way, you will be allowed to enter Singapore.
DO MINORS ALSO REQUIRE A SINGAPORE HEALTH DECLARATION?
Yes, they sure do. Children will also need to show their Health Declaration due to the fact that they can also spread COVID-19 to residents and non-residents in the Singapore community. Fortunately, you can process more than one Health Declaration at the same time through our highly intuitive platform here.
HOW SAFE IS IVISA.com TO PROCESS MY SINGAPORE HEALTH DECLARATION?
Processing your Health Declaration with iVisa.com is very secure. Although we do not belong to Singapore's government, we are a licensed travel agency with seasoned review personnel who will professionally take care of your application in the most reliable way. You can check what our customers have to say about us here.
CAN I GET IN TOUCH WITH YOU IF I HAVE MORE QUESTIONS?
Yes, you can! Get in touch with us at any time. iVisa.com's customer service team is eager to solve your doubts at any time. Moreover, you contact them via chat, phone call or by emailing [email protected]
Acquire your Singapore Health Declaration now.