Singapore's gradual re-opening of its borders is seen as a good sign by many amidst the turmoil caused by the pandemic. With agreements that it made with certain countries and regions, Singapore is confident that the new entry procedures will simplify international travel, and protect its visitors and citizens alike from the importation of diseases and other health concerns.
It should be noted that those traveling to Singapore should be ready to pay at least $300 for COVID testing. As for how citizens of New Zealand can enter Singapore during coronavirus, it's quite easy since the country is one of only two whose travelers can enter Singapore without the need for a Stay Home Notice or quarantine procedures. The other is Brunei Darussalam.
Note: Since April, 2022, the Singapore Air Travel Pass is no longer necessary to enter the country.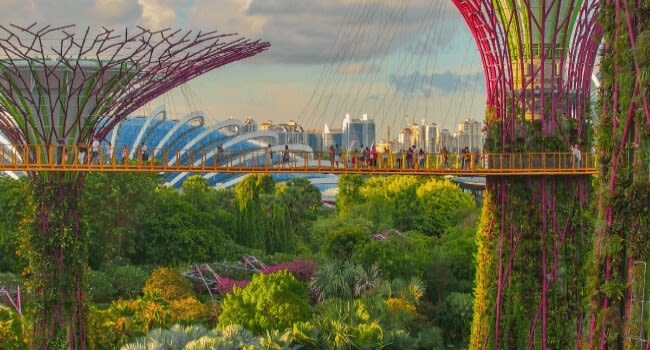 Frequently Asked Questions
What are the entry requirements for visitors from New Zealand?
As of September 1st, 2020, visitors from New Zealand are required to apply for an Air Travel Pass or ATP**. This single-entry document replaces the Health Declaration Form that other nationalities are required to.
Eligible travelers need to factor in the release date of the document with their arrival date when they book their flights to Singapore. This is why they must apply for the Pass between 7 and 30 days from their date of entry.
Do I need a COVID vaccine or vaccination certificate to enter Singapore?
Yes, Singapore has been taking steps to restore travel within its borders. Travelers aged 12 and older need to display the COVID vaccine passport or vaccination certificate to enter Singapore.
Accepted vaccines are Pfizer, Moderna, AstraZeneca, Covishield, Janssen, Sinopharm, Sinovac, Covaxin, Novavax.
Since information may change quickly, we advise you to follow up on the latest Singapore travel updates and/or contact your local embassy.
Do I need a negative COVID-19 test result to enter Singapore?
COVID test prior to arrival: PCR or antigen test within 48 hours.
COVID test upon arrival: PCR test on arrival for unvaccinated travelers.
COVID test exemptions: Children under 2 and fully vaccinated travelers.
Do I have to quarantine once I get to Singapore?
Quarantine requirements: 7-day quarantine.
Quarantine testing: PCR on day 7 for unvaccinated travelers
Quarantine exemptions: Fully vaccinated travelers.
Does the visitor's travel history matter?
Travel history matters more than nationality in this subject. Singapore requires a traveler to stay in New Zealand for the last 14 days before entering the host country. Every traveler must also book flights without transiting in other countries in order to qualify for the Air Travel Pass and the no-quarantine rule.
What documents should I present upon arrival at the airport?
If you are eligible for the ATP, you should have one ready upon inspection (upon check-in before departure and when you arrive at the Singapore checkpoint). The document can be presented as a hard copy or as a soft copy on your mobile, and it must coincide with the date of your stay in Singapore.
The other document that you should have is a visa if your passport requires that you have one for entry into Singapore. This is why you should check for visa requirements, and learn how citizens of New Zealand can enter Singapore during coronavirus, prior to your trip so you don't waste time and money with a botched entry.
What other things do I need to have before to complete the entry process?
Aside from the Pass and a visa (if needed), all travelers, even the ones from New Zealand and Brunei, should have an app called TraceTogether installed on their mobile phones. This app is used by Singapore health and border authorities for contact tracing if there is indeed somebody with COVID who was allowed inside the country's borders. They are also required to have the app running up to 14 days after they left Singapore.
Is it safe to apply for the Air Travel Pass with iVisa.com?
Considering the years of experience and committed personnel that iVisa.com has, it is safe to say that it is the best travel document website on the Internet. And there is also the fact that iVisa.com's security app protects all customer information from unauthorized access.
What's the best way of reaching out to you?
You can use iVisa.com's chat feature to get in touch with us. You can also send your questions through email and drop it at [email protected]. And feel free to go to the website for more information.