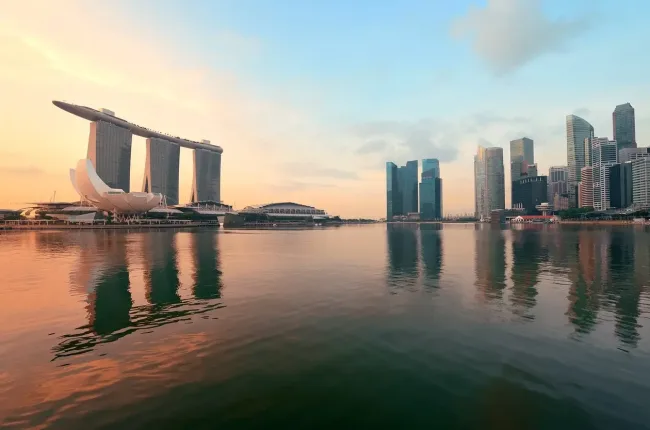 Singapore is a fantastic destination to visit in Asia. Bustling cities, cultural attractions, and futuristic architecture offer travelers a unique experience, keeping them returning to the country.
But many nationals must present a Singapore visa for entry into Singapore. The easiest way to get a valid visa is by applying for a Singapore e-Visa. Eligible countries can get this electronic visa in just a few clicks and enter Singapore hassle-free. However, one of the most common questions is about visa validity.
How long is this Singapore visa valid? How many times can I enter Singapore with a valid Singapore visa? No worries. iVisa is here to give you all the answers about this travel document and everything you need to know to face the Singapore immigration process with an electronic tourist visa. Check out the details below.
What do you mean by a Singapore e-Visa?
The e-Visa is a Singapore visa that travelers can apply for online. This pre-entry permission was designed to facilitate the flow of tourists into the country since there is no need to visit an embassy to get a valid visa for tourism purposes.
These 12 nationalities can apply for this document to enter Singapore. They are as follows:
Azerbaijan

Belarus

Georgia

Kazakhstan

Kyrgyzstan

Moldova

Russia

Tajikistan

Turkmenistan

Ukraine

Uzbekistan
Through a local or partner agency like iVisa, these eligible foreign visitors can apply to the Immigration & Checkpoints Authority (ICA) of Singapore.
Nevertheless, while a Singapore visa allows you to travel to and enter this country, it is not an immigration pass and does not guarantee entry into Singapore. Local authorities may refuse entry to any person if they consider that a visitor doesn't meet the entry requirements or can threaten national interests or security. If everything is ok, they will grant you a visitor's pass at the airport.
What is the Singapore e-Visa validity?
The e-Visa validity is 63 days after issued and allows the holder to stay in Singapore for 30 days Per Entry. However, due to the high chances of rejection, iVisa only processes applications for tourists visiting for up to 15 days Per Entry.
It's a Multiple Entry document, meaning you can leave and return to Singapore if you still have a valid visa.
Can I extend the Singapore e-Visa validity?
You can't extend the visa validity, but a few nationalities can request an extension of stay. The Immigration & Checkpoints Authority allows some countries to apply for a one-time 30-day extension of stay (extension of a short-term Visit Pass). It's an online application, and the applicant receives the approved extension via email in PDF format.
Visitors who need to extend their Singapore visa can submit an application for extension of stay by using the Singapore Government website, up to 14 days before the visa expires. This facility is only applicable to Singapore visas issued by the government and can be used to apply for an extension of stay from 30 up to 89 days.
Do I need to have specific items to apply for a Singapore Visa online?
It's easy to fill out the application form, but you must provide some required documents like any other entry visa. Ensure you gather the following documents for the visa application:
A recent photograph. It must meet passport standards and be taken against a white background. You can count on iVisa Photo Service if you don't have one.

A valid passport. It must remain valid for at least six months after your travel date.

A valid email address to receive your valid visa

Travel information. You must provide flight dates, flight numbers, and airline details. Therefore, you can only get this travel document if you have booked transport.

Proof of accommodation, such as a hotel booking.

Proof of your marital status such as a marriage certificate.

Payment method. You can use a credit or debit card to pay the visa fee.
After you upload copies of the required documents and submit your visa application, you will receive confirmation from iVisa. Once your visa is processed, you'll receive it via email in PDF format. You must print it out to present it to the immigration officer upon arrival in Singapore.
How can I apply for a Singapore e-Visa with iVisa?
You can apply for a Singapore e-Visa from the comfort of your home. All you need to do is follow these simple steps:
First, you have to fill out the application form on the iVisa website or app, providing personal and travel details.

Second, verify all information is correct and choose the best processing time for you.

Third, attach the required documents and proceed with the payment. Then click 'Submit.' Our visa experts will review and submit your application for Singapore government approval. Once the document is processed, you will receive it by email.
What are the processing options for applying for a Singapore e-Visa?
It's important to note that visa fees will vary according to the applicant's nationality and the processing time chosen. When applying for a Singapore e-Visa on the iVisa platform, you can choose from the three customized processing options:
Standard Processing Time: You can obtain your Singapore entry visa in 8 days.

Rush Processing Time: It takes 5 days to process your e-Visa.

Super Rush Processing Time: You'll receive your Singapore entry visa in only 3 days.
Please note that these fees include the government fee (USD 80) and our processing fee, which varies depending on your nationality.
What is the advantage of applying in advance?
When you apply for your Singapore e-Visa in advance, you get sufficient time to modify your application and get an error-free document on time without any rush. Also, once you have the travel document, you can plan your trip relaxed, without worrying about bureaucracy.
Is iVisa a secure option to apply for a Singapore Visa?
Yes, iVisa is a secure option to apply for a Singapore e-Visa. We know how important it is to keep our customers' data safe. That is why we use advanced security systems to store your information safely and only allow authorized professionals to access it..
You can check our review section for some customers' testimonials.
I still have questions. Who can I contact?
You can contact our customer service team if you have questions about the Singapore visa or any other travel documents. Our visa experts are available 24/7 and will be happy to help you.
Singapore travel tips
Entering Singapore is like traveling to the future. City lights, skyscrapers, and technological advances will amaze you. Ensure you check our Singapore Travel Guide to plan your trip and the following travel tips:
Before boarding, ensure your passport and visa are still valid.

Pack light and breathable clothing to face Singapore's high humidity and temperatures.

Consider carrying a reusable water bottle to fill at the many water fountains throughout the city. It will help you stay hydrated in hot weather.

Be aware of cultural sensitivities. Singapore is known for its strict laws and regulations, so it's essential to understand what is and isn't allowed. For example, chewing gum is banned in Singapore, and smoking is prohibited in most public areas.

Shop at local markets! Consider visiting the Chinatown Street Market or the Bugis Street Market for unique souvenirs and gifts.

Consider purchasing an EZ-Link card to use the efficient public transportation system. This card allows you to pay for multiple modes of transportation with one card.
Apply for your Singapore e-Visa and have a safe trip!