Home
>
Travel to Slovenia: Complete Travel Guide for Slovenia in 2023
Travel to Slovenia: Complete Travel Guide for Slovenia in 2023
Welcome to Slovenia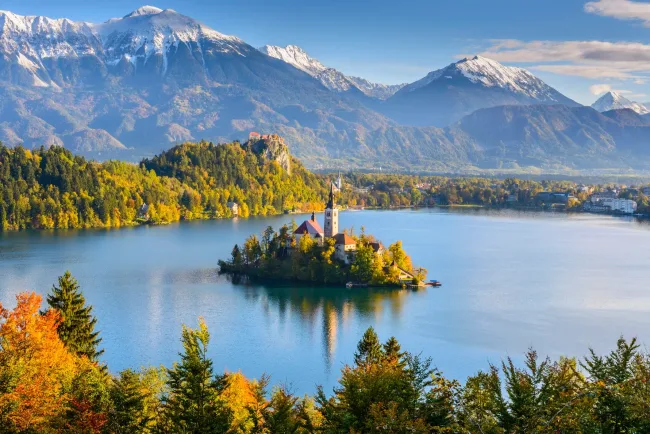 Located on the sunny side of the Julian Alps, the small and amazing country of Slovenia offers something for everyone. Friendly people, picturesque landscapes, tasty food, and rich history and culture make it a wonderful place to visit. This is a great destination for weekend getaways or a weeklong holiday.
This ultimate Slovenia travel guide offers practical tips, Schengen visa information, and sightseeing highlights.
Document checklist for Slovenia
Schengen Visa (if applicable)

Valid passport

Return or onward ticket
Essential Slovenia travel information
Currency - The official currency of Slovenia is the Euro (€). $1 is equivalent to approximately €0.94.

Daily budget for 1 person - Allow a daily budget of €54 ($50).

Languages - The official and national language of Slovenia is Slovenian. Hungarian and Italian are also recognized as co-official languages.

Number of travelers per year - The Slovenian tourism bureau recorded 6.2 million arrivals in 2019, with an average stay of 15 days.

Socket type - Types C and F, 230V supply voltage and 50Hz.

Time zone - Central European Standard Time (GMT+1).

Top 3 cities to visit - Ljubljana, Bled, and Piran.

Top 3 landmarks/monuments - Lake Bled, Vintgar Gorge, and Ljubljana Street Art.
Visa information for Slovenia
Visiting Slovenia is easy because it is part of the Schengen Zone. Most foreign nationals can stay in the country and other European countries for up to 90 days within a 180-day period, for tourist or business purposes, with a Schengen Visa.
However, if you currently do not need a visa, please keep in mind that from the end of 2023, it will be mandatory to apply for an ETIAS visa waiver to enter Slovenia.
Use our handy Visa Checker Tool to find out which documents you need before you go.
ETIAS explained
ETIAS (European Travel Information and Authorization System) is a visa waiver part of the new EU travel agreement. It's designed to help Slovenia and neighboring countries monitor travel within the Schengen area and improve security within the EU. You can travel freely between Schengen countries while your ETIAS is valid.
The Slovenia ETIAS will be available and mandatory from the end of 2023 for all nationalities who are currently allowed to visit visa-free.
Schengen explained
If you are not eligible to apply for an ETIAS and cannot currently enter the Schengen zone visa-free, you may need to apply for a Slovenia Schengen Visa.
Visa difficulty index for Slovenia
Accessibility: 5/5
Slovenia is easy to access, with many people eligible for visa-free entry. However, if you need the Schengen Visa, it's a quick and easy process with iVisa.
Time to get your visa: 4/5
The application process takes just a few days. iVisa offers three different options, depending on your budget and needs. However, you may need to attend a visa interview.
Costs: 4/5
Government fees are relatively low. Additionally, the iVisa processing fee includes 24/7 customer service, careful application review, and a step-by-step guide.
Typical costs and budget for Slovenia
The following is a guide to what you'll spend on a daily basis in Slovenia on a mid-range budget.
Daily spending - Expect to spend about €54 ($50) per person, per day. This includes:

Meals - A meal costs about €15 ($16) per person.

Transport - Depending on your travel plans, local transportation may cost up to €9 ($10) per day.

Hotel - The average price for a double room in Slovenia is €30 ($32) per person, per night.
On average, a trip to Slovenia for two people for one week can cost up to €660 ($700).
Transport and best ways to travel around Slovenia
Slovenia is easily accessible and offers various air, train, and bus connections. Here are the best ways of getting to and around Slovenia.
Getting to Slovenia
Slovenia only has one international airport, Joze Pucnik, near its capital, Ljubljana.
It is possible to fly directly to Ljubljana from Paris, London, Brussels, Munich, Frankfurt, Amsterdam, Vienna, Zurich, Copenhagen, Istanbul, and some countries in Eastern Europe. Only two low-cost airlines currently serve Ljubljana airport: Wizzair (from Brussels and London Luton) and easyJet (from London).
Or opt to fly to a neighboring country and take public transportation into Slovenia. The country borders Italy, and Trieste offers a perfect transfer to Slovenia. Some companies organize shuttles from Italy, Croatia, and Austria into Slovenia.
There are also direct trains and buses from Austria, Italy, Germany, and Switzerland to Ljubljana, which is affordable and comfortable. From Venice, it's possible to sail to Slovenia by the catamaran "Prince of Venice" (from April to October).
Arrival and immigration tips for Slovenia
Here are a few tips to make the immigration process smoother:
Tourists driving into Slovenia should leave their vehicles only in guarded parking lots. Slovenia has a high rate of car theft, so parking along the roadside is not recommended, especially at night.
Getting around Slovenia
The best way to travel around Slovenia is by car. The roads are in good condition and are a great way to explore the Slovenian countryside. However, make sure to purchase the vignette for using highways online, as highways cover a big part of Slovenia and reach all the neighboring countries.
Public transportation is perfect to explore Slovenia. The extensive network of trains and buses will take you to most of Slovenia's top places to visit. It's also affordable, especially if you travel on weekends and public holidays when tickets are 75% off.
Safety in Slovenia
Slovenia has a low crime rate and is ranked among the top 5 safest countries in the world by the Global Peace Index. However, as with all travel, taking precautions is the best way to avoid issues.
Petty crime does occur. Car thieves target gas stations and service areas along the highways. Make sure your vehicle is locked at all times.

Alpine areas are prone to avalanches, flash floods, and mudslides. Always monitor the local weather, follow the recommendations of local authorities, and stay on marked slopes and trails when skiing.

Solo female travelers should not have anything to worry about but avoid going out at night alone.

Travel insurance is always your best bet for emergencies and lost luggage.
Weather in Slovenia
To catch a glimpse of fall while still enjoying the warmth of the summer sun, the best time to visit Slovenia is in late September. There is a sharp increase in rainfall on the coast but a slight increase around Lake Bled. Mornings and evenings become a little chilly, but the average temperature during the day is around 20 °C (68 °F).
Summers are usually too hot to explore the mountains and cities. This is best done in the pre-summer season (April - May) or fall (September). You'll also experience fewer crowds.
Must do and see in Slovenia
Don't miss these awesome sights on your holiday to Slovenia:
Lake Bled is a must-see when visiting Slovenia. Known for its castle on a hill in the middle of the lake, secluded swimming spots, and amazing short hiking trails, Lake Bled is one of the most popular destinations in Eastern Europe.

Slovenia's Vintgar Gorge is one of the most magical places to walk. A 1.6 km-long boardwalk crisscrosses the Radovna River, creating a beautiful, photogenic landscape that is fun to explore.

Whether you call it vandalism or art, one thing is certain: The capital city of Ljubljana has a rich street art and graffiti scene. Many visual expressions come from two autonomous artistic communities: Metelkova and the Republic of Rog. Taking a street art tour with a local guide is one of the best ways to learn more about this unique culture.

Piran is a small, colorful town on the Adriatic Coast. Take in the city's streets, dine in its numerous seafood restaurants, and walk along its medieval walls to admire the views.

The second place for the most scenic lake goes to Lake Bohinj. Enjoy hiking, paddle boarding, riding the cable car, swimming, and taking in the best views of Triglav National Park. Perfect for nature lovers!
Typical Slovenian food to try
Slovenian chefs have been up and coming in the world of gastronomy lately. The local cuisine is both creative and delicious.
Štruklji - These rolled dumplings are a popular side dish for meat and sauces, and they can even be a delicious dessert.

Žganci - Also known as corn mush or spoonbread, it's one of the most famous Slovenian dishes, particularly those prepared with buckwheat flour and topped with cracklings.

Potica - The Slovenian rolled dough cake, or potica, is one of the most famous cakes in the world and is regarded as Slovenia's ambassador. It can be made with over 80 fillings, the most common being tarragon, walnuts, poppy seeds, chives, cheese, and raisins.
Vaccine information for Slovenia
We advise you to check the CDC website for up-to-date info about all vaccination requirements, COVID-19 measures, and recommended medications for Slovenia.
Tips for visiting Lake Bled
Slovenia's Lake Bled is one of the most magical places in Europe. It's almost too beautiful to be real! You will find more than enough entertainment here with the island church, clifftop Bled castle and breathtaking mountain backdrop.
As a sub-alpine lake, it's no surprise that its water is unbelievably crystal clear despite its depth of almost 30 meters.
It's easy to get to Lake Bled from Ljubljana for a day trip or to spend the night. Winter brings plenty of snow to Lake Bled. It's common for the lake to freeze over, and it will look like a winter wonderland. Summer brings blue skies and warm days; you can always cool off with a swim in the lake. Late spring and early fall are still pleasant, with fewer crowds.
Trustpilot recommended. We lead the industry in innovation and reputation
Our Customers Have Great Stories About Us