Due to its cold climate, coffee is a huge business in Norway. In fact, Norwegians drink coffee at least twice a day at breakfast and at dinner. Of course, there's also the coffee they consume during the day after the meal or with dessert, for example. In Oslo, Norway's capital, you will find a coffee shop in almost every corner. We know that you, as a Norwegian who is reading this article and love coffee, want to know about good coffee places in Thailand. So we can give you some good reviews about the Norasingha Café which is a café-restaurant located in Bangkok - Thailand, that also has the facilities of Phraya Thai Palace, which is a wonderful attraction full of culture for visitors who visit Thailand.
Given the crisis our world is currently facing, tourism is one of the most affected industries. Nonetheless, governments around the world are trying to take action in order to impulse this sector. One of them is the Thai government, which is implementing the Thailand Health Declaration (T.8 Form) as a measure to impulse tourism and stop the spread of COVID-19.
Fortunately, iVisa.com has launched this new service so that we can help all travelers obtain this Health Declaration in an easy way. The form to complete is simple, it will only take 10 minutes and you can do it from the comfort of your home.
keep reading more about this new product we have for you.
Note: Since July 1st, 2022, the Thailand Pass is no longer necessary to enter the country.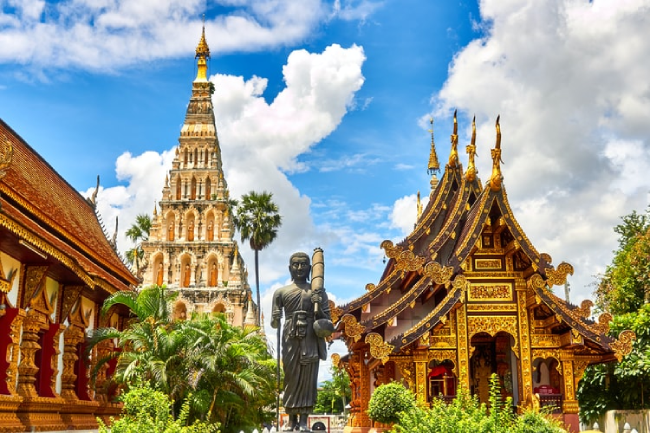 Frequently Asked Questions (FAQs)
Can you explain a little more about the Thailand Health Declaration?
Of course! The Thailand Health Declaration (T.8 Form) is an official health declaration granted by the Thai government whose purpose is to prevent the spreading of COVID-19 as well as confirm if voyagers meet all the conditions to enter Thailand safely. For that reason, the Immigration Officers will verify this Health Declaration by scanning the QR Code on your mobile that you will receive from us.
What documents do I need to send you for this Thailand Health Declaration?
If you decide to apply with iVisa.com, you only have to provide us the following documents in order that we can submit your online application:
Passport Personal Details Scan: we only need you to send us the information page where it appears your photo and personal details.
Payment Methods: if you have a credit/debit card or a PayPal account, you can use it.
How much will I pay for the T.8 Form?
The T.8 Form doesn't have a cost. You will only pay our service fee depending on the processing speed you choose. You'll find more information about this in the questions below.
Do I need to show a COVID vaccination certificate to enter Thailand?
No. COVID vaccines or vaccination certificates are not required to enter the country.
Do I need a negative COVID-19 test result to enter Thailand?
There are no testing requirements.
Is quarantine obligatory when I arrive in Thailand?
COVID quarantine requirements: There are no quarantine requirements.
What about the processing times and the cost of this T.8 Form?
Both the processing time and the cost (which is our service fee) will change based on the processing speed you select. Below you will find the three speeds we offer:
Standard Processing: if you select this option, it will take 7 days to process your T.8. Form. The service fee here is USD $26.49.

Rush Processing: here we will process your T.8 Form in 5 days. In addition, the fee you will pay is USD $47.49.

Super Rush Processing: the one we recommend if you need to travel right away. It only takes 3 days to process your form. It costs USD $77.99 but it worth it.
Can you explain how the Thailand Heath Declaration (T.8 Form) works?
Sure! The T.8 Form works as a health statement that you will need to complete prior to your travel to Thailand. It is downloadable by scanning a QR Code that we will send you once your application is approved. The officers at the airport will scan the code on your phone and then decide if you are able to enter the nation.
How long will it take me to apply for the T.8 Form?
This will be really quick. You can have your application ready in less than 10 minutes by clicking here.
I'm ready to apply, what steps do I need to follow?
Awesome! Well first, you need to click here and then proceed with the following:
Fill in basic information about you and select the processing speed you prefer.

Give the final review to your application before proceeding with the payment.

In this part, you need to attach your passport scan and submit your online application.
What will happen after I apply?
After you apply, we'll take care of submitting your application to the Thai government. We'll also keep you informed from the beginning to the end by email.
How many times may I use my T.8 Form?
The Thailand Health Declaration permits you only a Single Entry. So, please note that it can only be used once. In addition, we will let you know that this T.8 Form will be valid for 14 days after arrival or until passport expires.
I want to travel with my children, do I have to get a Health Declaration for them as well?
As long as your children hold their own ordinary passport, they will need their own T.8 Form.
My relatives want to travel with me, how can they apply?
Well, you can all apply at the same time, just click on add new applicants in your application form. In case you are only helping them to apply, you fill their information by clicking here. Please, make sure they have the required documents before filling the form.
How will I know if my application has been approved?
Once we have received the approval, we will let you know by e-mail. You can also contact us during the whole process through our chat if you want to know your application's status.
Why should I trust iVisa.com to process my Thailand Health Declaration (T.8 Form)?
Well, we have a lot of experience processing multiple travel documents for different nationalities and destinations. Also, we always make sure to send your application following the government's regulations to increase the approval rate. Having said that, please bear in mind the final response depends entirely on the government.
Can I contact you if I have further questions?
You absolutely can! For further assistance, contact us through our chat. Besides, you can check the FAQs.
Don't wait any longer and apply with iVisa.com!