A passport is an essential identification document to travel outside the country. Like many other identification documents, it has an expiration date. When this day arrives, the passport will not be valid, and you will not be able to use it. It gets a little bit more complicated because some countries require your US passport to be valid for at least six months to let you in. In both cases, you will need to go through a passport renewal process. In conclusion, Is it possible to apply for passport renewal if it's expired? Yes, it is and iVisa.com offers an online service to renew your US passport.
Our online renewal passport service is made entirely for US Citizens who carry a US Passport and nowadays dwell in the US. It is an efficient, safe, and time-saving option that you can fully finish from the comfort of your place: you will not deal with complex paperwork, crowds, or uncomfortable related situations.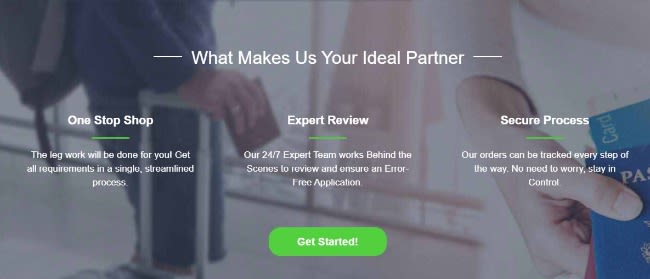 Start With Your Passport Renewal NOW!
How exactly is iVisa.com's renewal online service running?
iVisa.com's renewal process is simple. You will not invest much time and effort since we will do the hard work for you.
Step 1: Fill out and complete the online form, upload the photo for your new passport, and choose an online payment method (Paypal, debit, or credit card) to cover the service.

Step 2: Stay tuned to receive your renewal kit in your house, once in your hands sign your DS-82 form, finally collect everything and pack it, so you can take it to the closest post office or mailbox.

Step 3: Trace your package. You can always check what is going on with your process thanks to our tracking system.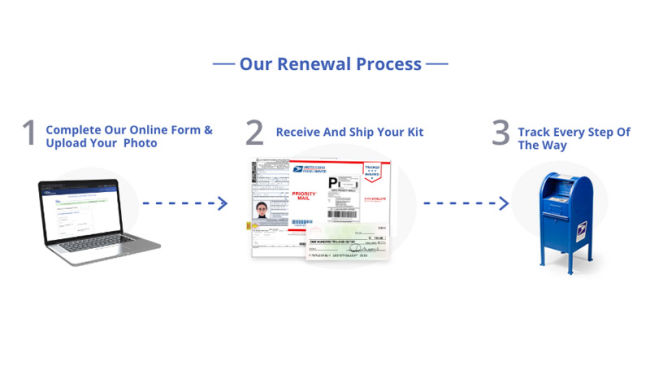 Rest and expect for your passport. After all these steps, your passport will arrive depending on the distribution time of your choice: government expedited service (4 to 6 weeks) or government standard service (10 to12 weeks).

It is not necessary to send your passport to us. You do not need to submit your passport. You will pack it on your kit and mail it straight to the government office.

Your passport application will be government compliant. Our team of professionals will assess your photo to be sure it follows the government stipulations.
Please consider, through our online renewal process, you can receive your passport in 6 weeks or later, meaning if you will travel in less than this time, we cannot help you.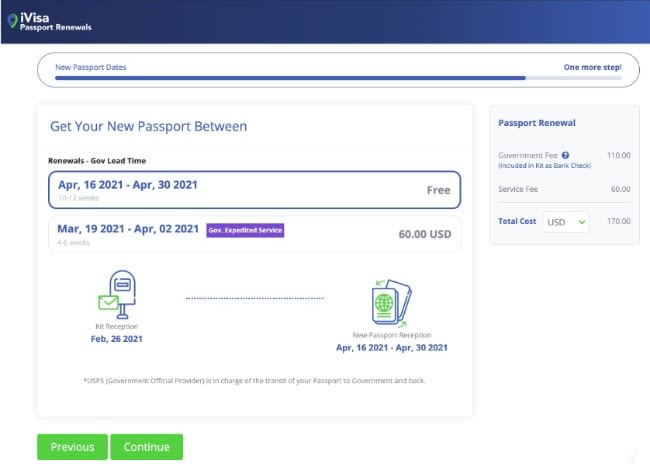 Frequently Asked Questions
Who is a qualified candidate for this service?
US Citizens living in the US who still hold their US Passport are qualified candidates for iVisa.com's online renewal passport service. They must additionally fit the following terms:
To keep with them their current passport.
To maintain their current passport in good conditions.
To be a minimum of 16 years old.
To have their current passport with an issue date of at least 15 years.
To remain with the same name appearing in their present-day passport.
Do I need to mail my passport to iVisa.com?
No, iVisa.com will deliver you a passport kit containing:
A ready DS-82 Form, just sign it!
A Printed & stapled Passport Photo
A Bank Check to cover the Government fare
A USPS Envelope with Postage, just collect everything and mail it*
After you sign your DS-82, collect everything inside the USPS Envelope, seal it and take it to the closest mailbox or post office to be shipped to government passport authorities. The sooner you do all these effortless activities, the sooner your process will start.
How much does it cost to get my passport renewal?
Additionally to the USD 130 US Government fare, our service fee price will vary depending on the time you wish to get your passport kit:
Select Kit Shipping Time: Same Day Free Shipping (cut-off 2pm EST) for $72
Select Kit Shipping Time: 2 Day Free Shipping for $60
Select Kit Shipping Time: 4 Day Free Shipping for $40
Once you receive your kit and deliver it to the closest mailbox, you will receive your passport in 10 weeks. In case you want it before, you can pay a USD 60 extra fee for the government expedited service, and you will get your renewal passport from 4 to 6 weeks
Apply Now and witness yourself Is it possible to apply for passport renewal if it's expired??
Why should I give to iVisa.com my SSN- is it a trustworthy company?
For iVisa.com, your information exclusively belongs to you, we see this as a primary human right. iVisa.com is not into the data exchange business and is not authorized to do so for economic profit. We ask for your SSN because it is a requisite in the completion of your DS-82 form. All the data you will give us wholly complies with the General Data Protection ("GDPR") and the California Consumer Privacy Act ("CCPA").
Start your passport renewal. and prove if Is it possible to apply for passport renewal if it's expired?
Is there a way to know when my passport is ready?
Yes, and we will assist you in this or in case you have other concerns about Is it possible to renew my passport if it is expired. During the process- Our Customer Agents will send a code that you can use to check how the process is advancing. Keep in mind, there are two-speed alternatives: A standard passport speed alternative (8-10 weeks) and an Expedited Service speed alternative (4-6 weeks) Apply now for your passport renewal.
What follows if my passport application is not successful?
If your passport application is denied, iVisa.com will grant you a 100% refund of our service fee.
When will I receive my new passport?
For an additional charge of $60, you can access the US Government's Expedited Service where the passport petitioners can renew their passport in 4 to 6 weeks or you can access the standard passport service with an 8 to 10 weeks application time.
Is this service for me if I have an upcoming trip in less than 6 weeks?
If your trip is in less than six weeks, this service is not for you. Please, communicate with a government-licensed agency or center.
If I am not a good fit for online renewal, what is the iVisa.com recommendation?
If you cannot qualify for an online passport renewal service, go to the government officials' website to get a clear perspective of what your next actions are supposed to be.
Check Is it possible to apply for passport renewal if it's expired?
What about Iif I do something wrongbad within the process and need to contact someone?
Our team of customer agents is ready to help you with any concerns about the process or about Is it possible to apply for passport renewal if it's expired?. They are always available. No matter the time zone or the date. They are working 24/7 to aid you with your process.
Get your passport renewal now.
iVisa.com Recommends
Looking for a luxury experience in an affordable beach paradise? Bocas del Toro in Panama is then a great alternative. It is Panama's foremost beach destination in the Caribbean. There you can discover luxury resorts with swimming pools and budget-friendly hotels and hostels. It has been turned into a place for young people and couples. A few of the most famous beaches around the archipelago are Bluff Beach, Starfish Beach, and Red Frog Beach. In general, activities are cheap in comparison with other seashore places, this is why many tourists stay for longer times and practice diving and surfing. And if you want to have more fun, you can rent a bike for hanging around the main island of the Province, and also visit distant beaches like Punta Bluff and the frog beach. Once there, we recommend tasting Ron Don, a local fish soup with coconut milk, stuffed fish, and their classic lunch: rice, fish, coconut with beans, and the One Pat Combo (which is made from coconut rice, dried fish, shrimp, and chili combo). As you have noticed, coconut is a key ingredient in this Caribbean cuisine.