If you are a US passport holder, you will be required to go through a passport renewal update at some point. One of the most common doubts about this process is the possibility of checking your application status. Currently, there are two available review mechanisms: online through the online passport system update and by phone reaching the National Passport Information Center (exclusively available during weekdays from 8:00 am to 10:00 pm Eastern Time, excluding federal holidays). The system will ask for your last name, birth date, and SSN 4-last-digit to access this information,
However, you may be aware that before being able to do so, you need to submit your passport renewal update application, which can be tedious and demanding due to large crowds, the risk of covid exposure, and confusing must-fill-out forms. iVisa.com is offering a renewal passport 24/7 service for US citizens living in the United States, with easy steps and notable benefits, for instance, giving you updates about the process's status.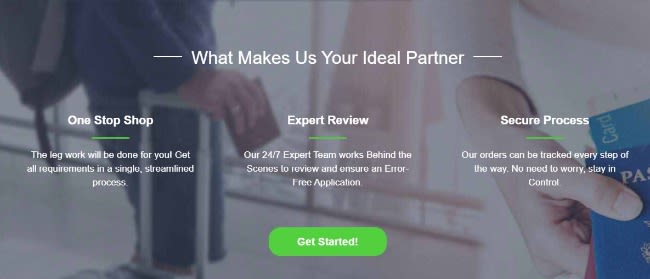 How is iVisa.com's renewal process executed?
The execution of our procedure is simple. Its main objective is to do things for you and provide a: smooth, error-free, and safe way to get your Passport Renewal Update:
Step 1: Complete our online form providing your basic details and SSN, upload your passport photo, and select your preferred online payment method (Paypal, debit, or credit card).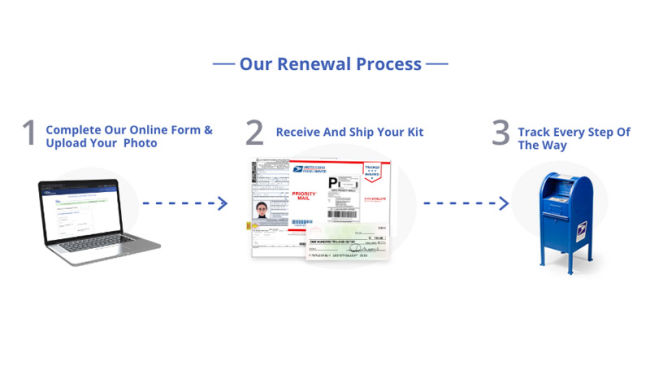 Step 2: Get your passport kit in your residence, sign your finished DS-82 form, prepare your package, and ship it to the closest mailbox or post office.

Step 3: Track your kit and the status of your process whenever you want.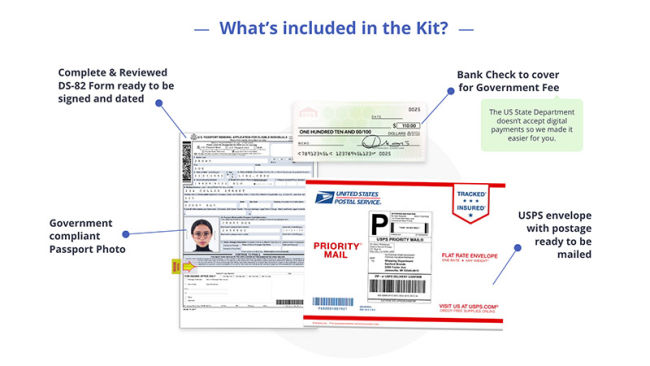 There is no need for you to send us your passport: You will ship it inside the package straight to government authorities.

Your new passport will arrive at your place: You just need to relax, we will do most of the process for you. It will get to you according to your government processing speed choice: government expedited service (4-6 weeks) or government standard service (10-12weeks).

We take care of government-specific requirements: We have a team of immigration experts, who will do the application for you and make sure your photo aligns with government compliance, so this is an error-free process
Disclaimer: iVisa.com's passport renewal service lasts more than six weeks, which means if you are expected to travel before that time, we cannot support you. In case, you are not in a rush, our service is the most efficient and affordable.
Get started with your passport renewal process
Frequently Asked Questions
Who is a qualified candidate for iVisa.com's service?
This Passport Renewal Update online service is meant exactly for US passport holders, who are living in the US and meet the next standards:
They have physical access to their current passport.
Their current passport is in good shape.
They are at least sixteen years of age.
Their current passport was issued in the last fifteen years.
They have the same name appearing in their current passport.
Does iVisa.com need me to send them my passport?
No, iVisa.com will not require your current passport at any time. We will send you a Passport Renewal Update kit packed with the following elements:
A filled-out DS-82 Form, please sign it!
A Printed & stapled Passport Photo.
A Bank Check to cover the Government's passport allowance.
A USPS Envelope with Postage!, please pack and mail it.
Once you receive this, you just need to sign the form, pack everything inside the envelope, and mail it to the nearest mailbox or post office. The faster you ship it, the faster your process will begin.
Start your renewal process now.
Why should I feel protected giving my SSN to iVisa.com?
All the information supplied to iVisa.com respects the General Data Protection ("GDPR") and the California Consumer Privacy Act ("CCPA"). We firmly believe data ownership is a basic human right. We request for your SSN to complete your DS-82 Form properly. Finally, as an organization, we do not sell or are licensed to trade your information to third parties.
Apply now for your passport renewal update
How may I know that my passport is coming?
Regular services will ask you to track your process using one of the two available alternatives. Nonetheless, our customer support agents will deliver regular updates, as the process advances. Keep in mind, the US Government standard service will have your passport ready from 8 to 10 weeks and the expedited service from 4 to 6 weeks, starting from the moment they get your kit.
What will happen if my passport petition is declined?
This is the most improbable situation since we ensure an error-free process. But in case, we made one, we will refund the 100% of our service fee.
Get started with your passport renewal
What occurs if I do something incorrect in the process?
In that case, we have available a 24 hours, 7 seven days a week customer support team to help you at that moment, or while you are going through the process. Reach us to assist you.
Start your renewal procedure now
What length of time usually is needed to obtain my passport?
This will depend on The US Government speed process you choose: it has a standard passport renewal service (it takes from 8 to 10 weeks) and the Expedited Service (it takes from 4 to 6 weeks) paying an additional $60 fee.
Get your passport renewal now.
What if I have already planned a trip in less than six weeks?
If you have already planned a trip, and it is scheduled for less than six weeks. iVisa.com is unable to help you. Please contact immediately an official government passport agency.
What if I'm not a good fit for renewing my passport online?
We are afraid that if you are not a good fit or eligible to renew your passport, this service is not for you. We deeply advise verifying what the US Government website suggests for you in this specific case.
iVisa.com Recommends
Have you ever thought about the existence of an all-you-drink express train? Because in case you haven't, but that sounds right up your alley, Mexico has the Jose Cuervo Express, a 'Tequila Train' that covers the Mexican farmland on an 11-hour trip between Guadalajara and Tequila in the state of Jalisco. The train takes you to the Magical Town of Tequila, where a day full of activities awaits. It begins with a visit to La Rojeña Factory, the oldest distillery in Latin America. The express ticket prices vary according to the wagon you choose. The price will also vary the kind of tequila and drinks you can taste. Either way, you will have unlimited access to local snacks, an educational tasting, agave fields visit. You will also enjoy live music shows and get the chance to play traditional games such as Loteria Mexican bingo. We advise taking an extra day in the Agave Fields to learn more about the agave growing process, and savoring a traditional meal with an open bar. There are two trains available Jose Cuervo Express Tequila Train and the Tequila Herradura Express Train, both offering different experiences.