International Travel can be a wonderful experience that broadens your horizons and provides you with unforgettable memories—but you have to get into the country you're visiting first. That part can be a challenge—especially if you don't have the right documents. When you're visiting any foreign country, it's essential that you travel with the valid identification, and the proper forms to get you through customs. In many cases, you'll need a visa to validate that your entry into the country is legal and officially recognized.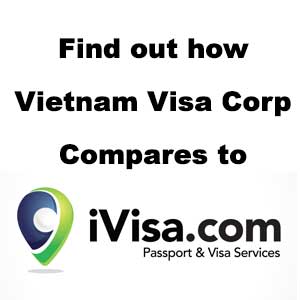 One important thing to remember when you're traveling internationally is that each different country typically has its own highly specific visa requirements. Finding out exactly what these requirements are and preparing the documents necessary for meeting them can be a lot of work, which is why some third-party companies specialize in taking care of that part on your behalf. Finding the right company to prepare your visa application can considerably reduce the stress associated with visiting another country, and can help ensure that your trip is a complete success.
Vietnam is a popular destination for tourists from a variety of Western nations, due to its abundance of culture, and smorgasbord of sights and activities. When it comes to visiting Vietnam, two companies are commonly used to help prepare visa applications: Vietnam Visa Corp and iVisa. To help hopeful travelers choose between these options, we took a good hard look at both services and evaluated their services according to several important criteria. Our recommendations are based on the following: customer service, efficiency, price, and ease of use. Look at our findings, and use them to help you choose a company that will successfully assist you in procuring the visa you need.
Customer Service
When it comes to customer service, Vietnam Visa Corp scored particularly well. Many of their users reported clear and easy communication with representatives as a primary reason for using the company, and that they make a point of allowing you to "correspond with real people quickly." Looking back through time, a few people mention that this service may once have suffered from awkward customer service, but if true, this appears to have been corrected in recent years.
iVisa, on the other hand, has consistently received positive reviews regarding its customer service since its inception. Standard features highlighted by customers include iVisa's elegant and easy to navigate website, as well as the clarity and usefulness of the information they provide to customers. In one or two rare instances, we found reports that the iVisa website was experiencing glitches, but all reported issues have since been corrected, with no new abnormalities detected.
Efficiency of Service
Why does speed matter when you're trying to get a visa? Simple: you want to make sure it arrives before the date on which you're scheduled to leave. Many third-party companies require you to mail your passport to them along with copies of your supporting documents, then send everything back with the new visa before your departure—or at least, it's supposed to work that way. This means that timeliness should be one of the most significant factors when it comes to choosing the right visa company for you.
Vietnam Visa Corp is widely reported to be a quick way to get the visa you need, with some reviewers commenting specifically on the company's ability to procure "a visa in a hurry." Several customers mentioned that they could get their visa within the space of a day (one even mentioned that they were able to procure their letter within 20 minutes during an emergency at the airport, although this is an exception to the norm). However, people appeared to be generally satisfied with the expediency of this service.
iVisa, on the other hand, lists processing times for all the visas they offer directly on their webpage, and their customers report that these estimates are almost always accurate. We used their handy Visa Checker feature to look up a trip to Vietnam from the United States—and found that the processing time listed was a mere 3 hours! Even for a company specializing in quick service, that's fast.
Price
Another highly important consideration when choosing between visa companies is affordability. After all, it's not like there are such things as "economy" and "deluxe" visas—the purpose of your visa is to get you into the country, and if it does that there's no reason to pay more than you have to for it.
Since both Vietnam Visa Corp and iVisa are third party companies, the prices you'll see on their websites are for service fees, not the cost of the visa itself. Vietnam Visa Corp lists its price as $25 USD on their website, but several reviewers have mentioned that the actual price is often closer to $45 USD. iVisa, on the other hand, lists a flat service fee of $30.00 USD and this seems to be accurate.
Ease of Service
Because a visa service is designed to make your experience less stressful than applying directly to an embassy or consulate, you'll want to select a company that makes their service straightforward and worry-free. While most customers seemed happy with the ease and accessibility of both Vietnam Visa Corp and iVisa, we did come across a couple of Vietnam Visa Corp users who mentioned issues with the file format of the visas that were sent to them. In one case this prevented an Australian user from leaving the country. iVisa tends to receive better marks for the consistency and simplicity of their service, notwithstanding the past website issues mentioned above.
Conclusions
While Vietnam Visa Corp and iVisa both appear to be reliable, our findings suggest that choosing iVisa is likely to provide a cheaper and more user-friendly service. To procure your visa this way, visit iVisa.com and follow the simple steps listed on their page. You'll quickly see the costs and processing times, as well as a list of any additional required documentation. Then you'll be asked to provide a few key details, submit your payment and, forward copies of the documents needed—iVisa will do the rest. Using such a dependable service can make sure that your next vacation goes exactly as planned.