Vietnam is one of the most sought-after places in Asia- its unique cuisine, geographical; and cultural diversity make it one of a kind. If you wish to stay in Vietnam, you might need a Visa and via iVisa.com you will be able to receive it in no time. Greeks may apply through the website and it will only take 20 minutes for them to get their electronic Visa for Vietnam, According to the current procedure, only 46 nationalities in the world can get an electronic Visa to Vietnam. If you wish to confirm your country's eligibility for the eVisa, you must use the iVisa.com Visa Checker. You only have to add 'Greek' as your nationality and choose Vietnam as your upcoming destination and you will immediately know if you can get an eVisa to Vietnam.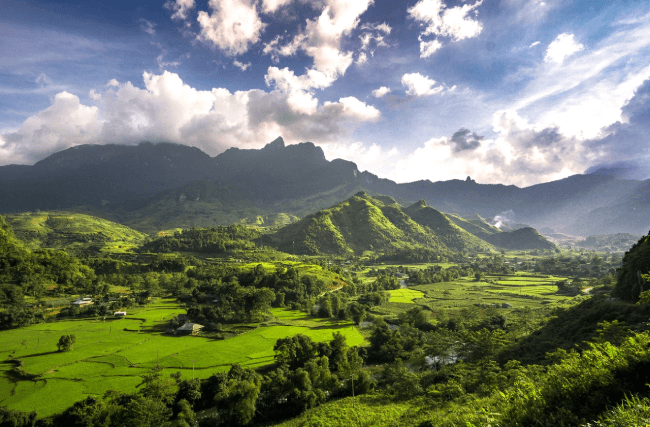 What benefits do I get for applying in advance for my eVisa?
Applying in advance for your trip to Vietnam keeps you free from the risk of making any last minute errors while filling out your documents. It is always a good choice to obtain all your documents well in advance before your trip.
Visit iVisa.com right now to apply for your eVisa in advance!
Frequently Asked Questions
iVisa.com offers an easy and hassle-free process to get your eVisa in time. This segment is designed specifically to solve your queries regarding Vietnam Visa for Greeks.
What are the documents Greeks need to get the Visa?
iVisa.com can ensure that you get your electronic Visa as soon as possible. Here are the requirements for the procedure:
Valid passport: Greeks need a valid passport to enter Vietnam. You must make sure that the passport does not expire for 6 months past your departure for Vietnam.
Email ID: iVisa.com will be able to communicate with you through the email address, we will also be sending the approval letter to your email address.
Payment: You must use a legally valid debit card or credit card to make the payment for your application. You can also use a Paypal account to finish this part of the process.
These items should help you begin your Visa application. However, as a Greek, you will also need the following documents to enter and stay in Vietnam:
Entry permit: This is a PDF that will be sent to you via email at the email address you have mentioned in your application form.
Two photos: You must have 4x6 cm and 3x4 cm photos for the rest of your travel documentation.
Passport: To enter Vietnam, you will need an original passport.
Additional fee: We also assist you in getting a Visa on arrival, you can get the same at the airport in Vietnam after paying an additional fee.
What are the processing times and cost of Visa?
Since all Greeks do not have the same schedule or budget saved for their trip to Vietnam, we have created these three options. You will be required to pay more for a quicker procedure. The three methods are:
Standard processing: This option for your Visa application will take

5 Business Days

. The cost of this option will be

USD 50.00

.
Rush processing: For

USD 70.00

, this option will get your Visa ready in

4 Business Days

.
Super Rush processing: For

USD 115.00

, this option will help you get a Visa much earlier, only in

3 Business Days

. This is the most viable option for those who need to leave for Vietnam immediately.
Start your Visa application process
How can I apply as a Greek citizen?
The online application form created by iVisa.com is efficient and covers all your requirements. There are three steps that you can choose from for your Visa application procedure and if you need any assistance, the customer care team is available 24/7 to answer all your doubts.
In the beginning, you only have to select the processing time for your application and add some personal information.
You must revise the application for your second step. It is very important to ensure that the details provided as Greeks in nationality are correct because you will not be able to make any changes later.
The last step is a personal questionnaire and documents you need to upload. Once you have completed this and cross-checked the details, you can press the submit button. It is easy to procure the Vietnam eVisa. You will not need to visit the embassy and Greeks can complete it even outside of business hours. It is a very quick and efficient process.
Can I trust iVisa.com completely?
iVisa.com offers a secure platform to keep all the information provided by you safe and secured. You can trust iVisa.com to keep your information safe with us. To read more about what our previous clients have to say about security,
I still have some questions left, what should I do?
If you still need more answers, you can get in touch with our customer support team who are available 24/7 to guide you. You can also visit this link to read more about the Vietnam Visa for Greeks.
iVisa.com Recommends
Vietnam is often counted as an underrated destination for travel and unwinding. The place offers a plethora of activities to do, places to explore and things to experience. From historical museums to breathtakingly gorgeous beaches, Vietnam has it all for all kinds of people. If you get the opportunity to visit Vietnam during the Vietnamese New Year, make sure to visit Hoi An where you'll find a Lantern Festival which takes places each year. This celebration, which lasts for 7 days, takes under it more than 50 workshops, each trying to create the most beautiful lantern. It is a charm to see these lanterns floating on the river. Halong Bay is a place which must be explored if you're a nature lover. From turquoise blue water to water-dissolving limestone rocks, this place is a natural wonder in itself. Hiking enthusiasts must add a trip to the Cat Ba Island to their itinerary. Phong Nha National Park is another venue which must be added to the list if you're an adventure lover. Known to be the world's largest cave, this place is frequented by thousands of tourists every year. We hope your trip to Vietnam is joyful and amazing! Thank you for putting your trust in iVisa.com.